In Aberdeen, South Dakota, Tim Hofer stood in front of a production line that was turning out thousands of 3M N95 respirators. The plant was running around the clock in response to the coronavirus outbreak – and the resulting global demand for respirators.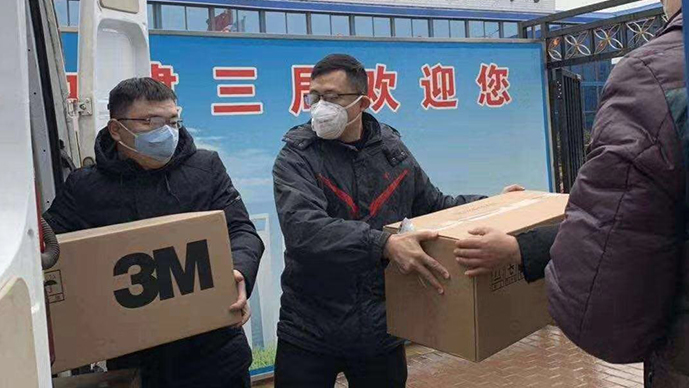 Tim, a machine operator in Aberdeen, said:
"We know what we have to do, we know we need to keep our numbers up, we know we need to keep ourselves safe, and we need to put out great quality.
"And that's what we've come here to do."
Like Tim, 3M employees in the United States, Asia, Europe and Latin America are on the front lines maintaining operations and producing needed supplies to help others treat and help protect people in the face of the outbreak.
Denise Rutherford, senior vice president, 3M Corporate Affairs, said:
"Our hearts go out to all those whose health, loved ones and communities have been affected by the coronavirus.
"Many people, including 3Mers in China and other regions, are facing health risks and uncertainty in the face of the outbreak, and 3M is committed to supporting response efforts."
3M is supporting public health and government response to the outbreak by ramping up production at our global manufacturing facilities, including hiring workers, adding shifts and activating more production lines. We've also donated personal protective equipment and medical supplies, including respirators, surgical masks and hand sanitizer, in affected areas in China, and we will continue to work with our humanitarian aid partners such as Direct Relief and MAP International.
Still, global demand for certain personal protective equipment, including respirators, is currently exceeding supply. We are working with customers, distributors, and government and medical officials to help get supplies where they are most needed.
Nikki McCullough, 3M global occupational safety and health leader, said:
"We're seeing outbreaks develop in new countries every day. But even for the countries where there isn't a widespread outbreak, we are working really hard to prepare right now in case they do."
Producing Product Where It's Needed
3M's manufacturing model emphasizes local for local, which means the majority of our products made in China are sold in China, for example. We continue to manufacture personal protective equipment in multiple areas around the world, including in the United States.
While 3M manufactures millions of respirators per month at production facilities in the United States and China, as well as in Latin America, Europe and Asia, we expect demand for respirators and other supplies to outpace supply for the foreseeable future.
Andy Rehder, plant manager, 3M Aberdeen, said:
"We immediately ramped up production in this facility. The plant has gone from more of a standard five-day week to more of a seven-day week, with additional equipment as well that we've been able to bring in and turn on."
3M has notified our authorized distributors that we are prioritizing orders to help serve our base business — including hospitals — due to high global demand.
While we have not changed the prices we charge for 3M respirators as a result of the coronavirus outbreak, we cannot control the prices other dealers or retailers charge.
As this situation continues, we are closely monitoring and responding to any potential impact to our broader supply chain. Serving our customers is a top priority and our business teams will work diligently to communicate with individual customers about any potential disruptions.
Keeping Our Business Running
3M is closely monitoring how the spread of the virus is affecting our employees and business operations. We have developed preparedness plans to help protect the safety of employees around the world while safely continuing business operations.
We are also following recommendations from the U.S. Centers for Disease Control and Prevention (CDC) on business travel and are evaluating the risk of any travel to regions where the infection is prevalent. We have temporarily halted employee travel to China and South Korea and will evaluate additional travel restrictions if the CDC raises travel risk ratings for other areas.
As a leading provider of personal protective equipment worldwide for medical professionals, workers and the public, we're encouraging governments to provide guidance on the appropriate types of respirators that should be used to help protect people in affected areas to ensure adequate supplies of surgical and standard, or non-surgical, respirators are available.
Learn More
Organizations and individuals seeking to support the response in China can reach out to 3M Global Security Operations Center at [email protected].
For more information about respirators and the outbreak, please see 3M's Worker Health & Safety page on the coronavirus.
This is an evolving situation, and it is recommended that all concerned individuals consult the World Health Organization and the CDC websites frequently for the most updated information regarding the outbreak.
3M recommends customers only purchase 3M respirators from 3M authorized distributors or dealers to help ensure their authenticity.