COVID-19 Testing Facility From Collinson and Swissport Ready to Go at Heathrow Airport
Collinson and Swissport announce dedicated COVID-19 testing facility is ready for use at Heathrow's Terminal 2, with the same to be ready at Terminal 5 by end of month
Collinson, Swissport and Heathrow asking UK Government to release inbound passengers who test negative from quarantine early
Over 30 countries and half the world's busiest airports are already utilising 'Test-on-Arrival' as a safe and effective alternative to quarantine
PCR Testing at the border would have a positive economic impact for the UK, as overseas visitors spent £28.4 billion in the UK in 2019
Key industry bodies, airlines, airports and tourism operators continue to be vocal, requesting that Government gives the green light to allow airport testing to go ahead
Collinson and Swissport have today announced their facility for COVID-19 testing is set up and ready for use at Heathrow Airport. The facility in Terminal 2 enables arriving passengers to be tested for COVID-19 upon landing and know just hours later if they have tested positive. More than 13,000 passenger tests can be carried out each day using the existing facility, which can be further scaled with demand. It is hoped that with approval from the Government, people testing negative during the process will be allowed to exit quarantine early.
The announcement that the testing facility is ready, comes as airport-based COVID-19 testing is embraced by more than 30 countries around the world, helping to get the travel industry back up and running while safeguarding public health.
PCR Testing at the border has been extensively trialled internationally, in locations with very strong scientific oversight such as Germany, and found to be safe, and now rolled out in France, Iceland and Austria and at more than half the world's busiest airports including Paris Charles de Gaulle, Tokyo Haneda and Dubai International.
Jersey has implemented the same approach being proposed for Heathrow. Jersey is a strong case study for examining the efficacy of tests due to inbound travel having an outsized impact on the island. [2]In July, 20,061 tests on inbound travellers were conducted at the border, representing 20% of the resident population size, with 17 cases of COVID-19 being detected and quarantined. Consistent with the findings of all other countries that have trialled and implemented testing on arrival, the testing was found to be highly effective at detecting COVID at the border and preventing onward transmission in the community.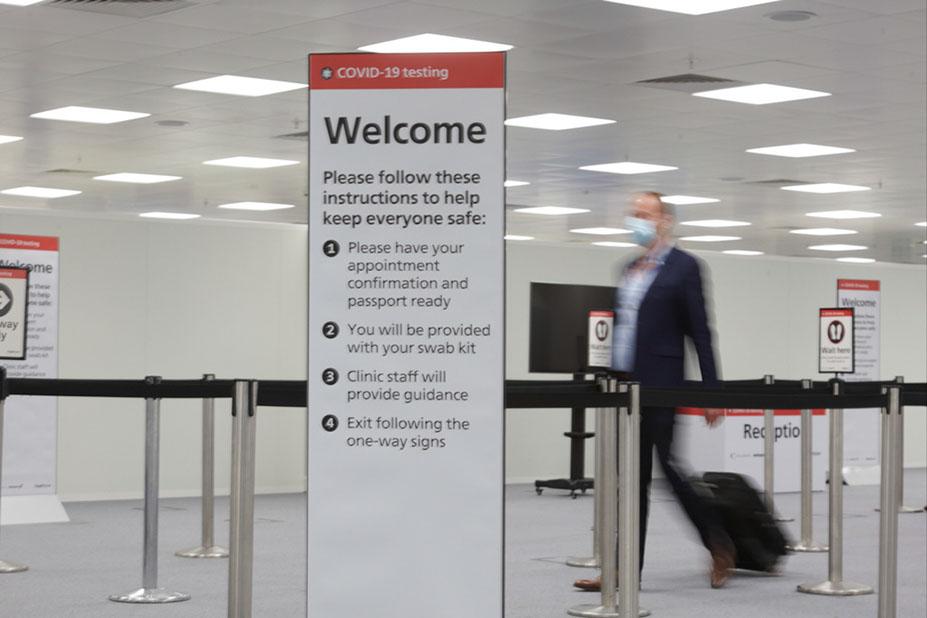 Collinson, Swissport and Heathrow are committed to working with Government to find the optimum testing proposition that balances public health and economic recovery. The proposed pilot is set to focus on a two-test model, with the first test taken at the testing facility on arrival and then a second confirmatory test to follow a few days after the first. With Government approval, travellers who test negative to both tests would then be released early from quarantine.
The UK is now in the position to benefit from the experience of other markets and implement inbound PCR testing to safely restart more of the travel sector including 'red' listed countries and long-haul routes. The positive economic impact will be significant. Six more countries were recently added to the UK's 'red' list, including France – the UK's fourth largest trading partner and the second most important tourist market for the UK.
Last year French tourists spent an estimated £1.7 billion in the UK, accounting for around 8% of all tourist spending. In total, overseas residents spent £28.4 billion on visits to the UK in 2019, indicating the devastating scale of economic impact if inbound travel cannot safely restart.
Collinson's recent survey of 22,000 frequent flying Priority Pass members found that nearly 3 in 4 (71%) are ready to return to travel either immediately or within the next 3-6 months, but unpredictable factors such as quarantines and border controls represent their top concern about returning to air travel. 74% identify this as a worry, and accordingly, half of travellers are willing to pay for a COVID-19 test to help ease travel restrictions.
Inside the new testing area in Terminal 2, Collinson nurses will be on hand to assist in taking a swab within the facility, which is then transported by Swissport staff to a specifically dedicated Collinson biotech lab near Heathrow. The tests will be transported using the same protocols as the NHS uses for home swab tests.
"Testing will not only avoid the "quarantine roulette" that so many passengers faced in Spain and France, it will also open up flights to key trading partners such as the US, Canada and Singapore. The government's own research shows that a double test has a high level of accuracy in screening for COVID. This facility is an oven-ready opportunity to see how Britain can safely reopen for business, as other countries are doing."
With Government support, the pilot of the new testing procedure could be available as a private service to anyone with a flight landing in Heathrow Terminal 2, and within a few weeks for those arriving in Terminal 5.
Collinson, Swissport and Heathrow announced a pilot of the tests in July and have been in discussions with various government departments in the search for a testing model that will enable safe travel and reduce the impact of quarantine. The tests proposed for the procedure are the 'gold-standard' PCR tests, sensitive enough to detect COVID-19 particles even before a passenger has displayed any symptoms, and before they become infectious.
"Airport testing is still the most viable solution to increasing travel while keeping virus spread low. We're pleased to announce that our solution is ready to give a massively needed boost to international trade as well as inbound business and leisure travel, crucial to the recovery of so many sectors. This can all be done with the reassurance that this is science led, making it safe to do so.
"Our priority is to work with government to ensure travellers who have tested negative can be released early from quarantine via an addition to the current list of 42 exemptions from quarantine."
© Heathrow Airport
"We've created the new facility in Heathrow Terminal 2 as we know from other countries that airport-based testing is the way forward. This T2 facility can process a volume of 13,000 tests a day, which can scale further with demand. We know the logistics work needed and are ready to go with the tests. All we need now is Government buy-in that those with negative tests will be released early from quarantine."
Originally published here