DAMM Cellular Systems Is Reaching a Milestone at Critical Communications World
We invite you to visit us at Critical Communications World in Vienna, Austria from 21 to 23 June at stand F110.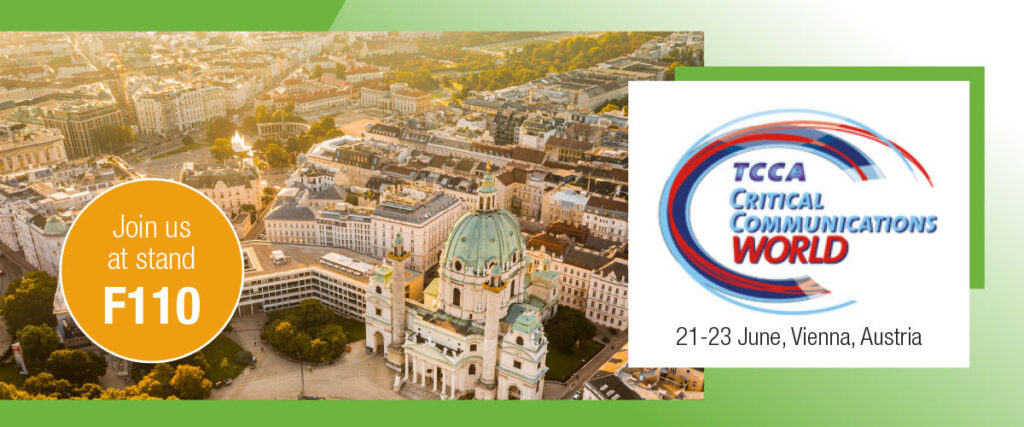 Some of our highlights this year:
A milestone has been reached in making VHF TETRA a viable choice. Join us when we unveil on Tuesday 21 June at 10:00 CEST
See our full DAMM MultiTech product portfolio – the ultimate in critical communications versatility, extending usability and increasing capacity while significantly reducing footprint
Attend live demos at our stand to explore features and functionalities
Experience how our outdoor base station can withstand even the harshest of environments
Sign up for informative case studies about critical communications in high-risk operations or learn how Zurich Airport migrated from one technology to another without any restrictions on airport operations during the migration phase
Join the TETRA Forum "TETRA – a technology in continuous evolution" to learn why TETRA communications systems remain the optimal, unrivalled and future-proof choice for critical communications needs
Come and meet us at stand F110, explore our products and solutions and discuss with our team of experts how we can help maximise the efficiency and safety of your operations.
Yes, I would like to book a meeting at CCW.
Our core mission is simplifying advanced communication and for more than 40 years we have been developing secure and user-friendly digital radio infrastructure systems – always staying true to our mission.
Click here to learn more about our participation at CCW
Free to Attend Exhibition and Conference
Critical Communications World unites mission-critical and business-critical end-users and manufacturers for three days of inspiration, knowledge and connections from 21-23 June in Vienna, Austria. Don't miss this opportunity to gain the insight, knowledge, and connections you need to transform your organisation.
Click here to register – It's free!
We look forward to seeing you at stand F110 in Vienna, Austria!
This article was originally published by DAMM Cellular Systems A/S.