ewo Supplies 1,000 Floodlights for Dubai International Airport's LED Conversion
ewo floodlights will lead to a reduction of 63 % energy consumption at DXB, one of the busiest airports in the world, delivering 7,000 MWh annual energy savings to service Dubai International Airport's near 90 million annual passenger journeys.
The project, in association with state-of-the-art pole manufacturer FUCHS Europoles, started execution mid-2019 and entered completion after only ¾ year in the beginning of 2020, representing an enormous commitment by Dubai DXB airport to ewo's R-System, a fully modular, hand-constructed floodlight capable of combining multiple distributions within each luminaire.
FUCHS Europoles GmbH - Dubai Branch GM, Joerg Zwingli, said:
"Not only the high quality of the ewo R-Series floodlights made the difference but also the performance allowing us to reduce the quantity of floodlights per mast up to less than a half. This additional improvement gave us more flexibility to cope with the different type of masts and lowering systems."
This is part of the wider modernisation of Dubai International Airport, exchanging old halogen fixtures with ewo's industry-leading LED floodlights. In addition to substantially improved security from enhanced lighting systems, the new luminaries enhance lux value to 30 lx whilst improving energy efficiency and accuracy of illumination, for the betterment of this major international hub.
From the beginning of the project, the R-Series helped to prioritise simplicity. The R4 (four-panel) variant was used for the illumination of the aprons, whilst the R2 (two-panel) variant was mostly used for corresponding GSE (Ground Support Equipment) roads.
The product allowed the team to work with two types of lenses and a current feed of 600 mA for all luminaires, contributing to smooth planning work, production, installation and project documentation for ewo, FUCHS Europoles and all associated partners. In addition, the R2 and R4 variants brought a high level of accuracy on illumination, glare and lux level at optimized cost, matching required DXB specifications and ICAO standards perfectly.
ewo CEO, Hannes Wohlgemuth, said:
"We have always been confident that the ewo R-System's power and modularity can surpass its competitors' performance and we are very pleased that the airport-wide transition to ewo's R-System is now complete."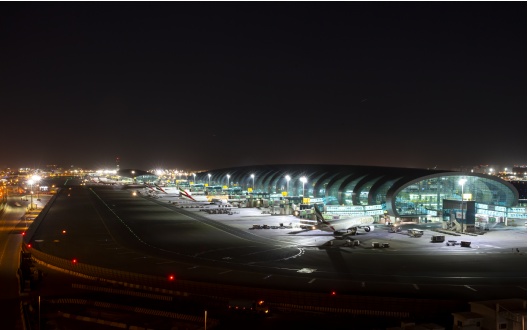 Dubai International Airport, commented:
"DXB's apron and aircraft parking areas across its 12.5km2 airfield are now lit with brighter, more efficient LED lights that will deliver annual energy savings of approximately 7,000 MWh. The switch to energy efficient LED lights is expected to reduce loads from 2,200 KW to just 810 KW, a massive drop of 63% in annual consumption."
This article was originally published by ewo.