After more than six months of testing and internal evaluation, Minsk International Airport have expanded the protection zone of the Bird Collision Avoidance System (BCAS), acquiring additional units. Now, with the completion of this stage, the main runway of the airport, together with the terminal building are protected from birds.
The execution of the project took less than three months.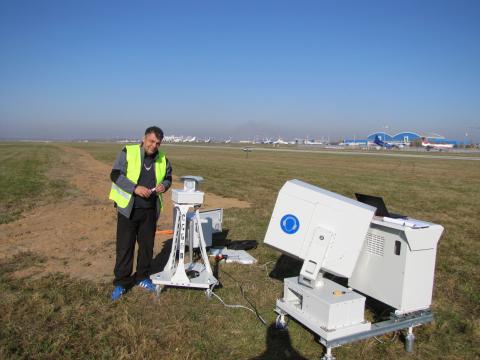 Volacom is a hi-tech company focused on designing and manufacturing of state-of-the-art avian detection and deterrence systems. Cross-field innovation is the core of our R&D approach. Volacom actively seek and explore opportunities, where scientific fields do not traditionally intercept.
The Bird Collision Avoidance System (BCAS) combines efforts of specialists in various fields like: neuroscience, biology, applied engineering, physics and software development.
An extensive R&D process led to the creation of the Bird Collision Avoidance System, resolving bird and bat related problems in a wide area of applications.
Volacom together with ACOM and Milara have formed a hi-tech group of companies, which are world leaders in niche high-quality products such as: RF and audio power amplifiers, acoustics, precise mechanics, sensors and related equipment.
Thousands of airplane bird strikes occur each year mostly in close proximity to the runways. In 2013, for example, there have been more than 6000 reported cases at airports in the US alone. Furthermore, the statistics show a rough increase of 25% since 2012.
In response to the problem, Volacom has developed the Bird Collision Avoidance System (BCAS). It creates a "safety tunnel" along the runway, including take-off and landing flight paths. The system is fully automatic and thoroughly compliant with ICAO and airport requirements. Test, performed by an independent entity has confirmed a 95+ % efficiency of the BCAS at an airport environment (automated detection and deterrence).
Volacom offers customised solutions to airports and airbases, adapting the technology (hardware and software) on a case-specific basis in order to assure the cost efficiency, while guaranteeing the highest standards of protection.
This post was originally published by Volacom.