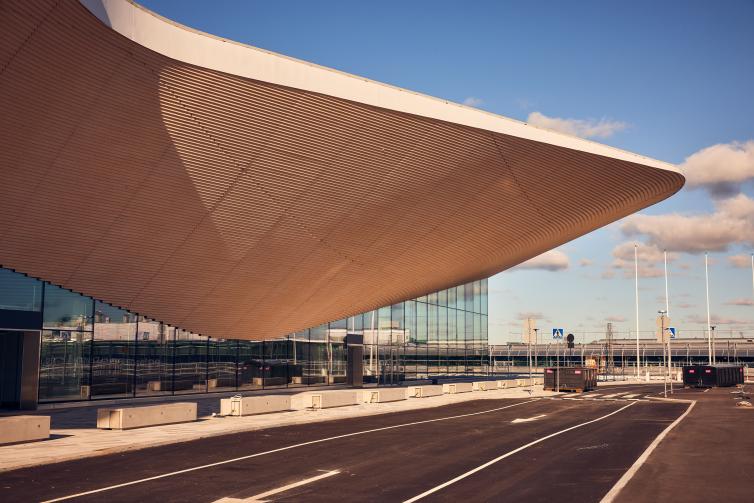 © Finavia
One of the goals was to restore a sense of adventure and romance to air travel. The architecture is inspired by classical Finnish design, such as Tapio Wirkkala's Ultima Thule and geographical contours. The design of the roof plays with the alteration of lightness and heaviness.
The tallest passengers may even be able to touch the ceiling at its lowest parts. The roof made in Raisio is finished with true Finnish spruce. It consists of 500 unique CLT elements that have been positioned one at a time, like a giant puzzle.
Huge Employment Impact in Finland
Finavia's investment programme, which has lasted for eight years, is in its final stretch as the new part of Terminal 2 opens. The project will be fully completed in 2023. The investment will have a significant impact on the Finnish economy as a whole. During construction, the employment impact was 16,600 person-years. Domesticity is an important value for Finavia, and it has been nurtured throughout the programme.
The main contractor for the extension of Terminal 2 is SRV. The new section and the bus and taxi stations have been designed by ALA Architects, the new parking garage and the new connection to the Ring Rail Line by the architecture firm HKP, which is also responsible for the planning the alteration work for the terminal. Ramboll has been responsible for the technical design.
Environmental values and decarbonisation were at the heart of the planning. The terminal has been built to be 30 per cent more energy-efficient than officially required.