Ford International Airport has announced the third round of its Ford Launchpad for Innovative Technologies and Entrepreneurship (FLITE) programme to support emerging air travel technologies.
FLITE first launched in January 2022 to provide funding that encourages the design, development and pilot testing of new products and services in a live airport environment.
In partnership with the Michigan Economic Development Corporation, Seamless Ventures, Southwest Airlines, Stantec GenerationAV and the West Michigan Aviation Academy, the airport has selected five companies who will receive a share of 171,000 million USD in grant funding in the project's third round.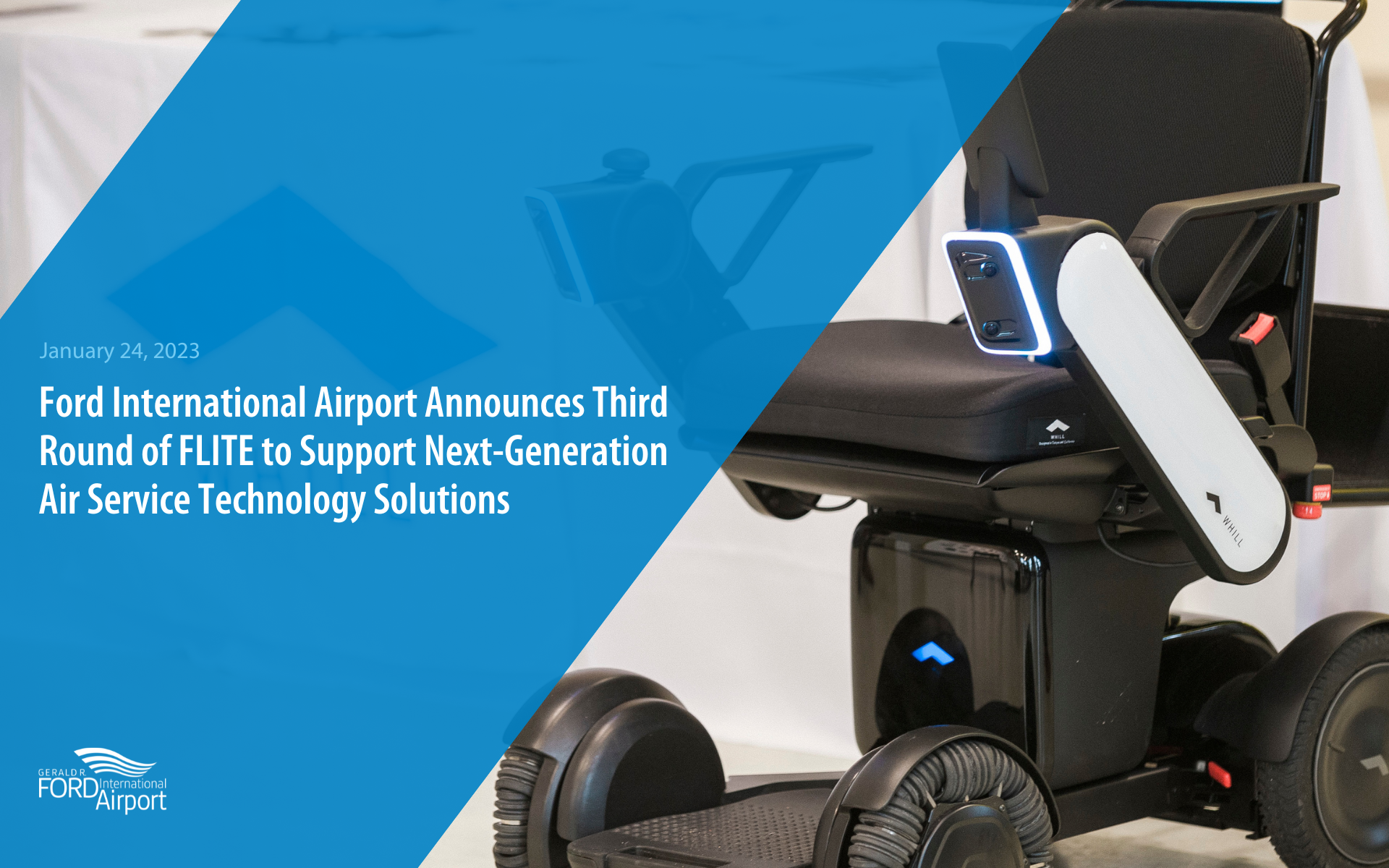 "After the successful completion of two rounds of funding, FLITE has proven to be a key asset to the Gerald R. Ford International Airport and the state of Michigan's local entrepreneurial ecosystem. It has become a leading platform in transforming the aviation industry through the introduction of new technologies that advance our ability to provide a world-class experience to all passengers and guests."
The companies that will receive grant funding in this round are Cyberworks Robotics, Deaf AI, Renu Robotics, Solartonic and UV Angel.
Cyberworks Robotics
Cyberworks Robotics specialises in autonomous self-driving systems for airport wheelchairs, autonomous industrial carpet cleaners, autonomous floor scrubbers and autonomous tow-tuggers.
Its technology is designed to operate in crowded large-scale airport environments to safely mitigate labor shortages and reduce operating costs.
The company is based in Ontario, Canada.
"Being based out of Canada, FLITE provides access to test and grow in the US market. We're excited about the opportunity to connect with the FLITE partners and advisory committee as resources for our technology and business development."
Deaf AI
Deaf AI focuses on improving communication for those who use American Sign Language.
Its technology trains machines using artificial intelligence to provide flight and boarding announcements at airport terminals using sign language.
"Throughout my communications with different airport authorities, a few of them referred us to the FLITE program as a starting point after noticing that Deaf AI is an early-stage venture. The aviation industry has a significant gap in pilot studies and soft landings for innovation, making it difficult for early-stage startups to present their innovations to airport authorities. FLITE singularly built a bridge to address this gap by providing resources for early-stage startups.
"For Deaf AI, FLITE is a window of opportunity to test its innovation and reach out to other airports, including airports on the advisory boards of the FLITE programme."
Renu Robotics
Renu Robotics wants to change how airports conduct vegetation management by using autonomous lawnmowers.
The company was part of FLITE's second cohort and will be returning for round three to conduct additional pilot testing.
"Round three allows us to further explore the Renubot's mowing capabilities in areas of the airport where larger mowers cannot easily access, as well as a cost-savings comparison. We're also continuing to look into FAA requirements for operating on airport grounds and how those regulations are applicable."
Solartonic
Solartonic provides off-grid solar-powered autonomous smart solar-powered lighting and camera systems that can enhance security resilience.
Their solahub™ platform integrates cloud-controlled devices with products for LED lights, CCTV cameras, Wi-Fi networks, IoT sensors and digital signage through remote monitoring and control.
"We are excited to participate in FLITE with the Ford International Airport. FLITE provides the ideal opportunity for us to demonstrate the value of our solutions to enhance airport perimeter security, passenger experience and airport operations. In partnership with Jacobsen|Daniels, we intend to apply this to airports across the country."
UV Angel
UV Angel's software is designed to reduce bacteria, viruses and moulds on frequently touched surfaces and in the air.
It uses UV light technology, advanced optical engineering and a first-of-its-kind digital software platform to disinfect surfaces.
"We look forward to placing our UV Angel Clean Air™ Technology in the Ford International Airport. The aviation industry has a critical need to protect personnel and travellers, and the FLITE programme will provide invaluable insight and feedback to further our mission to make indoor spaces cleaner, safer and healthier for everyone."