It is the year 2023. A year of many technological innovations that came around.
But wait…
Are you still manually connecting your ride demands with drivers?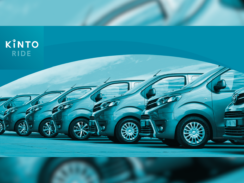 There is definitely a better way to do that. Let's dive in.
By implementing a powerful route optimization algorithm, fleet operators can significantly reduce travel distance, save fuel costs, enhance customer satisfaction, and maintain high efficiency and profitability, ultimately leading to a competitive advantage in the industry.
Toyota's KINTO Ride is an advanced example of optimization algorithm usage that offers fleet operators a seamless ride-hailing platform to streamline their operations.
In the upcoming text, we will delve into the inner workings of route optimization algorithms and provide you with practical insights that will empower you to optimise your fleet operations and gain a competitive edge in the industry.
Let's go!
ROI You Can Expect after a Month of Using a Route Optimisation Algorithm
Route optimisation algorithm helps fleet managers plan the most effective routes for their drivers. Efficiency is reflected in the fact that it saves time and human resources which eventually allows the fleet's profit to skyrocket. 
3 Main Benefits (ROI) of Using the Route Optimization Algorithm:
1. Massive Savings on Unnecessary Expenses:
The most valuable asset is time, and the use of automation can dramatically reduce the time required to establish all routes, assign drivers, manually match passenger locations, etc. The overall organisation of the process is much more efficient and with less wasted time, there is more room for improvement in other areas.
With fewer obligations, there are also fewer employees to deal with. In this way, manpower can be used more efficiently and more work gets done.
A lot of fuel can be saved with a well-planned route that avoids crowding and picks up passengers in the most efficient way, depending on their location.
Vehicle maintenance costs a lot of money, and the algorithm that creates the optimal route reduces the number of vehicles on the road and the time those vehicles are on the road. This drastically reduces breakdowns and all other vehicle repairs.
2. Minimal Chance for Mistake:
The more sophisticated the process, the greater the likelihood of making a mistake. There is always the possibility of oversights when processing data manually, and that is why automation is an excellent solution.
3. Word of Mouth Is the Best Advertising:
What can contribute more to business development than satisfied passengers?
It's natural that we all want the best possible solution for our daily struggles. The fastest way to the destination, without delays, is something that everyone chooses and recommends. Don't miss this kind of advertising, it's more powerful than it seems.
Other benefits include:
Fast organisation
Easier maintenance of vehicles (they are damaged less with less use)
Maximum effect (maximum utilised fleet potential)
Low gas emissions – sustainable path – government incentives
Business growth
Which Processes You Can Streamline?
1. Creating Routes
Creating routes is a time-consuming task. Even more so if you're doing it "by foot".
Sometimes, it can get so tangled that a delay may occur and seriously damage the reputation of the company. Your passengers could be left waiting or even get stood up for the ride they hailed.
2. Assets Utilisation​
Are your vehicles at their maximum occupancy?
The route optimization algorithm will allocate passengers based on location, destination, and arrival time data and thus make maximum use of your fleet potential.
3. Information Storage​
Effective information storage ensures data integrity, accessibility, and security, allowing efficient management and utilisation of fleet operator's data.
4. Sustainability Report
It's great when you take care of the environment, but when you don't have real data and insight into how many harmful emissions have been saved, you can't even work on improving it.
As a platform admin, you can always request a sustainability report in which you will find all the necessary data (and therefore qualify for government incentives/subsidies).
How Does It Work?
The algorithm simplifies everyday operations flow for Fleet Operators. When all desirable data is added (pickup, number and location of all the required stops on the route, drop off etc.), the platform incorporated with the algorithm shows the exact path the driver must take to get everywhere on time.
The platform administrator controls every detail through the operator's dashboard. The algorithm creates the most efficient route following entering data and keeping track of every person's location and desired arrival time.
When there is a need to change someone's location or add a new client, the algorithm will automatically create another route – to be as efficient as possible.
You can schedule a before-mentioned KINTO Ride's demo and see how all of this is done in real-time!
It is important to note that not all route optimization algorithms are created equal. Consider investing in a robust and customizable solution that can adapt to the unique needs and constraints of your fleet. Look for features such as real-time updates, interactive mapping, and integration capabilities with other fleet management tools to maximise the benefits – the success story of a fleet operator who improved their business you can hear from our sales manager here.
Embrace the power of technology and make route optimization a cornerstone of your fleet management strategy for a prosperous future.
This article was originally published by KINTO Join Mobility Business Solution.