Kaunas Airport Seeks Investor as It Prepares For MRO Infrastructure Expansion
Lithuanian Airports have launched a land lease auction as Kaunas Airport aims to further develop infrastructure for aircraft maintenance, repair, and overhaul (MRO). The airport operator aims to attract foreign and Lithuanian investors via the launched auction. Kaunas Airport is already the largest base for aircraft maintenance in the Baltics.
According to Justinas Stepšys, Head of Commerce at Lithuanian Airports, expanding MRO infrastructure at Lithuania's second-largest air gateway is a strategic and long-term goal, therefore, building an additional aircraft maintenance facility is the next step.
"Despite the pandemic having severely impacted the whole aviation industry, we are certain that for companies working in the area of aircraft maintenance, this period of time offers multiple opportunities for expansion. With our launched auction, we are more than ready to welcome representatives from both Lithuanian and foreign market players. Kaunas Airport is ready to offer infrastructure that is tailor-made for MRO activities. Kaunas Airport not only has the longest runway in the Lithuanian Airports network, but it also houses a recently renovated and expanded apron. We can offer numerous car parking locations for employees and developed utilities networks. The airport's great geographical location, and the aviation professionals trained at Kaunas's education centres are also key points to consider in choosing our airport. We invite MRO providers to participate in our newest land lease auction and therefore collectively expand activities that are important for the country's whole economy."
The winner of the land lease auction will have the right to develop a plot of land greater than 7 000 square metres, which is directly connected with the apron. According to calculations, this plot of land is large enough to fit an MRO facility that would be able to house two Airbus A320 or Boeing 737 family aircraft. The plot of land will be leased for 40 years.
MRO Expansion – High Qualification Workforce
This MRO expansion phase is part of a larger infrastructure development plan at Kaunas Airport that aims to expand aircraft repair, painting and other aircraft maintenance activities at the country's second-largest airport.
During the whole project, the aim is to attract 50 million EUR in foreign direct investment and to create more than 400 additional, high qualification and well-paid job positions. Expansion of MRO services not only brings additional economic value to the airport and the whole country, it also facilitates the creation of corresponding training programmes at local universities and raises the prospects for high qualification employees to work in these new bases for aviation.
The Contract Is Scheduled to Be Signed This Summer
Companies should send their applications until the 13th of May, while the preliminary date for signing the contract is scheduled for June this year.
Construction of the new aircraft facility is set to start by the end of 2022, therefore, the auction-winning provider could commence operations at the new hangar by the end of 2023.
Terms and conditions of the auction can be found here.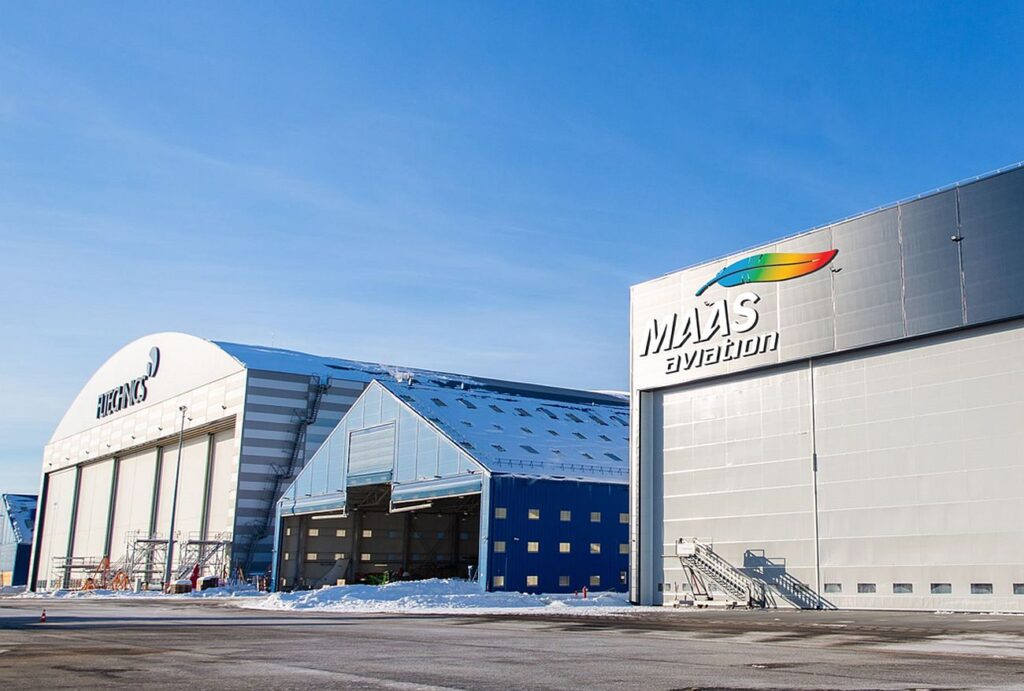 Last year, Kaunas Airport finished necessary preparation works and created what is probably the best developed MRO infrastructure in the region. The apron that runs alongside currently operating facilities has been renovated, also, the fire rescue services building has been reconstructed.
Currently, the following MRO providers are present at Kaunas Airport: Ryanair, FL Technics, DAT, and Avia Baltica. This year, MAAS Aviation – a world-class provider of aircraft exterior painting – opened the company's newest aircraft painting facility.
This article was originally published by State Enterprise Lithuanian Airports.