NACO: Improving the Safety of Ground Operations at Schiphol
Amsterdam's Schiphol Airport is the Netherlands' largest and busiest airport – in 2019 the airport welcomed more than 70 million passengers and processed 1.4 million tonnes of cargo.
Keeping pace with this level of demand was challenging whilst the airport's Quebec taxiway facility was being used in one direction at a time, contrary to the other taxiways. This was causing bottlenecks and added complexity for air traffic control. Additionally, the taxiway viaduct was becoming difficult and expensive to maintain, and was not strong enough for the heaviest aircraft in use today. To improve safety and expedite ground handling capacity, the Quebec taxiway needed to be expanded.
Doubling Taxiway Quebec
Entrusted to design the expansion and future-proofing of the airport taxiway, Netherlands Airport Consultants (NACO) drew up plans to deliver a 60-meter-wide taxiway capable of handling the larger, heavier planes being brought into commission. The fact that the taxiway crossed a bridge over a major highway, two train tunnels, a bus tunnel, and landside and airside roads made the project not just an engineering challenge, but one where military precision in execution is key.
It was a challenging project as the design had to incorporate the 250-meter-long and 60-meter-wide avioduct within the existing infrastructure. At the same time, it had to consider any future developments in the wider Amsterdam area, such as the extension of the Amsterdam Metroline, as well as Schiphol, all while adhering to EASA regulations and LVNL requirements.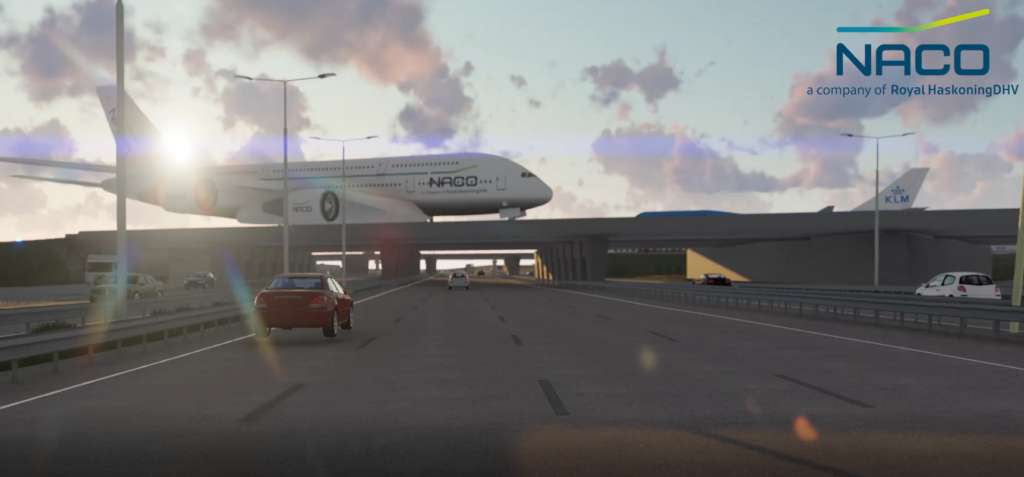 Our solution was a 250-meter-long bridge to carry the expanded taxiway. We designed this taxiway bridge in such a way that the train tunnel could remain in service during the construction phase. In addition, we worked closely with the Dutch Ministry of Infrastructure and Water Management to keep road traffic flowing safely and smoothly throughout the project.
We also undertook the creation of a fully digital 3D model and BIM Execution Plan (BEP) of all the works to provide greater visualisation of the project. This helped with stakeholder engagement and allowed us to improve collaboration by sharing data, bolstering transparency and efficiencies in the process.
In addition, we also improved climate resilience and embedded 'resilience by design' into the project. We incorporated both water storage and drainage facilities across the site, to effectively manage and mitigate against the risk of extreme weather events. The drainage facility includes state-of-the-art separation of the run-off anti-icing water, and helps position Schiphol as an international expert in innovative design.
Flying High Now and in the Future
The expanded taxiway, our advanced use of digital modelling, and the improvements in water storage and drainage have all helped to future-proof Amsterdam Airport Schiphol – enabling it to continue to grow as a global leader in aviation. By combining our taxiway design expertise with stakeholder insights and cutting-edge technology, NACO has also helped to boost ground-level safety, capacity, and resilience.