New Mobile Food & Drink Ordering Service Launched at Teesside Airport
Teesside International Airport has made it easier than ever for passengers to order food and refreshments in a safe Covid-secure way while waiting for their flight.
The OrderNext ordering platform is now live at the airport's departure lounge café and bar and is the latest in a series of improvements for passengers at Teesside International.
There is no need to download any apps, all customers have to do is scan the QR code on their table, and around the terminal, with their phone's in-built camera to instantly bring up an online menu of all the food and drink available at the airport. Customers can place their order, pay using a credit or debit card and relax while their order is brought directly to them.
The platform, developed by VenueNext Europe, has been introduced following the coronavirus pandemic and is crucial for ensuring that customers and staff stay safe through contactless ordering.
It lets passengers using the airport to place orders without the need to leave their tables, in turn reducing contact with others in line with social distancing guidelines.
"The safety and wellbeing of travellers and staff at Teesside Airport is our number one priority. We have introduced a number of measures to keep everyone safe, including our six-step process for passengers using the airport, and this is the latest measure.
"The new system means people won't have to worry about social distancing as there will be no need to queue at the bar or crowd around tills to pay for your order. It also means that people can place an order after they've checked in, which will be waiting for them when they've passed through security, with the minimum of fuss – and we'll be rolling out more ways to access the service in the coming weeks.
"As well as delivering new routes, such as the first flight to Heathrow for more than a decade, we're investing in our airport terminal. From a £1million overhaul to our security to a new look for our arrivals hall, we're giving our passengers an airport for the 21st century that they can be proud of."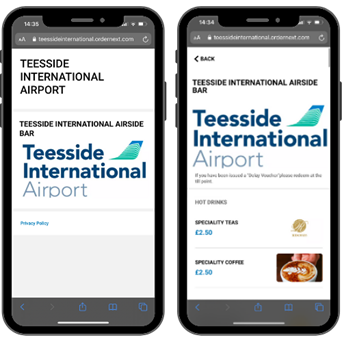 "We're excited to be implementing OrderNext technology at Teesside International Airport – prioritising customer safety and ensuring that travellers are able to enjoy their experience at the airport in an efficient way. We've all had to adapt our regular model of operations in light of the pandemic, but OrderNext technology is truly how we envision all businesses to operate in the future. Just like Teesside, we prioritise customer satisfaction, which is why this partnership is truly promising for us."
The launch of OrderNext comes after it was announced that major renovations were taking place to improve the customer experience for those departing and arriving at the airport.
A £1million redevelopment of the security area, including state-of-the-art body and bag scanners, will be complete by April next year and make moving through security checks quicker than ever. Work is also being carried out at the arrivals hall, with new walls, signage, fresh flooring and paintwork set to make moving through arrivals as smooth and welcoming as possible.
OrderNext also complements the six steps to staying safe at Teesside International, put in place earlier this year in response to the coronavirus pandemic. Measures including social distancing, face masks and the use of hand sanitisers were established to protect the health and wellbeing of passengers and staff as the airport reopened.
This article was originally published by Teesside International Airport.