American Airlines and British Airways have announced design details for an enhanced premium guest experience at John F. Kennedy International Airport's (JFK) Terminal 8.
Beginning 1 December 2022, the two airlines will co-locate operations at JFK Terminal 8, which is currently undergoing significant renovations.
American Airlines and British Airways were the first airlines to break ground on redevelopment efforts at JFK Terminal 8 in January 2020, supporting the Port Authority of New York and New Jersey's plan to transform JFK into a leading global airport. The ongoing project includes five new widebody gates, four new widebody hardstand parking positions, an enhanced baggage handling system, new customer amenities, and expanded premium guest offerings within a renovated terminal space.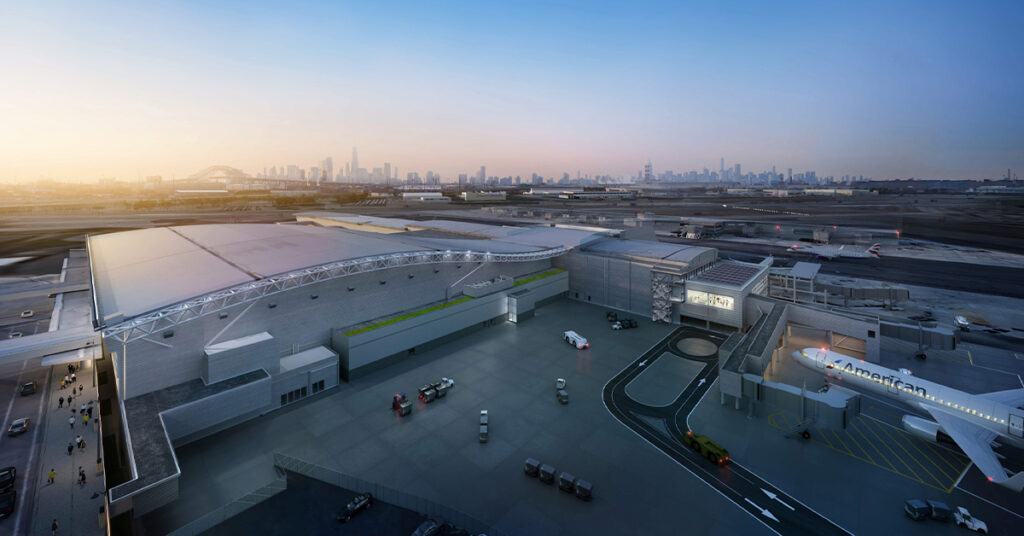 "John F. Kennedy International Airport continues to move toward the creation of a unified, world-class airport, and the transformation will begin with Terminal 8. The partnership between British Airways and American Airlines will provide customers with more seamless connections, new, larger light-filled concourses and top-tier amenities. The Port Authority applauds these efforts and looks forward to seeing the new transformed Terminal 8."
The airlines have released artist illustrations to depict the reimagined journey through JFK Terminal 8 that premium customers can experience upon completion.
As customers arrive at Terminal 8, a co-branded premium check-in area offering personalised, concierge-style service for top-tier guests will replace American Airline's former Flagship First Check-In space. Stylish architectural elements will also define an exclusive check-in area for eligible business customers.
Past security, three distinctive custom lounges will provide a welcoming preflight experience for select guests, with the expanded premium lounge containing seats for approximately 1,000 of the airlines' most loyal customers. Each lounge has been thoughtfully designed to enhance each guest's experience.
The most exclusive lounge will feature a champagne bar, a fireside lounge, and an a la carte dining room, while the adjacent premium lounge will provide guests with sweeping airside views, a wine bar, a cocktail lounge, a library, and a buffet.
Due to ongoing construction, American's Flagship First Check-in at JFK is expected to close from 1 February, so Premium customers will instead be directed to temporary check-in counters. All lounge spaces will remain open throughout the redevelopment project.