TK Elevator Provides 110 Essential Mobility Units for Spectacular Shenzhen Airport Satellite Concourse in China
TK Elevator is equipping the new airport concourse with 40 elevators, 38 escalators, 30 moving walks and two platform lifts.
With the new project, TK Elevator expands its footprint in an important economic region.
TK Elevator exclusively provides 110 mobility units for Shenzhen Airport's satellite concourse in China. Scheduled to open in June 2021, the new concourse will be further boosting the airport's capacity as a hub and strengthen the capabilities of the Chinese Shenzhen region. For TK Elevator, enabling mobility in the concourse is an exciting project in an important area for innovative transportation solutions.
The new concourse itself is a very ambitious project: At a construction cost of USD 1.5 billion, the X-shaped concourse building will encompass 238,000 sqm with 53 contact stands and 10 remote stands for aircrafts. It is expected to serve 22 million passengers a year upon completion. A project of this scale demands reliable, efficient and comfortable mobility across the complex. TK Elevator will ensure this with 40 elevators, 38 escalators, 30 moving walks and two platform lifts.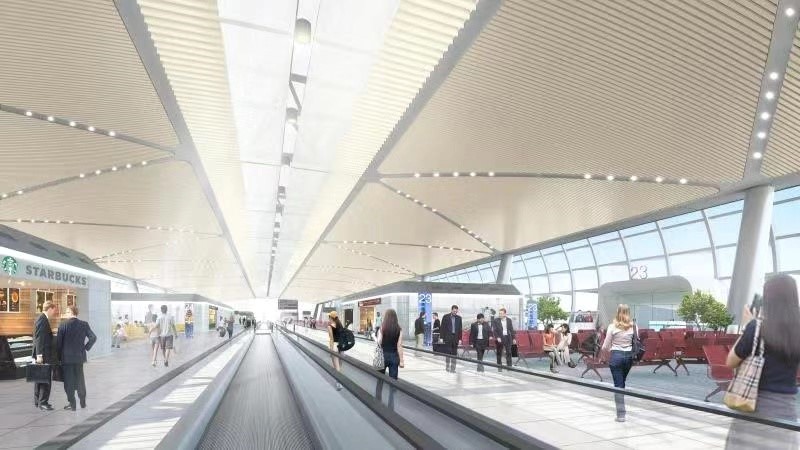 The centre of the concourse allows light filled views up to the roof, which is inspired by the gently curving rivers of the region. It further reinforces the flow of the passengers through the concourse. Arriving passengers are orientated to the perimeter of the building allowing them to experience natural diffused daylight as they move toward the APM and onwards to the main terminal.
With the new project, TK Elevator could build upon the good client relationship the company achieved from the work for the same airport's Terminal 3. TK Elevator now delivers another customized solution for the airport including the provision of heavy-duty escalators and moving walks with rollers installed outside the step chain for easier maintenance and higher bearing strength.