Glasgow Airport has announced a five-year partnership with Connected Places Catapult to establish the UK's first Connected Airport Living Lab.
Connected Places Catapult is the UK's innovation accelerator for cities, transport and places. As part of its mission, this partnership will demonstrate innovative technologies at Glasgow Airport, with the aim of enhancing the passenger experience and freight management.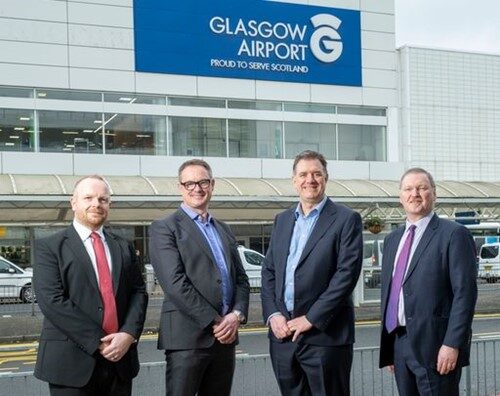 Andy Cliffe, Chief Executive Officer of AGS Airports said:
"New technologies have the power to transform the experience of everyone who interacts with the airport. As passenger numbers continue to recover after the pandemic, we want to develop a more inclusive passenger experience and as Scotland's largest cargo airport by freight value, there is an opportunity to grow the volume of imports and exports moving through Glasgow."
The Connected Airport Living Lab aims to boost productivity and accelerate decarbonisation of ground and air operations. This will include developments in electrification, the use of hydrogen, automation of data analytics and multi-modal transport.
If this partnership succeeds, plans are also in place to roll out the model to other airports across the UK.
Paul Wilson, CBO at Connected Places Catapult, said:
"Airports are changing from being just transport hubs on the edge of cities, to becoming hives of innovative economic activity. As such, they have huge potential to support skills development, job creation and regional growth.
"By establishing the Connected Airport Living Lab at Glasgow Airport we are concentrating our efforts to support innovation that is truly inclusive, delivering direct benefits to people and businesses in the region."