Installing Vaask hand sanitizing fixtures in your space can help you meet green cleaning policy requirements toward earning LEED certification points.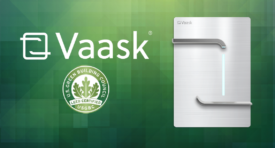 Rating system:
LEED v4.1 Operations and Maintenance
Indoor Environmental Quality
Prerequisite
To receive certification points under the Green Cleaning Policy, applicants must meet the EQ Prerequisite.
Installing Vaask in your building can support the goals and strategies of Option 1: In-House Green Cleaning Policy.
Relevant Goals and Strategies with Vaask
Provisions for addressing protection of building occupants during cleaning, including vulnerable populations
Guidelines for selection and appropriate use of disinfectants and sanitizers
Strategies for promoting and improving hand hygiene
Possible Green Cleaning Points
Green Cleaning – Products and Materials (1 point possible)
To achieve the Products and Materials credit, 75 percent of cleaning products used in a facility must meet the green performance threshold.
How Vaask can contribute
Using an EcoLogo sanitizer with your permanent fixture can help earn this credit.
Green Cleaning – Equipment (1 point possible)
To achieve the Equipment credit, 40 percent of all powered janitorial equipment must meet standards to protect occupants, users, finishes and the environment.
How Vaask can contribute
Using permanent fixtures can help meet this goal by reducing single-use battery waste.
Vaask: Purposefully Designed
Vaask fixtures are deliberately crafted to support efforts toward a positive environmental impact.
Reusable Components Reduce Waste
High-capacity, refillable 2-liter tank
Cuts down on single-use plastic
Tank made of recyclable material
Runs off AC power or PoE to eliminate batteries
Durable Construction Eliminates Need to Frequently Replace Units
Made of cast aluminum and steel
Internal components last through 500,000+ doses
Backed by a 5-year warranty
Uses Energy Efficiently
Requires only 0.25 amps of power
Uses energy-saving LED lights
Manufactured in America for a Lower Carbon Footprint
Domestic transportation of components reduced fuel use
Manufacturing follows U.S. environmental regulations
Ready to see Vaask in action? Sign up for a product demo.
This article was originally published by Vaask.