Air quality, lighting, wellness technology, furniture, biophilia, music and nutrition were the main topics discussed at the second edition of Wellference held in Madrid. A conference on the promotion and development  of  buildings  placing  health  and  well-being at the core of their project and activity, organised by the Technological Institute of Galicia (ITG) and which has already become the country´s biggest WELL event.
The Technological Institute of Galicia emphasises the importance of performance in a certification that does not analyse the journey, but the result itself, and where, in addition to the construction of the building, how it is managed is also fundamental.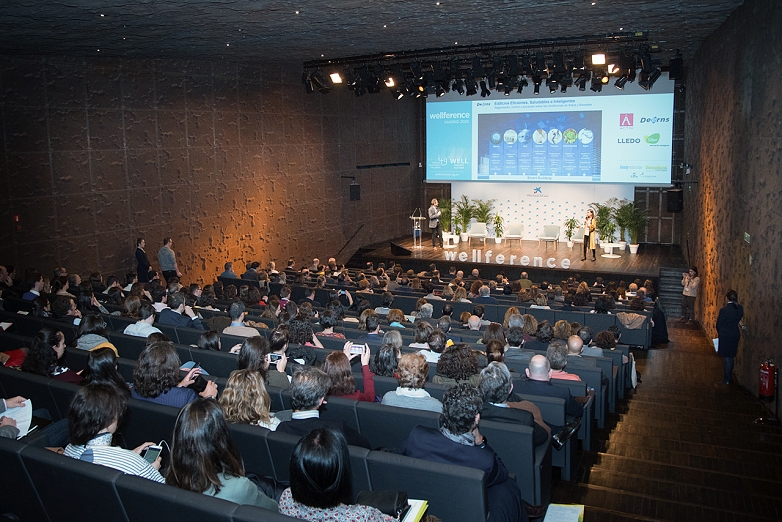 Head of the WELL Certification, Bieito Silva, said:
"The huge amount of time we spend in closed environments, around 90% of each day, and the significant impact that buildings have on our well-being, is the basis of WELL."
International WELL Building Institute's Director of Operations, Ann Marie Aguilar, said:
"The human body is not designed to spend so much time indoors."
Conceived as the first standard created for buildings, with 100% of the focus on people and their health, WELL adds the benefits of well-being to the sustainability that other certificates such as LEED or BREEAM have been advocating for years.
Aware of the impact that enclosed spaces have on our health, SIBER has spent years researching how good air quality can improve people's well-being.
Its technical architect, Carlos Castella, states:
"In addition to improving the health and well-being of building occupants, good air quality has a direct influence on thermal and acoustic comfort and helps to remove volatile organic compounds (VOCs) emitted by all materials."
Product Manager of LLEDÓ, Blanca Cañadas, states:
"Light is another aspect closely linked to well-being. "In our development process, we have created the so-called circadian rhythm, which efficiently manages certain processes to prevent us from using up too much energy."
Actiu's Director of Brand Reputation, Soledat Berbegal, who highlights the close relationship between furniture and well-being, as a tool that helps people to live and work in a much healthier and more efficient way, said:
"Working environments should convey well-being through the interaction between space, furniture and people."
Head of Corporate Well-being, Pablo Amorós, adds:
"The different facets - emotional, physical and nutritional - of well-being share a space that directly influences employee motivation, team performance and company profitability."
The importance of a healthy diet in the work environment rounded off the conference, by the philologist and gastronomic journalist, Mikel López Iturriaga, and the food technologist and researcher Aitor Sánchez. Both agree that the responsibility lies with both the individual and the company, which, more than just taking action on specific occasions, must make changes to its environment, policies and routines, and ask itself what its workers are doing in their down time and what products are available to them.
Continuing with Wellference, Actiu's Showrooom on Madrid´s Calle Velázquez hosted a second event "The secrets of the healthiest company in Spain" where professionals specialising in health and well-being issues came together. "We need companies and professionals who are committed to people and space as a key lever and promoter of well-being", states Soledat Berbegal, for whom both business and industry can help customers, suppliers and society to be sustainable.
The Academic Coordinator of the Master's Degree in Music Therapy and Professor of Music at The Autonomous University of Madrid, Miren Pérez, researched, on behalf of Actiu, how music influences the well-being of workers.
Pérez, explains:
"Music is the art that has the most impact on human beings, because it connects directly with emotions, influencing our state of mind and well-being."
Directly related to well-being and health, and as something that goes beyond the individual and should be part of any company's philosophy, healthy eating was once again present at this event.
Silvia Castelló, Dietitian-Nutritionist, states:
"Promoting healthy work environments increases productivity, happiness and the commitment of workers."
A position shared by the Director of Medical Communication at Sanitas, Jose Ignacio Ferrando Morant, for whom "it is essential to create working environments where well-being is both physical, psychological and social".
To round off the event, the Director of Operations of the International WELL Building Institute, Ann Marie Aguilar, awarded Actiu the WELL v2 Platinum Certification commemorative plaque. The first company to be certified WELL v2 Platinum in Spain, second in Europe, and fifth in the world. The company has been fostering a sustainable business culture for years, through its Technology Park in Castalla (LEED Platinum certified) and the Cool Working methodology. CBRE, the company that accompanied Actiu throughout the WELL Certification process, was represented by architect and sustainability specialist, Patricia Fuentes.