Aena Tenders the First Logistics Development Area of Airport City Adolfo Suárez Madrid-Barajas
This first area being tendered, dedicated to logistics, includes 28 hectares, with a maximum building potential of 152,914 m2, as well as 4 hectares for associated green spaces
The tender process has an initial qualification phase, which will determine the companies that will be eligible for the award phaseThe business model includes the creation of a joint venture
The overall project of Airport City Adolfo Suárez Madrid-Barajas includes, in addition to logistics and aviation activities, an area for offices, hotels and services
The projects will be developed using sustainability, innovation and landscape integration criteria
This project will consolidate the Airport as a centre for development that will attract investment, wealth and employment, not just to surrounding areas, but to Madrid and to the country as a whole
Aena is putting out to tender the first logistics development area of Airport City Adolfo Suárez Madrid-Barajas (AREA 1), which marks the beginning of the process of selecting an investment partner, and which is expected to be awarded in the first quarter of 2022.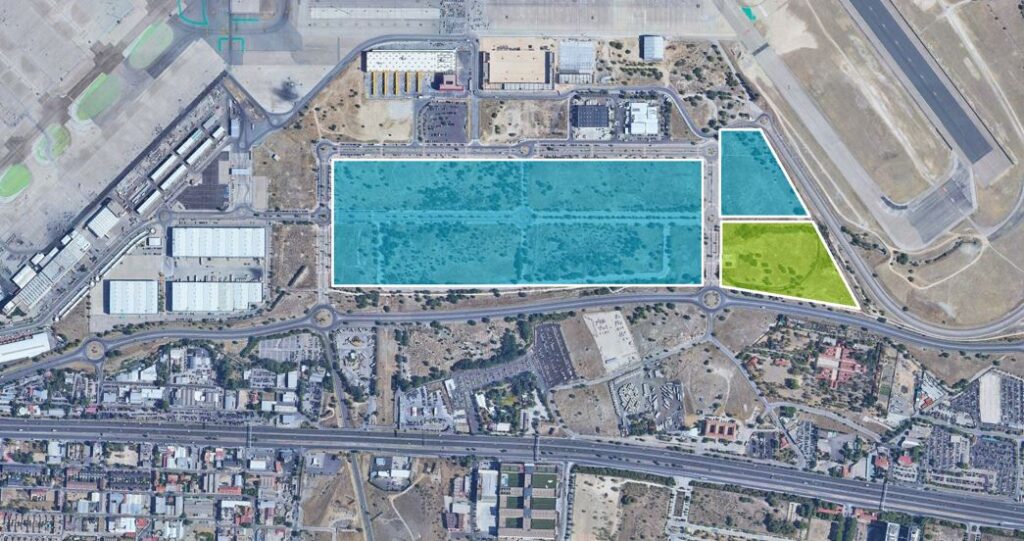 This first phase that is being tendered now is for the areas dedicated to logistics development and associated airport activities, and involves the development of 28 hectares of land, with a buildable area of 152,914 m2, and 4 hectares intended for associated green spaces. The area is in a prime location, next to the primary cargo zone at the Adolfo Suárez Madrid-Barajas Airport and in the heart of the Henares Corridor, one of Europe's largest logistics hubs, with excellent air and land connections. This area also offers the infrastructure needed to ensure that the land is properly developed and connected.
Two-Phase Bidding Process
The process has been arranged into two phases: an initial eligibility phase, starting now, in which companies interested in partnering with Aena to develop this first area will submit the required documentation. The deadline for submitting tenders is 7 November 2021. Aena will select those companies that demonstrate compliance with the requirements (capacity and suitability, technical expertise and economic-financial solvency) and invite them to participate in the next phase.
And the award phase, during which specifications will be published and will be open only to those companies that were deemed eligible in the first phase. The specifications will contain detailed information on the project so that investors can prepare their business plan and submit their technical and financial offers, as well as documentation proving their technical expertise.
Once the offers have been analysed, and in keeping with the steps outlined for this process (with an initial sub-phase to evaluate the technical offers and a second sub-phase to accept financial offers from those companies that exceed the minimum score required for the technical phase), Aena will decide which of them submitted the most advantageous bid, and proceed to create a Joint Venture with this specialised partner.
Aena will have a non-majority stake in this joint venture. To this end, Aena, as the owner of the land in Area 1, is expected to issue a right to the new company, a PLC created jointly between Aena and the investor, to use this land. Aena's contribution to this joint venture will be in kind, with a 75-year right to use the land, while the investor's contribution will be monetary, to finance all the costs anticipated in its bid during the development period, along with any additional monetary contributions that may be needed to balance the distribution of the company.
To complete this tender process, Aena will rely on its own teams, as well as on first-tier external consultants, including the firm Deloitte, a company that was also actively involved in specifying the terms of this tender.
Airport City AS Madrid-Barajas
The overall Airport City project includes separate development activities, with an associated building potential of 2.1 million m2:
Logistics node: with different types of facilities, such as storage and logistics warehouses, cross-docking, BPO (Business Process Outsourcing), and aviation service providers.
Air City with offices, hotels and associated services for passengers and users.
Aviation and cargo activities.
This plan is also characterised by its strategic location and connections, the synergies and pull effect of different activities, with the Airport as a hub, and the opportunity it offers to develop new products, all of it underpinned by environmental, social and economic sustainability.
The size of the project makes it necessary to develop it in phases, to ensure that the proper emphasis is placed on each. Thus, following this first tender, which prioritises more in-demand activities, such as logistics, which is capitalising on new consumption habits and the boom in e-commerce, Aena will gradually continue to launch the remaining areas that make up Airport City Adolfo Suárez Madrid-Barajas, until the entire area intended for supplementary airport activities is developed over a long-term time horizon.
White Paper: Sustainability, Innovation and Integration with the Landscape
In an effort to have design, sustainability and innovation criteria based on excellence, Aena has written a White Paper with mandatory measures that lay out the basic management guidelines in the new development planning.
This White Paper, written with support from leading consultants in the field, such as IDOM and the Ezquiaga Architecture Studio, takes a comprehensive view of Airport City Adolfo Suárez Madrid-Barajas and sets standards in terms of development, landscape and building, connectivity, project management, and sustainability and innovation that are consistent with the latest global trends and which will be enforced over the course of all the activities.
The objectives of the White Paper are mainly to attract high-value investment through placemaking and quality design; to become a tool of consensus with government agencies and territorial stakeholders; to define the conditions for sustainable, carbon-neutral development; and to focus on innovation as a vector for the design and development of a native digital project.
In all, this White Paper on architecture, development and landscape reflects Aena's commitments to the land, to innovation, the generation of identity, and social and environmental sustainability, by guaranteeing that the project can coexist with its surroundings.
The tender documentation is available here.
This article was originally published by Aena.