Innovation has been the driving force behind Oshkosh Airport Products and the technology exclusively engineered for our aircraft rescue and fire fighting (ARFF) vehicles.
The continual evolution of these ARFF vehicles allows airport rescue crews to be armed with the most advanced fire suppression technology, chassis performance, safety systems, ergonomic design and durability.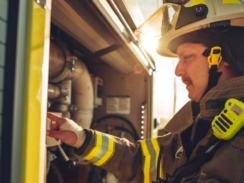 One of the most notable features of the Oshkosh® Striker® ARFF vehicle is its ability to be equipped with the patented Oshkosh ECO EFP™ testing system. This system tests the foam proportioning system on the vehicle to determine if it is operating properly without discharging foam from the apparatus.
Environmental Impact of Firefighting Foam
Aqueous film-forming foam (AFFF) is a type of foam used to fight fires. Fire departments use AFFF to fight Class B liquid-based fires – those started by oil, gasoline, or other flammable liquids. AFFF often contains per- and polyfluoroalkyl (PFAS) substances – toxic chemicals widely believed to negatively impact the environment, waterways, wildlife and human bodies.
PFAS are the active ingredient in the mixture that forms the "film" in AFFF. The foam puts fires out by cutting off the oxygen between the flammable liquid and air, which is what keeps fires burning once ignited.
PFAS are used because of their ability to:
Resist heat.
Easily dissolve in water.
Spread quickly to put out fires faster.
However, PFAS are known to build up in the environment over time with no natural way to be removed, which can create difficult and costly clean-up scenarios.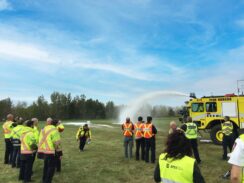 Prior to the early 2000s, the industry standard for testing aircraft fire extinguishing ARFF vehicle equipment was "output-based" performance testing. This meant that airport firefighting crews were required to physically emit extinguishing foam to then collect and analyze the percentage mix. However, concerns were raised over the output-based method, which created a problematic situation for airports. As of 2018, the deployment of AFFF was banned in fire training.
Do you want to learn more about ARFF fire suppression agents? Read our blog on Water, Foam and Dry Chemical for ARFF Fire Suppression.
Benefits of the ECO EFP ARFF Foam Testing System
Periodic verification that a firefighting foam system accurately proportions foam and water is critical to the system's effectiveness in the event of a fire.
The Oshkosh ECO EFP foam testing system measures both the solution percentage and total discharge GPM on the vehicle to ensure accurate measurement and reporting. This technology requires no additional equipment or manual calculations. The ECO EFP system logs data based on date and time and stores the data for up to 3 years. Most importantly, the system reduces the environmental impact of foam testing because it does not require foam to be discharged from the vehicle.
The entire system is accessible with a single display on the pump panel and prompts the operator to find a solution percentage in a step-by-step format. The ECO EFP system displays the last recorded test for easy access, and current and historical data is downloadable via USB. The onboard ECO EFP system creates high accuracy by using readings from flow meters, showing flow rates for each discharge, and calculating foam percentage for each discharge.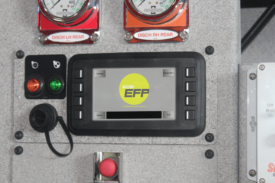 The ECO EFP system measures actual solution flow by discharging the proper amount of foam and accurately logging information. There is also no room for human error when reading gauges or manually doing calculations. The operator will be able to see if a particular discharge is not flowing correctly, allowing the system to be used as a flow rate verification and troubleshooting tool.
While other systems require extensive setup and require the vehicle to be taken out of service, the Oshkosh ECO EFP foam testing system can be performed quickly and easily. Each test takes a matter of minutes, and the vehicle can be returned to service when the operator exits the test mode.
Take a deep dive into ARFF foam test systems in our blog on Considerations for Selecting an ARFF Foam Testing System.
ECO EFP Foam Testing System is FAA Certified
The Oshkosh ECO EFP system is one of the four systems currently accepted by The Federal Aviation Administration (FAA) to satisfy the Part 139 testing requirement. Part 139 requires airports to maintain ARFF vehicles and test fire suppression operating systems. This process ensures the apparatus utilizes a proper proportioning technique for the AFFF and water capacities present on the truck. The ECO EFP system has been rigorously tested to meet FAA guidelines and simplify the process for firefighters. The ECO EFP foam test system has been approved by the FAA for training and testing purposes in CertAlert No. 21-01. The ECO EFP system benefits the environment and operators, providing a user-friendly interface and reducing adverse effects on the environment.
Airport rescue crews have a lot of responsibilities when it comes to keeping ARFF vehicles mission ready. From preventative maintenance to scheduled testing, foam testing should be an easy, efficient, and safe process that provides highly accurate test results simply stored for future reference.
Oshkosh Airport Products' ECO EFP foam test system allows any operator to verify foam percentages and discharge flow rates as frequently as desired without the risks.
What ARFF foam test system do you currently use? If you have questions about the Oshkosh Airport Products' ECO EFP system, please contact our knowledgeable team today or post a comment below.
ARFF vehicles are an essential part of airport safety. If you're unfamiliar with them or just want a refresher, download our comprehensive ARFF Vehicle Reference Guide.
This article was originally published by Oshkosh.