Automated, Touchless Photo ID Verification Now at All Security Screening Checkpoints at LAX
Los Angeles International Airport (LAX) is the first large airport in the country to offer touchless, automated photo identification scanners at all of the airport's security screening checkpoints, further reducing contact with Transportation Security Administration (TSA) officers and enhancing the passenger experience.
TSA is now using Credential Authentication Technology (CAT) at every security checkpoint at LAX. When a traveler approaches any document checking podium at the entrance of the security checkpoint, the TSA officer will ask them to insert or scan their own photo ID into a small machine. With CAT, there is no need for travelers to give their photo ID or boarding pass to the TSA officer.
"As the first large airport in the U.S. to implement 100 percent use of touchless ID scanners at checkpoints, LAX is once again setting the bar for innovation, technology, and a seamless and healthy guest experience. We thank our partners at TSA for their strong leadership in bringing touchless credential checks to the whole of LAX, and working with us to leverage evolving technology that helps people travel safely and efficiently."
Through a secure Internet connection and a scan of the photo ID, CAT confirms the traveler's identity on a screen and verifies that the individual is ticketed for travel that day, all in real-time. Previously, TSA had 30 CAT units deployed at LAX. Earlier this month, an additional 50 units were installed, making LAX the first airport in the country with full CAT capability in every lane at every security checkpoint.
Travelers under the age of 18 will still need to provide an electronic or paper boarding pass to the TSA officer. In addition, all travelers will need to check in with their airline and show their boarding pass to the airline gate agent before boarding their flight.
"The use of CAT eliminates a touchpoint between traveler and TSA officer. This self-service option is just one of the many ways TSA is helping travelers 'Stay Healthy. Stay Secure.' during the screening experience without compromising security. We are extremely pleased that LAX is the first airport in the country to offer this fully automated feature."
Currently, TSA has deployed more than 1,500 CAT units at 125 airports nationwide. In addition to providing a touchless experience, this technology also enhances TSA's ability to detect fraudulent documents and those that have been tampered with. CAT units can authenticate several thousand types of identification including passports, state-issued driver licenses and identification cards, as well as U.S. and foreign passports.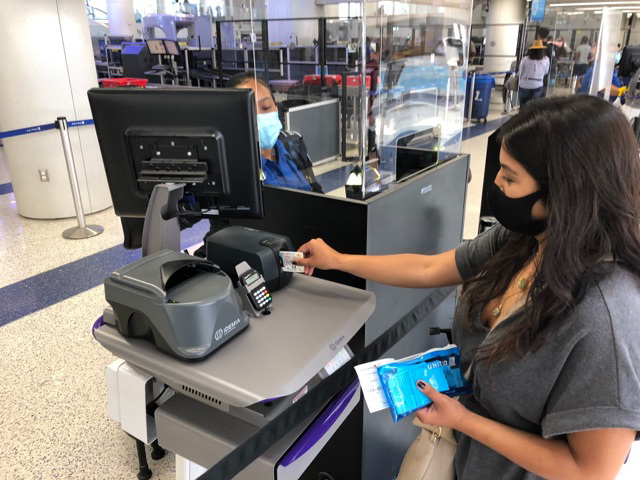 As part of its "Stay Healthy. Stay Secure" campaign, TSA has implemented multiple proactive and protective measures to enhance the security screening experience and make it safer and healthier for travelers and the airport community. In addition to the use of CAT, TSA has expanded its use of 3-D X-ray scanners to improve threat detection capabilities during the screening of carry-on luggage. This state-of-the-art computed tomography technology reduces the number of bag checks of travelers' personal property. There are currently seven scanners in use at LAX.
TSA has also instituted physical distancing measures, installed acrylic barriers where travelers and TSA officers interact most, requires the wearing of personal protective equipment among its employees and conducts increased cleaning and disinfecting of high-touch surfaces in the security checkpoint.
This article was originally published by Los Angeles World Airports.