Budapest Airport's New Main Gate Completed from Nearly 830 Million Huf and Opens
Budapest Airport has completed construction and put into operation a new Main Gate serving its staff and partners, located near the double roundabout on main road number 4 in Vecsés. The new Main Gate is a 440-square-metre building, has 123 parking spaces and is two and a half times the capacity of the previous facility. The investment of nearly 830 million HUF will enable faster and more seamless access to the operational area of the airport for employees, tenants and partners. The gate will fully replace the vehicle access previously handled by gates D and J, but thanks to the new bicycle road and sidewalk, it will also be easier to access the operational area of the airport on foot and by bicycle.
Budapest Airport handed over the new Main Gate of Ferenc Liszt International Airport to traffic in the morning of 15 November. The new and modern 440-square-metre building is two and a half times bigger than the previous one and awaits customers with spacious and comfortable interiors, while the employees of the BUD group will work in a more modern and pleasant environment.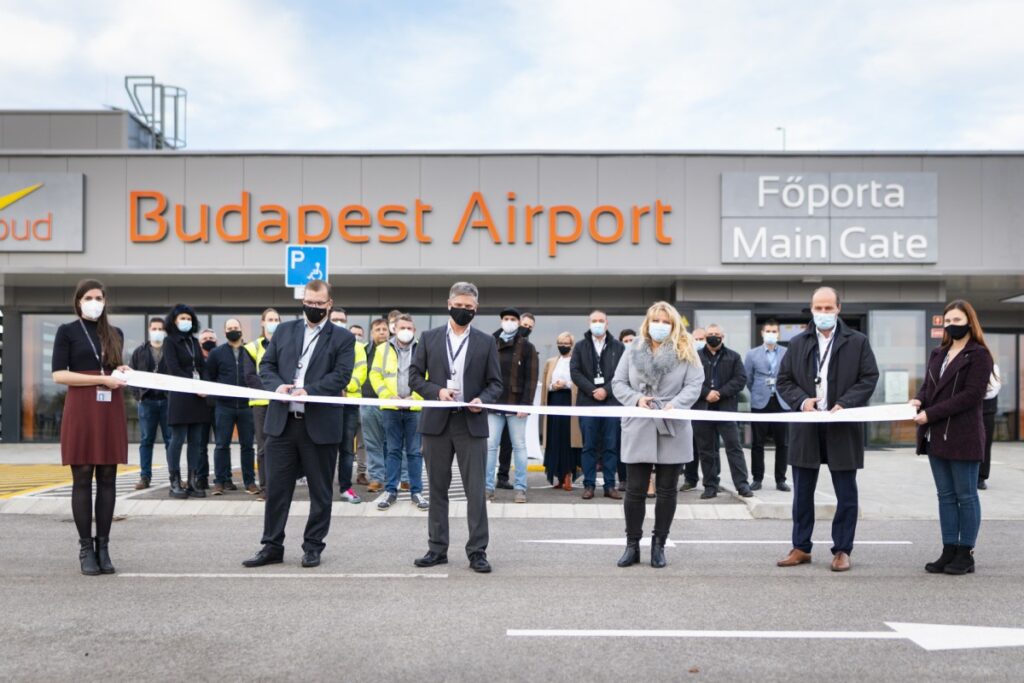 With the opening of the new Main Gate, vehicle access will occur only via this access point from the end of November, i.e. it will completely take over the traffic previously handled by gates D and J. An average of 3000-3500 people enter Ferenc Liszt International Airport a day via the gate, including airport employees and visitors, the staff members of companies renting premises at the airport and the goods vehicles of freight forwarders.
The Main Gate is accessible from different directions and with several means of transport. Vehicle access is possible via the double roundabout near Market Central in Vecsés, or from the turbo roundabout in front of Terminal 2. There is a shared pedestrian and bicycle road between the double roundabout in Vecsés, Terminal 2 and the Main Gate, and the new gate to the operational area can also be reached on foot from the nearby bus stop on main road number 4.
Seamless access is ensured by a total of four traffic lanes, of which two are inbound, one is a variable direction lane and one serves outbound traffic. Three lanes can thus be easily adjusted to the prevailing traffic conditions, while the fourth one is reserved for oversized vehicles, and can easily accommodate trucks carrying larger loads. Car parks have been built near the gate, within the area of the airport but outside the security fence, providing a total of 123 spaces for colleagues, tenants and goods vehicles.
Budapest Airport also focused on its net zero ambitions during the design of the new Main Gate; the building is surrounded by a 3000-square-meter green area, has high energy efficiency standards and solar panels installed on the roof help provide one-third of the building's electricity needs.