The YFC expansion project was a partnership between the Fredericton International Airport Authority, the Province of New Brunswick, and the Government of Canada.
Travellers will be pleased to discover that the new terminal offers enhanced food service options. Local business Chess Piece Patisserie and Café was selected as the food service provider, and will serve its signature coffee, desserts, and meals along with local craft brewery products. The new terminal features a café inside the departures lounge, which will open once air service resumes.  When pandemic restrictions are eased, an additional café will be open in the Arrivals area serving both travellers and the community.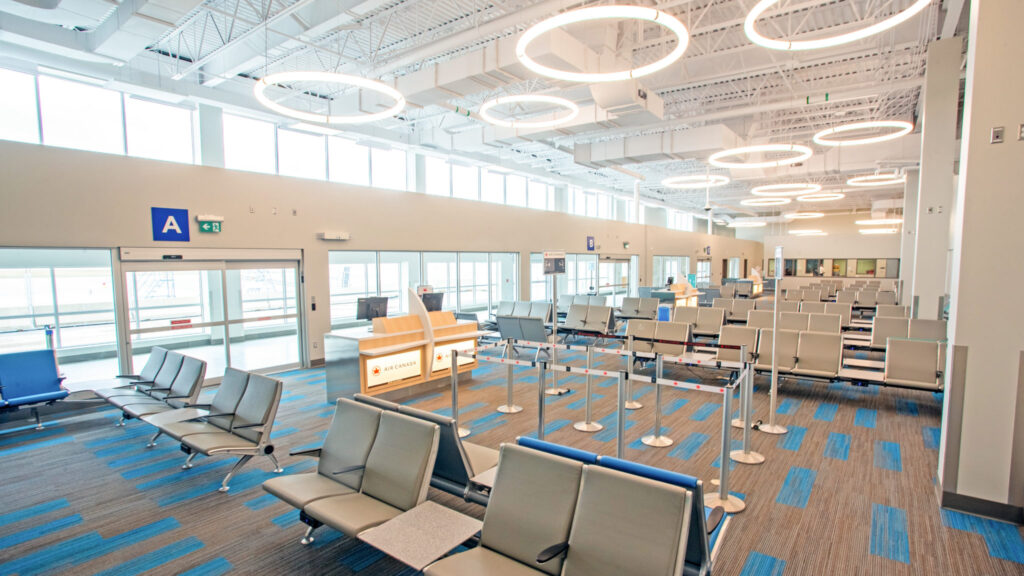 © Fredericton YFC International Airport
Due to the travel restrictions associated with the COVID-19 pandemic, scheduled air service has been temporarily suspended at YFC. The airport authority continues to work with airlines and provincial and federal governments to ensure that air service is restored when the time is right.
New café location in the departures lounge and upgraded café in the arrivals area, featuring local craft beer, espresso beverages, and food prepared by Chess Piece Patisserie and Café.
Ample plugs and USB ports throughout the terminal to allow travellers to charge their devices and stay connected.
Upgraded male and female washrooms, private washrooms for families or individuals of any gender, and nursing rooms.
Children's play area located next to the café in the departures lounge.
Natural light throughout the terminal.
Additional space for air carriers, and flexibility to move designated check-in counters as needed.
Improved security, including appropriate space for security screening lines and additional cameras throughout the building.
Airside corridor allowing passengers to exit and enter the building closer to their aircraft.
Additional space in all areas for passengers, allowing for physical distancing.
Upgraded baggage handling facilities.
This article was originally published by Fredericton YFC International Airport.