Governor of New York Kathy Hochul has announced that construction is ready to begin on JFK International Airport's new 9.5 billion USD Terminal 1, following the project's financial and environmental approvals.
In December 2021, Governor Hochul announced that that a new world-class terminal would be built at JFK. The Port Authority of New York and New Jersey's Board has now approved Ferrovial, a global airport operator with experience building new terminals, as a new lead investor in the project.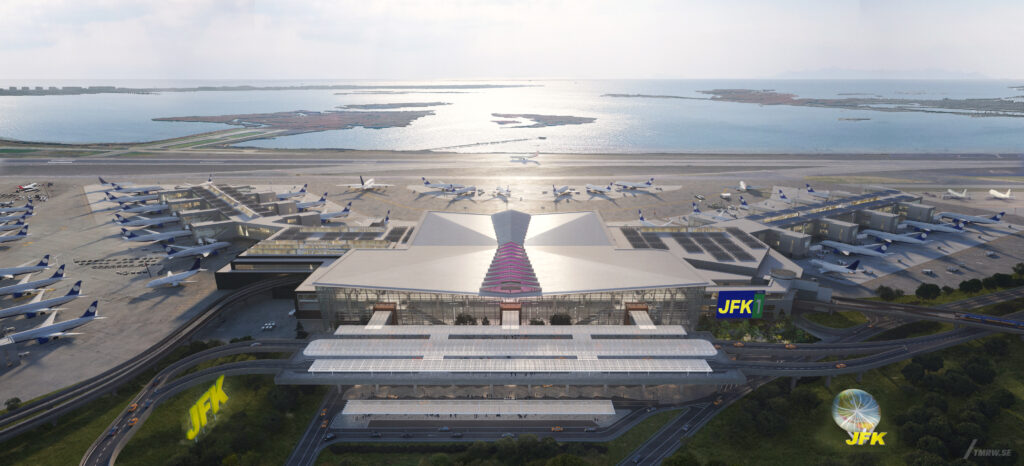 "Today's financial close on the first phase of the New Terminal One project at JFK Airport is an historic moment that has been five years in the making. We look forward to partnering with Ferrovial, JLC Infrastructure Group, Ullico and Carlyle to build a world-class, top-rank terminal that will be the largest international terminal at JFK and whose $9 billion dollar-plus investment will help drive the region's recovery."
JFK's new Terminal 1 will be built on the sites currently occupied by Terminal 1, Terminal 2 and the former Terminal 3. The 2.4 million square feet facility will be the largest terminal at JFK.
The announcement that construction is ready to begin on the new terminal follows the recent opening of a new Terminal C at LaGuardia Airport in New York.
"With a new LaGuardia Airport substantially complete and a new Terminal A at Newark Liberty Airport nearing completion, today's announcement about moving forward with a New Terminal One at JFK is another demonstration of the Port Authority's commitment to creating world-class airports for our region. The unprecedented level of investment by our private partners is a vote of confidence in the future of our region and our ability to take on and complete extraordinary projects that will serve as an inspiration for generations to come."
Construction of the new terminal will take place in three phases. The first phase, including the new arrivals and departures hall and a set of new gates, is expected to open in 2026.
Once all three phases are completed in 2030, JFK's new Terminal 1 will have 23 gates. The facility will feature bright check-in halls and arrival spaces designed to enhance the customer experience.
"The construction of this new state-of-the-art terminal at JFK is key to our vision for a new era in New York. This transformative project is moving forward full steam ahead and when complete will provide for a passenger experience that serves as a model for the unparalleled potential of New York. Congratulations and thank you to everyone who has put in the years of hard work to make this project possible."
The new Terminal 1 project builds on the momentum of existing transformations at JFK, including the development of a new Terminal 6 and the expansions of Terminal 4 and Terminal 8. Combined, these projects represent an 18 billion USD transformation of JFK.