Denver International Airport (DEN) is currently seeking approval from Denver City Council to complete the final phase of the Great Hall Project, which includes significant improvements to the Jeppesen Terminal.
The improvements will increase the terminal's capacity, allowing the airport to accommodate at least 100 million annual passengers. Additional space will also allow airlines to improve and expand their services, thus creating more potential for global connections.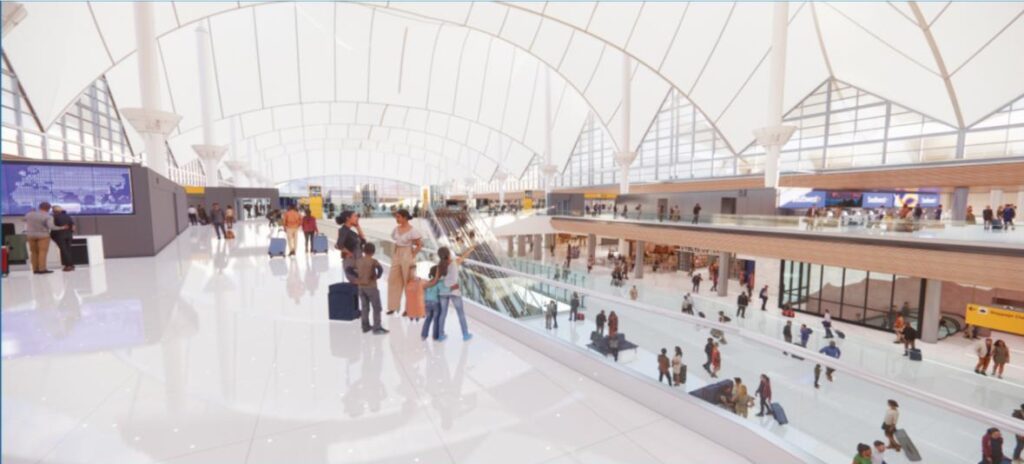 "Fully building out the Great Hall Project now is the responsible thing to do and is crucial to DEN's future success. It is essential that we continue the work we have started to better protect our passengers, upgrade our aging facility and prepare it for the future. We are recovering quickly, and our growth will continue to be robust over the next 10 to 20 years. Time is of the essence and these improvements must happen now before it's even more expensive and disruptive to passengers."
Phase 1 of the project was completed earlier this year, while Phase 2 is expected to be completed in 2024. If approved, construction of Phase 3 is projected to be complete by 2028, with many facilities opening throughout the process. The project has a proposed budget of 1.3 billion USD.
Improved Passenger Safety
The proposal includes a new security checkpoint on the northeast side of Level 6, which will be fitted with enhanced technology. This addition will enable more screening lanes and will increase capacity by over 60%.
Modern and Spacious Ticketing Areas
New check-in areas will be built on Level 6 for all airlines, providing them with greater flexibility for airline expansion and future development.
Upgraded Facilities
The domestic and international arrival areas on Level 5 will be modernised to ensure the airport provides a comfortable space where passengers feel welcome. The project will renovate facilities such as restrooms and elevators, as well as replace flooring and lighting. These improvements are estimated to save DEN approximately 200-250 million USD in maintenance across 10 years.
DEN's Center of Excellence and Equity in Aviation
The Center of Excellence and Equity will be constructed on Level 4 to provide opportunities for under-represented students and young people who are interested in a career in aviation. The centre will therefore help build a future workforce who are knowledgeable about the best practices within the industry.
69 million passengers traveled through Denver International Airport in 2019, and the airport is now expected to serve around 70 million passengers in 2022. DEN's Vision 100 plan anticipates that 100 million passengers will pass through the airport annually within the next 10 years. Completing the Great Hall Project therefore enables the airport to prepare for this growth.