Emirates has opened a new 'City Check‑in and Travel Store' in Dubai, featuring the world's first robot check-in assistant.
Located at ICD Brookfield in Dubai's financial district (DIFC),  the new facility allows customers to book travel, check-in for flights, drop luggage and shop for travel essentials in the city centre to save time and reduce congestion at the airport.
Customers can use the location to drop their luggage and check-in for their flight using self check-in kiosks, dedicated desks with Emirates agents, or with the help of the world's first check‑in robot assistant, Sara.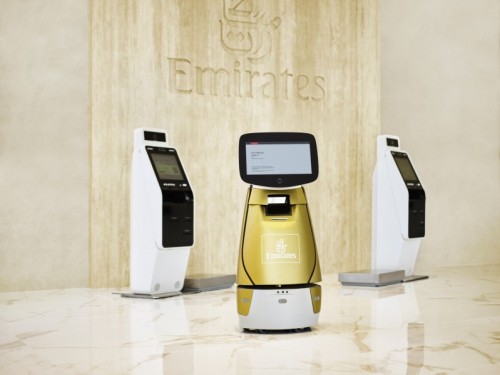 Sara is a portable robotic check-in system that can match faces with scanned passports, check passengers in, and guide them to the luggage drop area.
If proved successful, this check-in assistant may be rolled out at at additional check-in locations both within airports and as part of external check-in facilities.
"Emirates City Check In is our latest addition to the Emirates travel experience, showing our commitment to providing customers with an array of check-in options. Our new location is the first ultra-convenient check in and baggage drop facility conveniently located in the DIFC area. People can avoid busy periods at the airport and minimise queuing."