Empowering Airport Operations with Generative AI: The Total Airport Management Suite (TAMS)
In today's fast-changing aviation world, smooth airport operations are a big deal. That's where TAV Technologies steps in with a comprehensive solution: the Total Airport Management Suite (TAMS), the Next Generation Airport Management. In this blog post, we'll dive into how TAMS is changing the game for airports all over by mixing up Generative AI, Computer Vision, and Data and Machine Learning.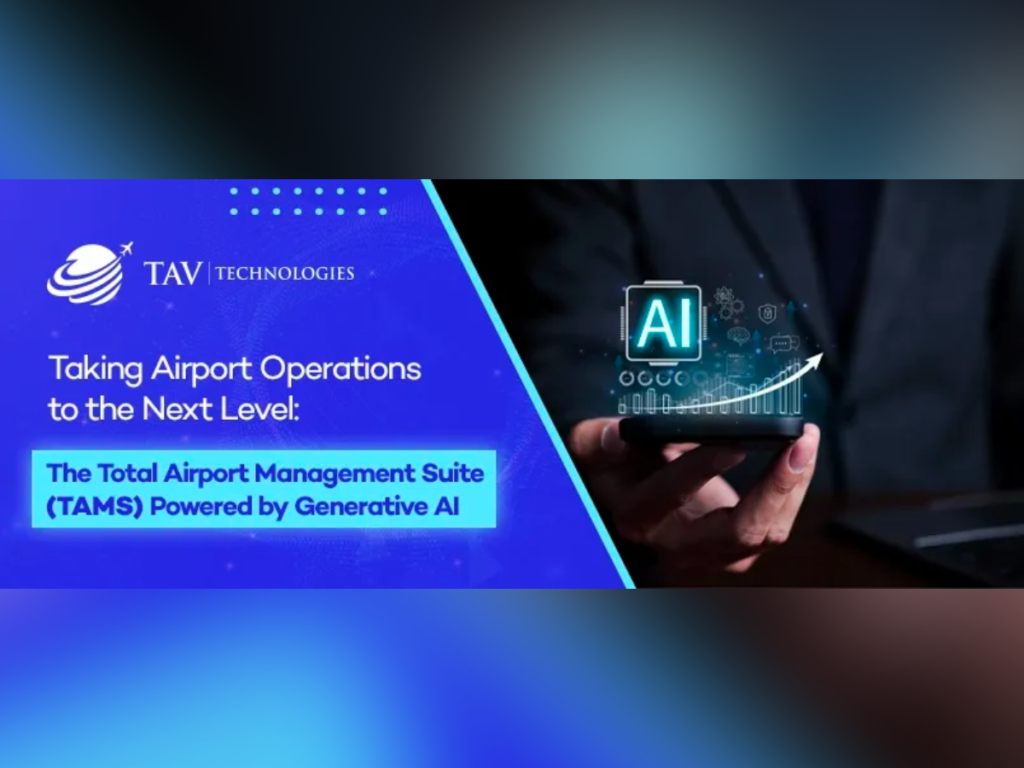 A Holistic Approach to Overcome the Complexity of Airport Operations: TAMS
Airport operations are a symphony of complicated processes that require advanced IT systems to harmonize landside and airside operations. The need for effective communication between these systems is highly significant to ensure the seamless functionality of airports.
TAV Technologies' Total Airport Management Suite (TAMS) serves as the central platform for overseeing all airport processes, covering both landside and airside operations. It excels in the integration of existing systems, providing a unified and holistic architecture for comprehensive airport management.
The Versatile Structure of TAMS
TAMS offers plenty of solutions such as flight management, airport resource management, capacity planning, commercial management, and ground handling services. Powered by cutting-edge technologies, including advanced algorithms and predictive analytics, TAMS empowers airports to make well-informed resource planning decisions, resulting in operational excellence.
Automation at Its Best
One of the standout features of TAMS is its automation capabilities. The system's algorithms and rulesets work in harmony to streamline operational tasks and minimize the need for manual intervention. TAMS is not just a tool; it's a partner that augments user decisions and aims to reduce human involvement in operations.
Workforce Planning and Realtime Task Management
TAMS is capable of providing Human Resource Staff & Shift planning and workforce scheduling. This module addresses the diverse staffing and planning needs at the airport. It also enables effective workload and qualification estimations and delivers optimized shift and roster plans via the optimization module.
For airports that have ground handling responsibilities, TAMS offers the flexibility of integration with the Realtime Task Assignment application known as GHS Realtime. This feature optimizes the allocation of tasks to staff through user-friendly mobile applications and seamlessly integrates with the TAMS ecosystem.
Slot Coordination and Capacity Planning with TAMS
Another crucial module developed within the TAMS is the Slot Coordination and Capacity module. It enables airports to coordinate with airlines for the slot coordination process and effectively allocate resources to the airlines. The Slot Coordination module is a comprehensive solution for early capacity checks and resource planning, ensuring that airport operations run smoothly.
Generative AI: Elevating User Experience
To further enhance user experience and problem-solving, TAV Technologies is expanding TAMS with Generative AI capabilities. This new feature assists users in finding solutions through natural language queries and conversations, summarizing key events and providing valuable insights. Natural language queries are now supported when creating reports and dashboards, simplifying the reporting process. Users can now simply express their information needs in everyday language, and TAMS will intelligently interpret and respond, eliminating the need for complex query language or coding.
Computer Vision Enhancement
TAMS also embraces Computer Vision technology and is now ready for integration with Panoramic Turnaround AI capabilities. This data enhances the TAMS Flight Management module, which benefits from computer vision-aided algorithms, improving overall operational efficiency.
Data and Machine Learning
In a world where the aviation industry is on the edge of a dramatic technological revolution driven by AI and Machine Learning (ML), TAMS stands as a modern and flexible platform. It offers intelligent recommendations that help users make data-driven decisions, including recommendations for mitigating actions when alerts are raised or predicted. By using dynamic values based on real-time contextual information, TAMS enables operational simulations for better business logic and efficiency.
TAMS: Future-Ready Airport Management Partner
In today's fast-paced world of advancing technology and evolving industries, TAMS stands at the forefront of airport management innovation. With a diverse range of solutions TAMS is an important asset for airports worldwide.
From streamlining processes through automation to the power of Generative AI and the Computer Vision, TAMS can be airports' trusted partner in modernizing airport operations, making them more efficient and elevating excellence in the aviation sector.
This article was originally published by TAV Technologies.