SEA's FlyHealthy Program Achieves Aviation Industry's Global Health Accreditation
As part of the continued effort to provide a safe and healthy environment for the traveling public, the FlyHealthy program at Seattle-Tacoma International Airport (SEA) achieved Global Health Accreditation under the Airports Council International (ACI) Airport Health Accreditation program. The ever-evolving efforts are detailed in the FlyHealthy@SEA Action Plan.
ACI's Airport Health Accreditation program assists airports by assessing new health measures and procedures introduced as a result of the COVID-19 pandemic in accordance with ICAO Council Aviation Recovery Task Force recommendations. Areas of assessment for accreditation include cleaning and disinfection, physical distancing, staff protection, physical layout, passenger communications and passenger facilities.
"Industry accreditation gives our customers and employees an added layer of confidence in our health and safety measures. We're leaning hard on our promise to prioritize customer well-being and to deliver an elevated airport experience. FlyHealthy@SEA is a layered, comprehensive action plan that constantly adapts to implement the best science has to offer. We will remain resilient in weathering the storm of COVID-19 while prioritizing customer, tenant and employee healthy during this pandemic and beyond."
The Airport Health Accreditation program is also consistent with the recommendations and industry priorities put forward by Airport Council International – North America's Airport Industry Recovery Advisory Panel in June 2020.  As the report recommends, the restart and recovery of the aviation sector will require a consistent and harmonized approach with clear industry standards and good practices.  More airports adopting the Airport Health Accreditation program is a concrete step that airports can take to reaffirm their commitment to health and safety.
"Since the start of the COVID-19 pandemic, North American airports have taken unprecedented steps to ensure the health and safety of passengers and airport workers. We are proud to recognize SEA's Airport Health Accreditation. This important step further demonstrates the airport's deep commitment to promoting health and safety as air travel begins to recover."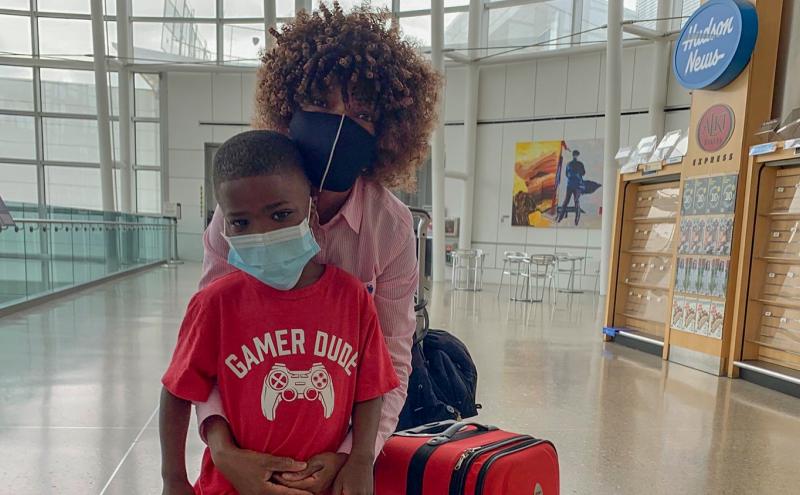 "Aviation will be a critical driver of the global economic recovery from the impacts of COVID-19 and, by being accredited through ACI's Airport Health Accreditation program, SEA is playing an important role in helping to rebuild passenger confidence in air travel. I am grateful to SEA for taking a leadership role in prioritizing passenger health through the introduction of new measures that are aligned with global standards and protocols."
FlyHealthy at SEA Action Plan
The FlyHealthy@SEA program launched in April as an overarching response to the pandemic to specifically focus on restoring customer confidence in air travel. It is a layered approach that reflects the complexity in addressing this long-term challenge of providing health and safety assurances to customers, particularly in the absence of a COVID-19 vaccine.
The approach incorporates multiple perspectives to ensure a comprehensive response, including health, public policy and advocacy, business partners, traveling public communications, and customer experience and feedback. To date, we have initiated dozens of actions such as physical changes, new procedures, and efforts to influence passenger and employee behavior. For example, we require face coverings and physical distancing, boosted cleaning and disinfecting activities, and added more touchless technologies.
FlyHealthy@SEA leads with five core strategies that earned the Airport Health Accreditation from ACI.
Adapt facilities to reflect new customer health expectations: Safety and wellbeing come first at SEA. Our response to COVID-19 means a new focus on certain actions. Visitors at SEA will see a number of changes, from hand sanitizer dispensers and physical distancing reminders to new ways for people to shop and dine.
Communicate crisis to confidence health-related changes to provide reassurance: As a key source of information for the traveling public regarding COVID-19, we are in constant communication across all channels regarding health related changes and actions at SEA. Our aim is to be highly responsive to customer concerns and deliver transparent and frequent communication with airport stakeholders and employees.
Deploy innovative products and procedures for a healthier travel experience: SEA Airport continues to innovate with options for seamless, contact-free travel. We're exploring new technologies that facilitate a touchless airport experience, and state-of-the art programs that keep you safe behind the scenes.
Drive policy developments around industry best practices and protocol consistency: We're leaning on strong engagement with the airport industry, as well as lawmakers and federal agencies, and establishing clear objectives to ensure we're leading with best practices.
Actively embrace the unknown: SEA is intentional about seeking information and developing best practices to address the challenges of COVID-19. We've formed tighter partnerships with industry partners and airport stakeholders. We're exploring new ways to keep travelers safe and making adjustments as medical knowledge evolves. We're constantly examining the "what if's" to keep our focus honed on a safe travel experience now and in the future.
"Passengers want airports to follow the same public health guidelines regardless of local requirements. The ACI Airport Health Accreditation promotes best practices and aligns efforts across the industry in an evolving new normal. FlyHealthy@SEA will keep pace and lead our industry as new health information develops."
This article was originally published by Port of Seattle.