Frequentis Orthogon Wins Sustainability Award at World ATM Congress 2021
The annual World Air Traffic Management Congress has recognised the arrival manager (AMAN) system from Frequentis Orthogon in its annual awards, held today in Madrid. The ceremony relaunched this year as the Maverick Awards and rewarded companies and projects for their work, across the three categories: Collaboration, Innovation, and Sustainability.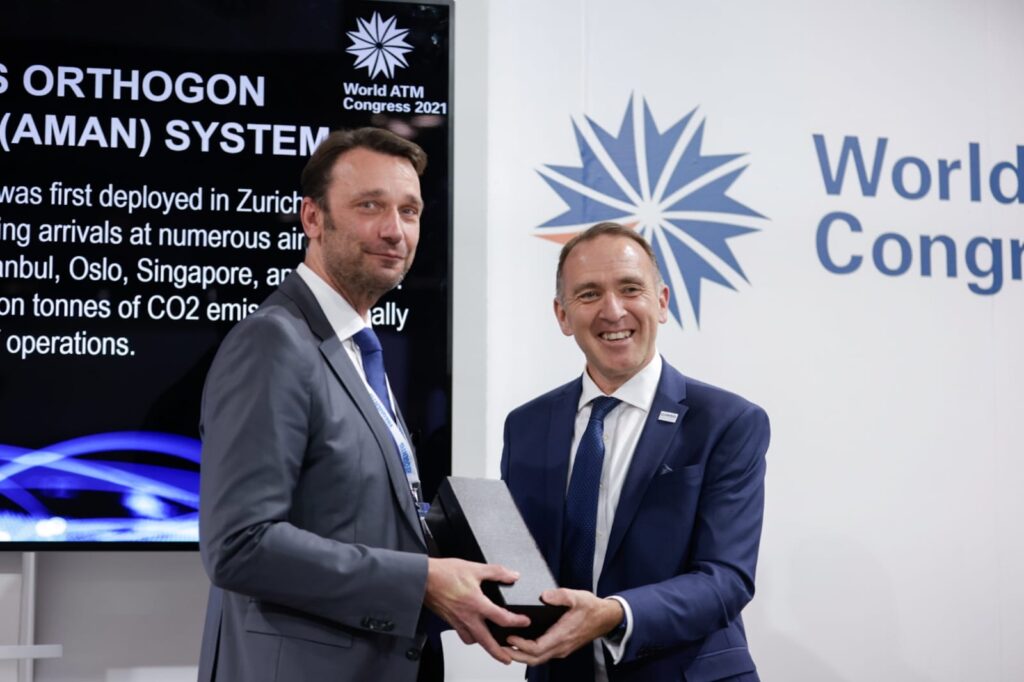 The Frequentis Orthogon Arrival Manager (AMAN) has saved more than one million tons of CO2 emissions globally within its 20 years of operations. The AMAN was first deployed in Zurich in 2001 and is now supporting controllers at airports around the globe to manage aircraft arrivals efficiently while also offering sustainability and environmental benefits. Airports where it is operational include London Heathrow, Hong Kong, Istanbul IGA, Oslo, Singapore and Toronto.
Frank Köhne, Managing Director Frequentis Orthogon, said:
"We are thrilled that the Frequentis Orthogon AMAN system has won the Maverick Sustainability Award. It is well-known that a broad variety of solutions are required to achieve the aviation industry's sustainability goals and the Frequentis Orthogon AMAN isa significant contributor to greener operations."
The number of globally deployed AMAN systems is increasing worldwide due to its huge potential and scalability. It is supported by various framework initiatives such as the ICAO Aviation System Block Upgrades (ASBU) and Single European Sky ATM Research (SESAR) program. In addition, the operational horizon of the AMAN system is increasing significantly, unlocking additional CO2 savings, as proven by the successful Extended AMAN deployment for the UK National Air Traffic Services (NATS) in 2014. AMAN deployments are also supporting modern procedures, such as Optimised Descent Profiles, required navigation performance approaches and the Point Merge System (asystemised method for sequencing arrival flows developed by EUROCONTROL), unlocking further environmental benefits.
The annual Maverick awards allow companies the opportunity to nominate innovative, field-proven technologies and projects, which are then reviewed by an experienced panel of industry experts. The sustainability award reflects significant environmental contributions by equipment and systems suppliers.
Visit Frequentis Orthogon at World ATM Congress stand 526 until 28 October 2021.
This article was originally published by Frequentis Orthogon.