Robson pleased to be active members Future Travel Experience (FTE) Baggage Innovation Working Group.
Robson Handling Technology are developers and integrators of the latest technologies within our airport baggage handling systems and are pleased to be an active member of the Future Travel Experience (FTE) Baggage Innovation Working Group (BIWG).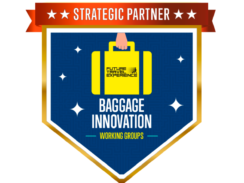 A Bit About FTE:
The FTE BIWG is the industry forum where the future of baggage handling will be defined. It brings together the most innovative and progressive baggage supply chain companies, airlines, and airports, in an informal, welcoming environment to drive transformation in the baggage space. There are already over 70 active members and the list is growing fast.
It has never been more important for industry stakeholders to share experiences, learnings and ideas, and there simply isn't another group globally that provides such an invaluable platform. The FTE BIWG hosts a schedule of virtual and live meetings, as well as informal social gatherings that regularly take place during FTE events. Indeed, the networking opportunities for knowledge-sharing and business development are among the most important aspects of the group.
Another important element of the FTE BIWG is the opportunity to participate in Proof of Concepts (PoCs). There are already PoCs underway in areas ranging from leveraging baggage images to electronic bag tags, and from autonomous vehicles to tags for life.
Further information about the FTE BIWG and its membership options is available on the website.
This article was originally published by Robson Handling Technology.