Green Light for Sustainable Fuels at Munich Airport
Tank farm at Munich Airport open for Sustainable Aviation Fuel (SAF)
SAF fuel will be available in June
Important milestone on the way to CO2-neutral flying
From 1 June 2021, "green kerosene" will also be used to refuel aircraft at Munich Airport. After thorough technical testing, the fuel depot at the airport is now being opened for climate-friendly fuels of the future.
This means that sustainable aviation fuels (SAF) can now be delivered, stored and refuelled at Munich Airport, provided they meet the relevant quality specifications for Jet-A1 aviation fuel. The tank farm, which is supplied with fuel by various oil companies on behalf of the airlines, is thus also permitted to receive deliveries of SAF blends, i.e. conventional paraffin with an admixture of renewable fuels. Munich Airport is the owner of the entire tank infrastructure, which extends from the tank farm via a roughly 17-kilometre underground pipeline system to the aircraft parking positions. Skytanking Munich GmbH & Co. KG is the operator of the tank farm and ensures the quality control of the delivered fuels. Operationally, Skytanking is responsible for the fuelling of the aircraft, together with other providers of fuelling services.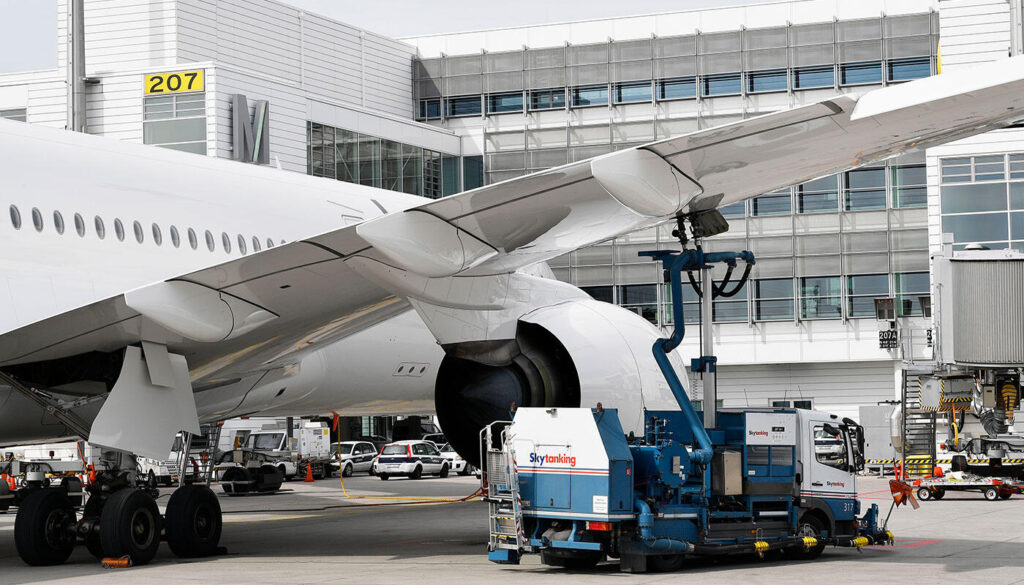 The SAF fuels used today are mostly produced from renewable raw materials, so-called "Biomass to Liquid (BtL)" fuels. In the future, however, we will also see synthetically produced paraffin that will be available on the market, so-called "Power to Liquid (PtL)" fuels, which are produced by electrolysis using water, CO2 and renewable electricity.
Although burning SAF, produced in the PtL process, releases the same amount of CO2 emissions as fossil paraffin, the crucial improvement comes in the production process itself: CO2 is used for production and is almost completely converted to fuel during this process. This in turn leads to the result that CO2 emissions can be reduced by SAF compared to conventional paraffin by about 70 to 100 percent, depending on the efficiency of the plants.