How Airports Can Level-up and Get Ready for the Oncoming Surge in Passenger Numbers
Hopefully, we'll all be returning to airports soon but whilst some people love the opportunity they offer, some find the mere thought of organising boarding passes, passports and family members to be the worst part of a holiday. With 1,034 million EU residents travelling through the continent's airports in 2019, the travel hubs need to cater to the entire spectrum and find a way to make the journey as enjoyable as possible.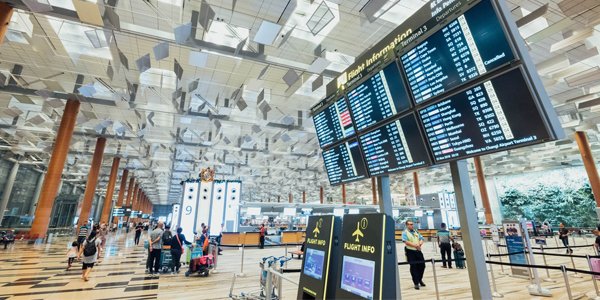 In a philosophically optimistic blog written in 2015, Thought Catalog penned a love letter to why we love airports so much. Citing their impermanence, ability to allow us to be whomever we choose and the infinite opportunities they provide, author Heidi Priebe closes with the thought "we love airports because they let us be effectively nowhere. And only when we are briefly, temporarily nowhere, do we realise exactly where we ought to be heading after all".
Whilst the reality of air travel is more worrying over whether your Vaseline counts as a liquid or if you can get away with a small suitcase and a handbag, why can't the time we spend waiting for flights be as relaxing, entertaining, or inspiring as Priebe believes it can be?
It all begins with seeing airports as somewhere to stop rather than somewhere you just travel through. With Heathrow and other airports advising a two-to-three-hour arrival time prior to your flight, passengers need to be provided with something to fill that time.
Now, not all airports have the budget of Singapore's Changi airport with its waterfall, cinema and selection of global cuisine. But every airport can capitalise on their already strong assets as retail hubs and, using WiFi as a base, provide entertainment and enjoyment to all passengers.
Let's start by considering the journey to the airport. Most airports have their own transport system, whether that be dedicated buses or trains, to ferry passengers to and from the airport; creating a premium experience can begin here. With most of these networks already providing WiFi, why not level up and develop a custom User Experience (UX) to greet passengers upon connection. When they connect to the airport's train or bus WiFi they can be met with a universal UX, meaning this too can be applied to the WiFi at the main airport.
A UX is a great place to virtually welcome passengers, it can be used as a navigational tool displaying maps of the airport to prepare passengers for their arrival, it can inform visitors of key changes and answer FAQs as well as direct them straight to the airport website if so desired. And what's more? Ad space can be sold on the custom UX to market directly to customers. Some of the retail stores and restaurants within the terminals may jump at the opportunity to advertise via the UX generating a further revenue stream for the airport.
Talking of marketing, any UX can be gated requiring passengers to give an email address, connect with their social media or fill out a profile form meaning valuable insights can be gained into who they are, where they've travelled from and, if they consent to it, build relationships through email marketing channels.
The custom UX acts as a virtual base for your passengers as they move throughout the estate. When looking for a provider, ensure that the solution keeps passengers connected throughout their journey; WiFi SPARK's signature Continuously Connected Passenger Journey means that from bus to airport to plane, passengers won't have to log in more than once and can enjoy uninterrupted browsing.
So, the holidaymakers have arrived at the airport, they've checked in and been through security, all of which went smoothly because they were able to know where to go and what to expect by getting up to speed via the UX on their journey in. Next stop, duty-free.
With airport shopping being a key destination on many people's holidays, airports can expand their offering by using the same technology in place in retail centres across the country. Working through the WiFi, analytics software enables stores to learn more about their visitors and how they shop to increase brand awareness and use data to effectively sell to the constant customer turnover. By retrieving analytics from the WiFi, airports can benefit in all of these ways:
Automated occupancy control to adhere to covid restrictions
Drive revenue with efficient queue and customer management
Understand how people are moving around the shop to arrange for optimal selling
Measure business performance by venue
By investing in analytics to make sensible business decisions, venues can expect to see an increase in the average spending of visitors, an increase in storefront conversion and the overall monetisation of WiFi. With 48% of global travellers seeing duty-free shopping as part of the travel experience, smart business decisions that propel retail growth can supercharge airports into retail hubs.
Sufficiently stocked up on a new bottle of their favourite perfume passengers now find a seat and eagerly wait for their gate to be announced. We've all been there; this time can feel eternal so what can airports do to keep passengers entertained during this downtime. How about TV, radio, or magazines?
By further excelling their WiFi offering, airports can add free TV, a selection of radio stations and a virtual newsstand of magazines and newspapers to be browsed by patient passengers, all at no cost to the user. Already beloved by patients in the healthcare sector, this visitor entertainment encourages relaxation and entertainment to enrich the travel interval.
Creating the utopia of impermanence described by Priebe in the article mentioned earlier may be a large feat, but airports can certainly enrich the passenger journey and experience by investing in something as simple as WiFi.
"A strong WiFi connection means that parents can keep children entertained in the departure lounge or keep in touch with relatives ahead of a flight without the associated high costs of 4G... The solution that WiFi SPARK is providing is class-leading and we are looking forward to reaping the benefits that the super-fast gigabit WiFi and data analytics will bring, in order to provide our passengers and employees with the best airside experience possible."
WiFi SPARK has a range of solutions from SPARK® Analytics to SPARK® Media to elevate the airport experience for your visitors, want to know more? Contact one of the team now.
This article was originally published by WiFi SPARK.