KfW IPEX-Bank: Further Financing For Helsinki Airport
Extensive measures to expand and upgrade the site
On the path to becoming a zero-emission airport
KfW IPEX-Bank is contributing a further EUR 75 million to the financing of the expansion and modernisation of Helsinki Airport. Originally built in 1952 for the Summer Olympic Games hosted by the Finnish capital, the airport has been undergoing extensive work since 2014 to expand and upgrade the site. The total investment volume amounts to EUR 1 billion – KfW IPEX-Bank already contributed a loan of EUR 95 million back in 2019.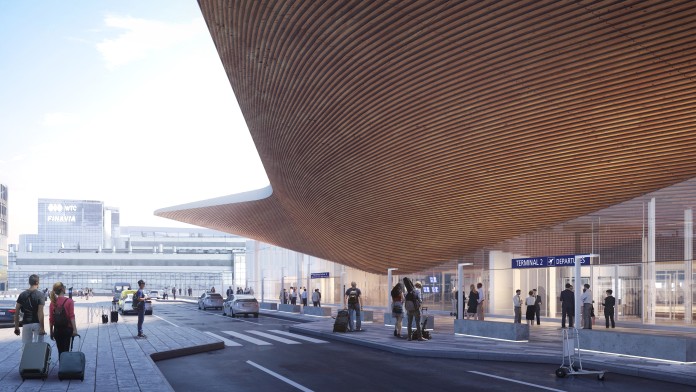 Now as part of phase 4 of the project, the existing terminal 2 is currently being upgraded and extended. This work includes expanding check-in capacities and security checks, as well as improving baggage handling and claim. The new entrance with a spectacular timber roof is due to be completed by the end of this year. As passenger numbers are still low due to the pandemic, the airport is making the most of this time to expedite the work. The project as a whole is due to be complete by 2023.
Member of the KfW IPEX-Bank Management Board and responsible for the infrastructure sector, Andreas Ufer, explained:
"The financing of airports as central mobility hubs for entire regions is one of the cores of our business as a financier of infrastructure. Even though the aviation industry is currently heavily restricted due to the spread of COVID-19, we are anticipating demand to rise again after the pandemic has subsided. Then climate protection will come to the fore again. In this area, we have been particularly impressed by the early commitment of Helsinki Airport. We are delighted to be accompanying the airport, which is already considered carbon-neutral, on its path to becoming a zero-emission airport."
The Finnish capital's airport is owned and operated by Finavia Corporation, who is also the borrower in the transaction. Wholly owned by the state of Finland, the company runs 21 airports within Finland. Sustainability and responsible conduct are at the heart of Finavia's business model. Thanks to a special climate programme, the company has managed to reduce emissions at Helsinki Airport so much that it was officially certified as a carbon-neutral airport all the way back in 2017.
This article was originally published by KfW IPEX-Bank.