At the end of last year, Budapest Airport decided to expand the capacities of the baggage sorting system at the airport, to be able to serve the increased passenger traffic more efficiently.
Construction works commenced in February 2020, before the spread of the pandemic on a mass scale, and are due to be completed by the summer. With the new baggage sorting hall, it will be possible to screen the bags of departing passengers on a larger area, using the latest technology.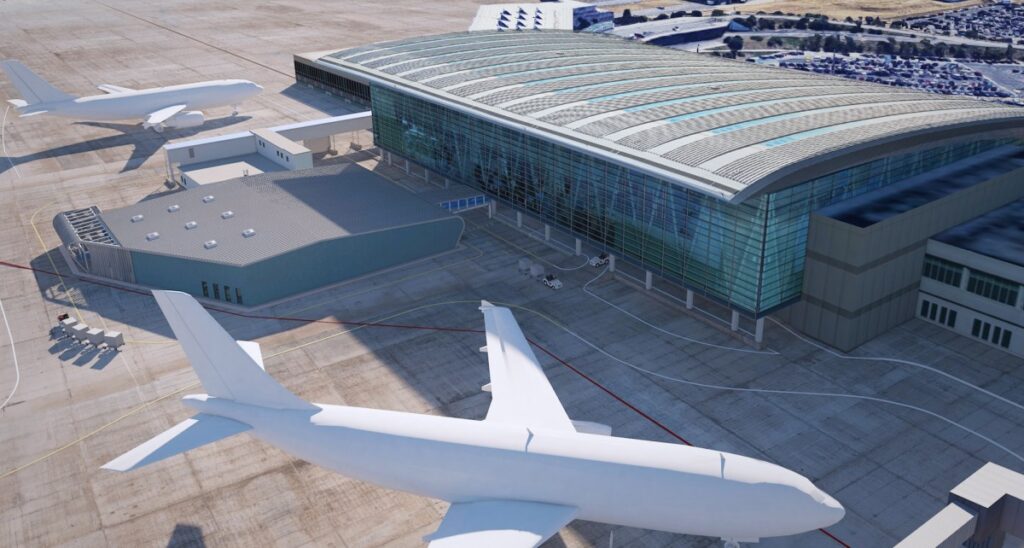 The new, 2000 square meter building, to be constructed on the airside, in front of the central hall of Terminal 2, will increase the capacities of the current baggage sorting facility, operating underneath the passenger circulation areas of the SkyCourt, by 50%. The design of the new hall will harmonize with that of the SkyCourt, and will ensure that it can be expanded further, if necessary, without impacting available aircraft handling capacities, i.e. aircraft stands and operational areas.
Budapest Airport will incorporate into the new building the best equipment currently accessible, screening machines compliant with hold baggage screening standard 3, pursuant to EU regulations. Such high capacity systems use computer tomography (CT) technology to provide a three-dimensional image of the contents of screened bags, thus enabling more precise security screening. The installation of the new equipment and the continuously increasing traffic before the pandemic also made it necessary to expand the area of the baggage sorting facility.
Dr. Rolf Schnitzler, the CEO of Budapest Airport Zrt. stated in connection with the construction of the new baggage sorting hall that providing an excellent passenger experience is more important than anything else for a seven-time Skytrax award-winning airport, which includes seamless, ultramodern baggage handling. He emphasized that although the coronavirus pandemic currently poses very serious challenges for the airport operator, certain developments cannot stop, as life will return to the airport sooner or later, and a continuously developing airport will await passengers.
The new building will be completed by the summer season, and hold baggage screening will be performed using the new screening technology from the end of September.
For Budapest Airport, it is a primary consideration during developments to provide a passenger-friendly environment, in addition to the highest level of safety and security. The security screening process was accelerated and became more calculable last year: Passengers can now leave large electronic items in their hand baggage during screening; Budapest Airport is the first airport in the CEE region to introduce this technology. Waiting time dropped below 15 minutes, even during the peaks, which is short, even by international comparison. Following the handover of two new passenger security screening lanes last year, Budapest Airport commenced the construction of two more in January, whereby the total number of screening lanes will increase to 18.
Also read;