Oshkosh Airport Products Secures First Order for the New Striker ARFF Vehicle
Oshkosh Airport Products, LLC, an Oshkosh Corporation (NYSE: OSK) Company, has announced that the company has secured its first order for the new Striker ARFF vehicle, which was introduced in January 2021. The newly upgraded Striker ARFF will be delivered to the Minneapolis–Saint Paul International Airport (MSP) Fire Department in late summer 2021. MSP's new Striker 6×6 ARFF will be an addition to an entirely Oshkosh fleet, and will feature an optimized cockpit, updated body styling, and advanced mobility, speed, and precision.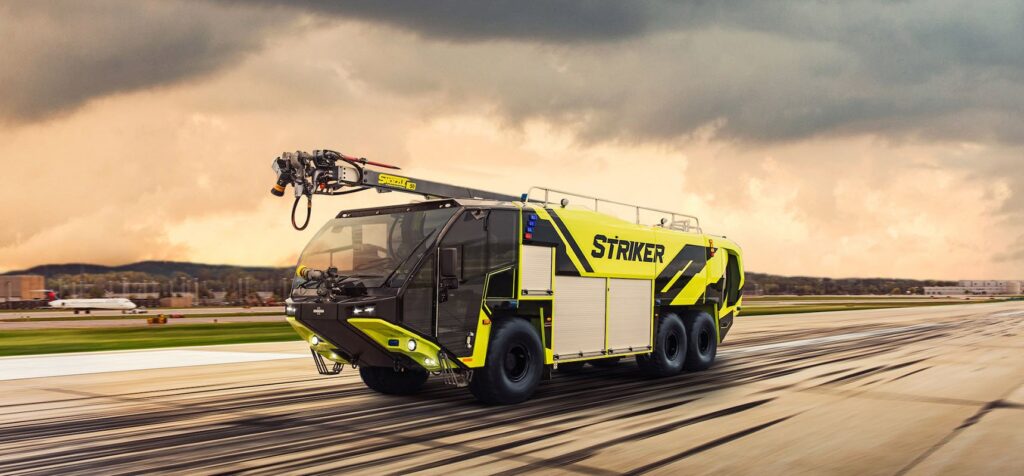 Business unit director for Oshkosh Airport Products, Jack Bermingham, said:
"Oshkosh Airport Products has a decades-long relationship with the MSP Fire Department and we are grateful to have the opportunity to continue to support this dedicated team and their vital work. The new attributes of our Striker ARFF, along with its remarkable legacy features, address the MSP Fire Department's need for maximized mobility and efficient ergonomic functionality. We are confident this apparatus will exceed performance and longevity of service expectations."
The MSP Fire Department's new Oshkosh Striker 6×6 ARFF will feature:
Scania Engine DC16 V8 670hp Tier IV Final
50-foot (15.24 meters) Snozzle® High Reach Extendable Turret
Water capacity – 3,000-gallons (11,356 liters)
Foam capacity – 420 gallons (1,589 liters)
Dry chemical capacity – 500 Ibs (227 kg)
Halotron capacity – 460 lbs (209 kg)
Acceleration of 0-50 mph (0-80 km/h) in under 35 seconds
Optimized cockpit with modular cab design and ergonomic control placement
Oshkosh CARE™ exterior decontamination wash station
Updated Oshkosh Command Zone™ software with diagnostic support
Oshkosh TAK-4® independent suspension
Oshkosh power divider for pump and roll
ECO EFP™ system for measurement of foam percentages
MSP spans 3,400 acres with four runways and two terminal buildings and is the 17th busiest U.S. airport for passengers and the 12th busiest for aircraft operations. The MSP Fire Department operates out of two fire stations on the campus to enable the staff to respond quickly to emergency events, even when faced with hazardous northern weather conditions.
Bermingham, continued:
"Our team was able to incorporate all of the instrumental mobility, maneuverability, and precision features from the MSP Fire Department's existing fleet and combine them with enhancements including outstanding operator experience, ergonomic efficiency, and cab functionality. Most notably, is the simplicity of the single cockpit display. This feature, along with many other optimizations, will help apparatus operators effectively handle challenging emergency scenes."
This article was originally published by Oshkosh Corporation.