The planned new megahub 40 kilometres southwest of Warsaw will help drive the economic development of Poland and Central and Eastern Europe, writes NACO's Lucas-Jan Ebels and Piet Ringersma.
Centralny Port Komunikacyjny (CPK) is a transport development project in Poland that is crucial for the economic growth of both the country and the wider European region.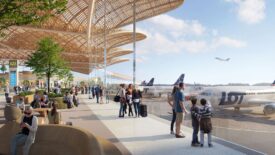 At its heart will be the largest airport in Poland and Central and Eastern Europe (CEE). However, it is much more than just an airport. It is a huge infrastructure project on an incredible scale that will quickly and efficiently integrate air, rail, and road transportation, connecting nearly 180 million inhabitants of Central and Eastern Europe.
Through its transport capabilities, CPK will also be of significant importance to Poland from a defence perspective.
Strategic Investment Based on Three Pillars: An Airport Hub, a New Rail Network, and an Airport City
The first and the most recognisable pillar is the planned international airport and multimodal hub for passenger and freight transport – located in the centre of Poland and connected with the country's high-speed rail network.
The second pillar is the extension and modernisation of the country's rail transport system. The CPK railway investment includes the construction of approximately 2,000 km of new high-speed railway lines, and several horizontal projects.
They will create seamless, fast, and interoperable travel between major cities in Poland and improve the connectivity in the CEE region, making it more competitive.
CPK will also provide a significant boost to freight traffic capacities in the region, playing a crucial role in improving connectivity and enhancing economic growth in the CEE region.
The third pillar is an airport city and eventually an aerotropolis – the future development of CPK's surroundings. Thanks to the airport, and the country's new public transportation system, the area surrounding the new gateway will be among the best-connected in Europe.
Heart of the Transport System Connecting Europe
Talked about for decades, the new airport took a massive step closer to becoming reality in 2017 when the Polish government decided to back the project as part of its strategic investment in revolutionising the country's public transport system. It is believed that the massive project will transform the country's transportation network and effectively connect Poland and the CEE region with the rest of Europe.
"The added value of this ambitious project lies in bringing together individual infrastructure projects related to air, road and rail transport into one unified infrastructure programme in order to provide the biggest benefit for the transport system and for the economic development of the region."
CPK's airport will create a new hub for Central and Eastern Europe whose route network will bring traffic and economic growth to Poland and its neighbouring countries, particularly from new long-haul destinations that have not traditionally been served non-stop from the region.
Development of Air Transport
According to the latest IATA forecasts, air travel in Poland will return to its pre-pandemic levels by the end of 2024.
In 2019, Poland's largest gateway, Warsaw Chopin Airport, served close to 19 million passengers – three million less than its design capacity of approximately 22 million passengers per annum.
If the current post-pandemic traffic recovery continues, Warsaw Chopin Airport is expected to reach its capacity in the next few years, and with little opportunity for further expansion due to its location, the Polish government is aware that it will need to create capacity elsewhere.
According to IATA forecasts, the new CPK Airport is expected to serve approximately 30 million passengers in the first full year of operations, and 40 million annually by 2035.
Network of Rail Connections
The CPK project is designed to elevate Poland's transport system and reduce transport exclusion as, amazingly, there are still some towns in the country with a population of over 50,000 residents that lack railway access.
The new rail network aims to connect the country's major cities to CPK and Poland's capital city, Warsaw, within 2.5 hours, ensuring that CPK will serve as a convenient gateway for international travel.
"CPK is not just a strategic infrastructure project for Poland, but also a major integrator of the CEE region.
"We believe that the CPK project, with its multimodality, will significantly boost connectivity in the CEE region, especially along the North-South axis. Together with regional initiatives like Rail Baltica, the Czech HSR Program, and V-4 High Speed Rail project, CPK will deliver a new, dense, and interoperable transportation network across the region.
"It means that CPK is not alone in the efforts. By co-operating at all levels with these sister projects, CPK is already taking shape as a cross-border initiative that will bring the CEE region closer together."
Importantly, the planned network of new railway lines fall within the sustainability and smart mobility strategy adopted by the European Commission and will therefore be compliant with the European Green Deal.
Enhancing Security
Although dedicated to civil aviation, CPK has been recognised by the former commander of US Army forces in Europe General, Ben Hodges, for its unmatched capability and capacity in Eastern Europe.
The project improves the region's security by enabling smooth transfer of military units, equipment, goods, and aid through appropriate transport capabilities.
"Despite its 'civilian nature', the CPK is also of significant importance from the point of view of our country's and Europe's defence.
"Of course, it will not be a military base, but nevertheless an extremely important part of NATO's eastern flank – If only due to a significant increase of military mobility."
Many Pieces of the Puzzle to Build the Most Innovative Transport System
Given that the investment consists of designing a greenfield airport, the CPK is the best opportunity to implement the most innovative solutions.
NACO, a global leader in aviation consultancy, is supporting the development of those solutions as part of the Master Architect Team led by Foster + Partners, which have over 40 years of experience designing infrastructure and transport-orientated projects, from Hong Kong and Beijing airports to Stockholm Central Station.
The vision for the new CPK Airport finds a balance between operational efficiency, environmental responsibility and symbolic expression.
Foster + Partners are providing architectural and engineering services with support from Buro Happold.
"We are proud and excited to be chosen by CPK as the designers of this project. In collaboration, we will work together to create a model for the future of totally integrated transportation design.
"We believe that this project will completely revolutionise travel across the country and beyond.
"The vision of woven architectural form is deliberately and strongly expressed. It could shape the building and guide the passengers through its spaces, while also serving as a powerful symbolic reference to Poland's rich cultural heritage and the united strength
of its people."
Leading experts in the development of intermodal transportation will serve the project with a holistic approach to terminal and rail station planning.
The design of wayfinding, landside-airside co-ordination, baggage handling, security and special airport systems, and more – will all be connected to ensure an excellent passenger experience.
"Intermodal, sustainable, innovative – that's the future of transport we're working on. We're proud to bring our aviation expertise to the project.
"Together with our partners we'll put seamless connectivity and passenger-centricity at the heart of CPK."
Smart Airport
The Polish government is determined that the new airport is a 'smart airport', being equipped with the most modern, passenger friendly technologies that ensure quick and easy journeys through its facilities.
As a result, the consortium responsible for its design is developing a number of green, environmentally friendly, intelligent solutions for the gateway.
Alongside CPK's representatives, they are working on, among other things, developing sustainable solutions for biofuel and introducing electromobility across the airport campus.
This article was originally published by NACO.