Substructure corrosion in aircraft areas exposed to recurring moisture, such as lavatories, galleys and doorways, is a major industry challenge. Replacing floor panels and beams in the substructure extends downtime and can cost anywhere from $30,000 to $100,000 per aircraft, making protection a high priority.
3M Aerospace is responding to this need by making the protection of these "wet areas" easier with the introduction of improved 3M™ Polyurethane Protective Tapes that cover the seams in floor panel joints and wide-area tapes to protect larger areas exposed to moisture.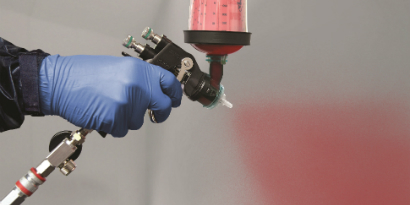 These flame retardant tapes provide an excellent, durable moisture barrier with a long service life. 3M wet area protection tapes are constructed of an extremely tough, puncture-resistant thermoplastic elastomer coated with a pressure sensitive adhesive. The tapes provide a durable and flame-resistant barrier that prevents costly corrosion damage to aircraft floor systems, and can be installed easily and quickly for a variety of applications, including seam sealing, wide wet area protection and beam protection. High elongation gives the tapes excellent conformability, providing effective coverage of contoured areas, and their dual liner construction results in better productivity and fewer wrinkles or bubbles during application. Furthermore, the transparency of the seam sealing tape allows for easy visual inspection of floor panel sealants.
The tapes also meet the FAA's expected new policy statement for 14CFR 25.853 that will provide standardized testing and establish acceptable methods of compliance for flame resistance. 3M has played an important role in the development of this policy statement, as 3M Aerospace engineer Patrick Zimmerman, Ph.D. is an active participant of the FAA working group. The new polyurethane protective tapes will be introduced at Aviation Week's MRO Americas Conference, April 3-5 in Dallas, Tex., at the 3M Aerospace booth, number 1655.
In additional news for the department, the 3M™ Aviation Window Restoration System by Clearfix Aerospace was recognized as a finalist in the Aviation Week Innovation Challenge, held in early March in Washington, DC. The aviation window restoration system is an easy to use, three-step process that solves safety issues around window clarity while considerably reducing aircraft downtime and window replacement costs. The system removes scratches, hazing and other imperfections from acrylic and polycarbonate aircraft windows, restoring clarity and keeping windows looking factory-new.
"These two aircraft solutions are perfect examples of the time- and money-saving innovations that 3M Aerospace consistently works to develop. Much like our aviation window restoration system, our new wet area polyurethane protective tapes have been engineered to help customers protect aircraft and extend their service life, ultimately saving critical budget funds."
Find more information about 3M Polyurethane Protective Tapes and the 3M Aviation Window Restoration System at 3M.com/Aerospace.