FOD Tower – Description
The Pollite Foreign Object Detection (FOD) Tower consists of four main upright frangible fibre glass masts, supported by a series of fibre glass cross braces, incorporating the same frangible technology used on our impact-tested and approved approach masts. All towers are custom manufactured based on the height and deflection requirements of the FOD detection system used.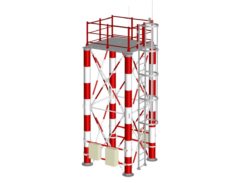 Covering a small surface area, the lightweight glass fibre structure provides excellent environmental performance and limits any electromagnetic interference. Each tower is provided complete with an access platform, GRP ladders and handrail system providing a safe working environment. Obstruction Lighting and lightning protection can be supplied as additional features to the tower as required. The tower is designed for rapid assembly.
Drone Detection
Drones, also known as Remotely Piloted Air Systems (RPAS), Unmanned Aircraft (or Aerial) Systems (UAS) or Unmanned Aerial Vehicles (UAV) can cause major problems for aircraft. Protecting aircraft from unauthorised unmanned aircraft has become a major priority in the industry.
The FOD Tower can be used to mount drone detection equipment, including those based on different technologies such as: radar detection, audio detection, radio frequency detection, video detection and thermal detection, when used independently or together to provide multi-layer security.
We can also produce non-frangible drone detection towers for applications other than airfields, such as prisons.
Features
Non-corrosive
Non-conductive
Environmentally durable
Compliant with ICAO ADM Pt 6 Frangibility
Rapid installation
Available in bespoke sizes
Lightweight
Application
The Pollite glass fibre FOD Tower is intended for use on the airfield where foreign object detection equipment needs to be elevated. Typically the position of the tower will require compliance with ICAO ADM Pt 6 Frangibility.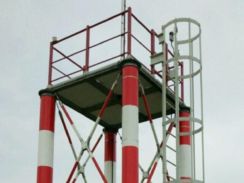 Download the Foreign Object Detection Tower data sheet here.
This article was originally published by Pollite.