This article is a product spotlight featuring our Internally Lit Windsock Mast.
Internally Lit Windsock Mast (MkII) – Description
The Pollite Internally Lit WDI incorporates the latest in LED technologies and uses a single houses bulb with 2 separate banks of lights. The unique design allows the light to remain fixed, with only the frame and reflector rotating, meaning no cable twisting or the requirement for slip rings.
The 360 degree sealed bearings are completely maintenance free and the entire unit is stainless steel for superior corrosion resistance. The mast is completely fibre glass and ICAO-approved for frangibility, deflection and strength. The windsock can be manufactured in any colour to allow this to be seen in all environments and backgrounds both during the day, and throughout darkness.
Features
Maintenance-free design
UV Resistant gel coat finish
Corrosion free
Frangibility tested and ICAO approved
Lighting
L810 Approved Obstruction Light
Low Consumption
5000Cd High Intensity
Long lifetime – greater than 10 years expectancy
Stabilised light output
Anodised aluminium body with heat sink for natural draft air cooling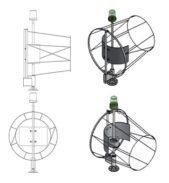 This article was originally published by Pollite.