Runway Visual Range (RVR) Mast – Description
Our RVR mast is manufactured in the UK from fibreglass, finished with a UV-resistant gel coat. It is supplied with a galvanised steel hinged base plate (180 x 180mm) with associated fixings. The 50mm stainless steel top cap is used to affix your RVR equipment.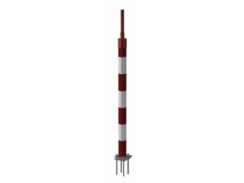 Features
Non-conducive
Environmentally durable
Easy maintenance
UV and Salt Resistant Red/White banding
Adjustable to fit any manufacturer sensor
10 year warranty
Download the full RVR mast data sheet here.
This article was originally published by Pollite.