Qatar Airways Cargo has successfully completed testing of Gaussin's AMDT FULL ELEC multi-directional transporter for air cargo pallets.
Qatar Airways is the first airline to use Gaussin's zero-emission electric vehicle. Following the successful tests, production is now underway to provide the cargo operator with additional units throughout 2022.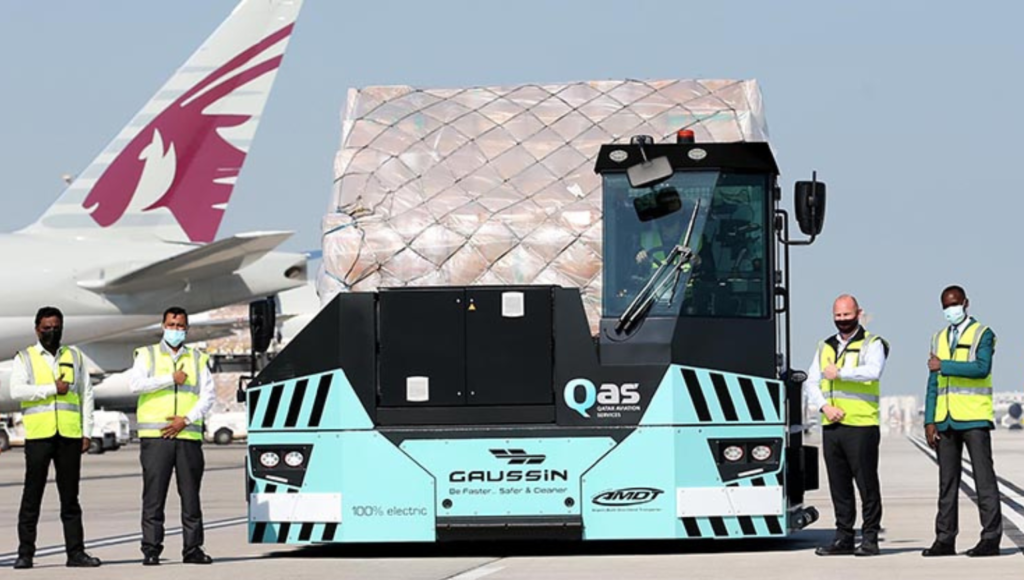 Gaussin developed the multi-directional transporter in close collaboration with Qatar Airways Cargo. The 100% electric vehicle has a battery life of up to 6 hours. It is compatible with all types of unit load devices (ULDs) and can carry loads of up to 7 tonnes.
"We at Qatar Airways Cargo are proud to be using this innovation and to have played a part in its design, taking us a step closer to a more sustainable industry. Qatar Airways Cargo is aware of the challenges of tomorrow and is fully committed to building a greener future with its partners."
The AMDT can operate within minimal space both inside and outside the cargo terminal, reducing the normal footprint required for manoeuvring to provide additional storage space and ensure effective readiness of all cargo to be loaded onto aircraft.
The electric vehicle has been specifically designed for the Middle East's weather conditions and is equipped with LMP® lithium metal polymer batteries that are unaffected by high temperatures. The equipment includes integrated weighing scales that can check each pallet's weight against the weights on the tags to assist Qatar Airways Cargo with maintaining safety and security.
In 2020, Gaussin and Qatar Airways Cargo signed a contract for 6 of Gaussin's AMDTs, including an option for 50 additional units. These transporters will gradually replace the airline's diesel pallet transporters to advance Qatar Airways Cargo's goal of achieving net zero carbon emissions by 2050.
"Gaussin is pleased to be a partner of Qatar Airways Cargo, supporting it in its sustainable goals through its expertise in designing, assembling and offering smart, connected zero-emissions vehicles for freight transportation."