Hand Sanitizing Fixture Honored for Sustainable Design
The European Green Awards today honored Vaask® for the touchless hand sanitizing fixture's sustainable design.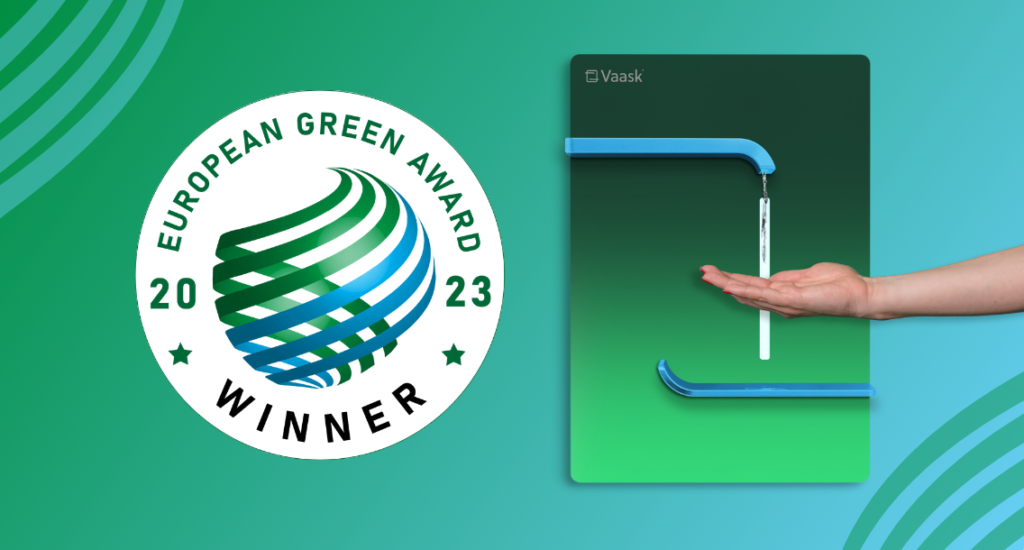 Judged annually by the nonprofit European Institute of Applied Sustainability, the European Green Awards recognize "green, fair and innovative products."
Vaask helps sustainably minded companies achieve their goals, as the U.S.-manufactured fixture features all-metal construction and replaces the endless array of single-use plastic hand sanitizer bottles. Selected for its quality manufacturing and superior coating options, the cast aluminum construction allows for customizable colors and graphics, so your organization can proudly brand your Vaask fixtures to showcase a sincere commitment to cleanliness.
Vaask is also easy to maintain, as the refillable tank holds nearly twice the sanitizer of typical dispensers, requiring less frequent refills.
Built to last, Vaask offers an effective, money-saving hand sanitizing solution. Vaask's features include:
AC/PoE—no batteries required
5-year warranty
Refillable, 2L sanitizer tank
No drips, no mess
Moisturizing sanitizing formulation using 70% plant-derived ethanol
Options for custom colors, metals and graphics
App that tracks sanitizer levels
Click here to learn more about the honor for Vaask.
Click here to see Vaask in action.
This article was originally published by Vaask.