Following a decline in air travel during the Covid-19 pandemic, passenger numbers across the US now consistently meet or exceed pre-pandemic figures, as indicated by the daily TSA statistics.
This successful recovery is arguably aided by passengers' post-covid desire to travel freely again and discover the world after a series of restrictive lockdowns.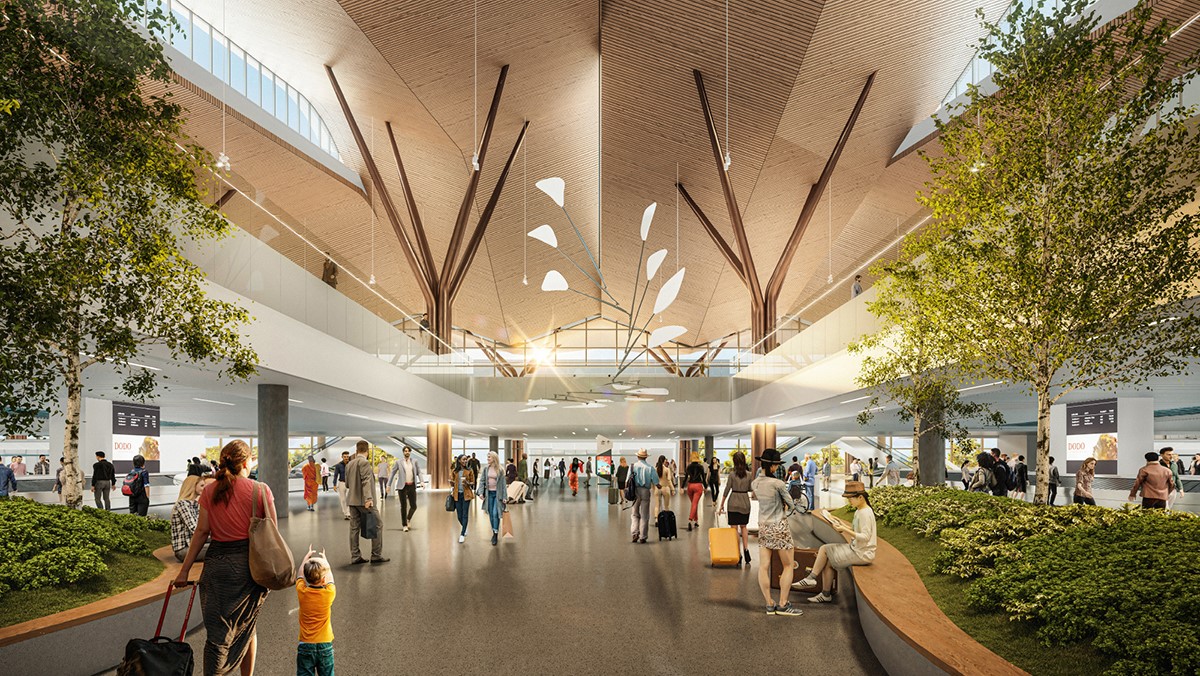 In response to this growing demand from travellers, airports are investing significantly in new technology and redevelopment plans to ensure they are sufficiently prepared to process large numbers of passengers. This has resulted in a new wave of post-covid airport redevelopments at sites such as JFK, Sea-Tac and Kansas City airports, to name but a few.
However, beyond simply aiming to cope with increased numbers, in redeveloping, airports and their partner airlines are also looking to enter a new era of air travel that leverages the behavioural changes born from the pandemic to offer an improved passenger experience.
On 3 May 2023, CoMotion hosted its latest webinar to discuss this recent increase in terminal renovation programmes at US airports. The discussion noted how the pandemic has prompted the most noteworthy redevelopment of the airport industry since 9/11, and has highlighted a shift in possibilities.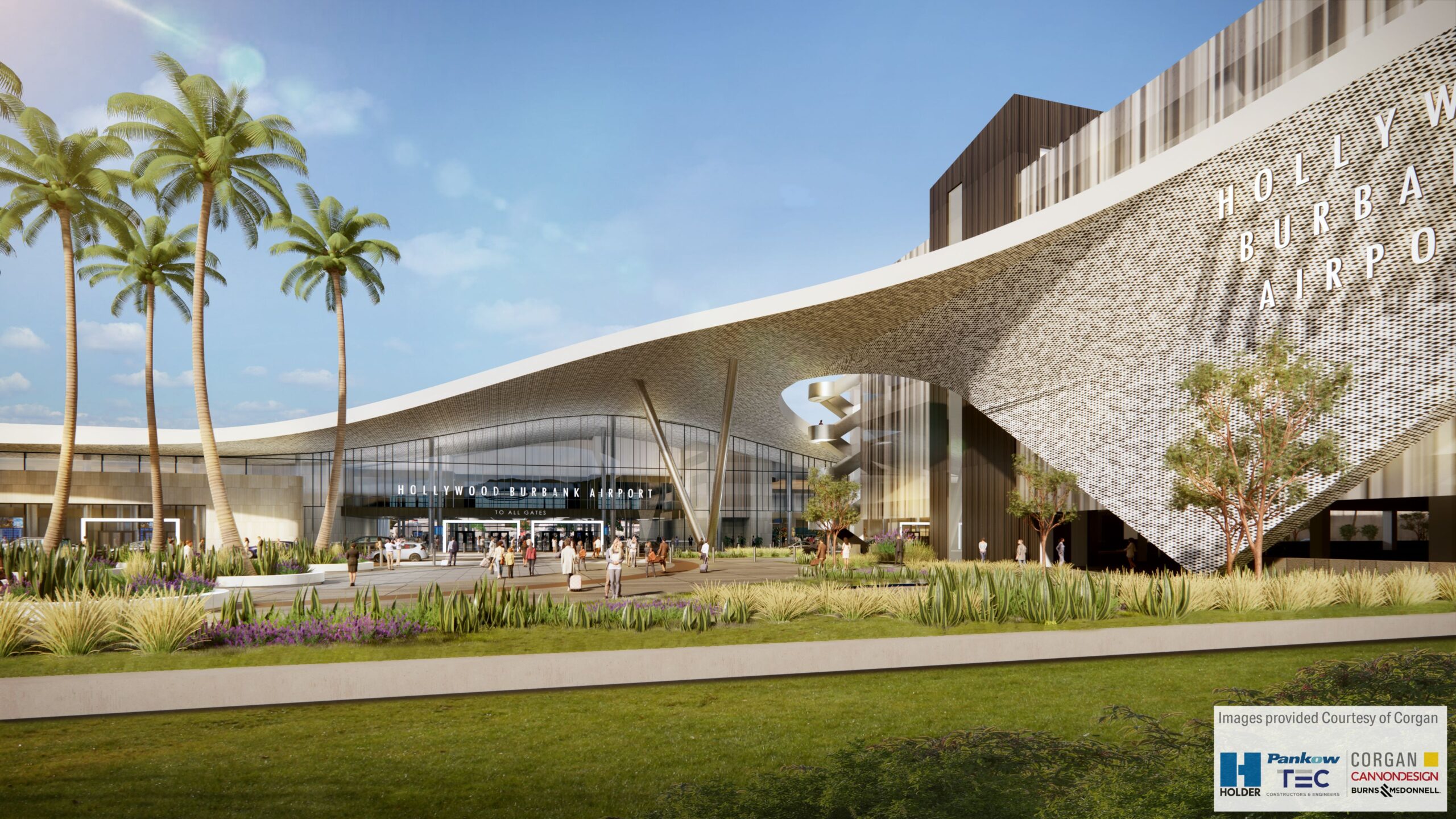 © Corgan
9/11 understandably created a sense of anxiety and insecurity around air travel, which caused people to arrive earlier for flights and require larger spaces in areas such as the airport lobby. In contrast, passengers now often report that the primary source of stress at the airport is the unpredictability of long check-in and bag-drop lines when they first arrive. This is particularly relevant following the pandemic, as consequential staff shortages have created significant disruption.
To combat this pain point, Alaska Airlines is focused on transforming the airport experience to enable all passengers to spend five minutes or less in the lobby. This change will be driven by smart technologies to provide passengers with digital solutions such as the use of iPads, electronic bag tags and facial biometric technology.
These technologies will provide airports with greater efficiency, enabling them to process more passengers without needing to grow physically.
"Airports can't get bigger. I fly out of Sea-Tac International Airport all the time and we can't grow space wise, but what we can do is make better use of our space. And so we're partnering with the Port of Seattle right now where we're doing a 500 million dollar investment to improve the entire north end of the terminal where Alaska operates. And it's really about creating better throughput, a beautiful space, but one that's enabled by technology to process more folks."
In addition to investments in new airport technologies, the potential for terminal transformation is driven by the increased use of smartphones for a greater range of everyday tasks since the pandemic.
During lockdowns, people became more reliant on using their phones for conveniences such as ordering food, and this shift in behaviour has led to people of all ages becoming more accustomed to what phones can do. Consequently, Simonsen noted that an increased and widespread confidence in technology is enabling airlines to push for passengers to complete more of their travel requirements at home to expedite the lobby experience.
Thanks to the ever-increasing use of digital solutions, Warren Schramm, Technical Director at TEAGUE also sees great potential in extending the reach of existing technologies to further benefit air travellers in the future. For example, Schramm asserts that the current commonplace ability to distribute goods through ride-hailing services, such as Uber Connect, could be extended to offer passengers more convenient baggage services.
"What we're hoping to see is that external services through technology can now be integrated more into the airport space, so that all of the things that we're accustomed to getting in our outside world are now available in the inner space of these terminals. So if i'm going to order food, it may come from inside the airport, but I don't know any different than me being outside the airport. That's really where technology can start to bridge these things together.
"I think there's a really great opportunity to look at what services an airport provides besides the actual travel. If you take bag checking, for example, I could check my bag for my flight at my hotel and that bag is going to get transported to the airport and carried off. Or, there's a holding area within the city for those bags that can route them wherever I need them. I may go downtown. Check my bag there. Get on a scooter. Go do something else. And then, I can pick that bag up somewhere else in town because the routing services are all available for my goods, wherever I need them to be."
In addition, Schramm argues that there is greater potential to make use of developments such as facial recognition and advanced security scanners to alleviate congestion beyond the airport lobby and aircraft gates, particularly at security checkpoints and through TSA screening.
However, despite the available technology to safely identify and scan passengers and their belongings as they simply walk through a non-intrusive security portal, Schramm recognises that passengers still need a notable checkpoint to feel safe when flying, and there is therefore a limit on the extent to which the conventional security process and its inconveniences can be eliminated.
"There is this feeling of 'I know that I am safe because I went through this checkpoint'. And I think that is the piece that needs to be overcome. Technology can handle all of the other pieces through scanning and the actual mechanics of making sure that someone is safe. We haven't reached a point yet where that problem is being tackled. That is the next horizon I think to go through."
Although the uptake of airport technologies can thus be inhibited by a lack of public trust in their capabilities, the pandemic has demonstrated how behavioural habits can shift to accommodate more digital and touchless solutions. Meanwhile, security checkpoints are continuing to improve in efficiency with the introduction of CT scanners to expedite the process and cut wait times. These scanners are rapidly being deployed across the US, suggesting that the industry is by no means stuck at a dead end in its ability to alleviate congestion through security.
Consequently, as funds continue to be invested in leveraging the potential of smart technologies and constructing welcoming and efficient airport terminals, the passenger experience is set to keep improving, and with it, the number of travellers looking to make the most of air travel will likely continue to increase. These trends suggest that the airport industry is off to a promising start in entering a new post-covid era.