Most airports use individual monitors for ticket counters, but that's not the case for Richmond International Airport (RIC) in Virginia.
Two 4-millimeter LED video ribbon displays measuring 150 feet long each, designed and manufactured by Daktronics of Brookings, South Dakota, now flank the ticket counter canopy to efficiently guide travelers through the airport.
Senior designed at Gresham Smith, Eric Sweet, said:
"From a wayfinding point of view, the displays are far more intuitive. People are naturally drawn to light. With these displays, people can read content easier from a greater distance and almost instantly recognize the present airline brands by color."
The full-color video ribbon displays were selected in consideration of the available space in the ticket canopy as well as the desired design aesthetics. The airport hired Gresham Smith and its consultants for architectural and engineering design services.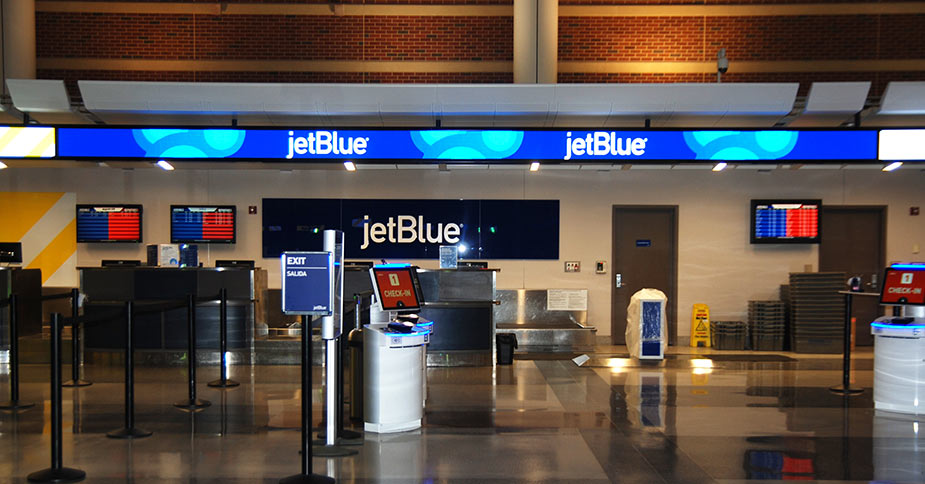 Russ Peaden, director of airport real estate and facilities at RIC, agrees the displays have made for an easier air travel experience, just in time for the holidays.
The Director explained:
"Our CEO wanted to upgrade and modernize the area to improve its appearance and sign each airline individually with queueing lanes. The funding came together, and we have a clean, fluid look that can change lines at any time. If I had to do it again, it would be an easy decision. If anyone asked me, I'd be the first to say to talk to Daktronics. We've had nothing but success."
Daktronics is also creating custom content for the airport, which can be shown in segments to reinforce airline branding and call attention to available car rental companies.
About Daktronics
Daktronics helps its customers to impact their audiences throughout the world with large-format LED video displays, message displays, scoreboards, digital billboards, audio systems and control systems in sport, business and transportation applications.
Founded in 1968 as a USA-based manufacturing company, Daktronics has grown into the world leader in audiovisual systems and implementation with offices around the globe.
Discover more at www.dakronics.com