Water, Foam, and Dry Chemical for ARFF Fire Suppression
Every fire emergency is different and may require various firefighting tools and strategies to safely and successfully save lives and limit damage to property and the environment. In addition to using the necessary fire trucks and other equipment, the proper firefighting agents must be used depending on the type of fire being suppressed.
Fires are put into five separate categories, A, B, C, D, and K, largely based on what type of fuel is burning. Different categories require different types of firefighting agents to extinguish the flames successfully. This article discusses the different types of agents available and how they are used by Aircraft Rescue and Firefighting (ARFF) trucks in an airfield environment.
Fire Classification
Firefighters learn about the five classes of fire and what firefighting agents are most effective at suppressing each one. Different classes of fire may require different firefighting chemicals to safely and effectively be extinguished.
Types of Firefighting Agents for ARFF Fire Suppression
Using water for firefighting is the most common and recognizable method of suppressing fires. This simple agent is very effective in fighting class A fires, which are fueled by ordinary combustible materials. Many residential and commercial structures use and contain these materials making water very efficient in these environments. However, water is ineffective against class B and class C fires, which is most common at an airport emergency scene.
Airport firefighters are required to control and extinguish fires involving highly flammable jet fuel. Water could potentially make this type of fire worse because fuel will rise to the top of the water, enabling it to continue burning and spread as the water moves. Firefighting agents are required to suppress these types of fires, but water may still play a role. It is often mixed with the agents and used as a propellant to deploy the additional agents onto the fire.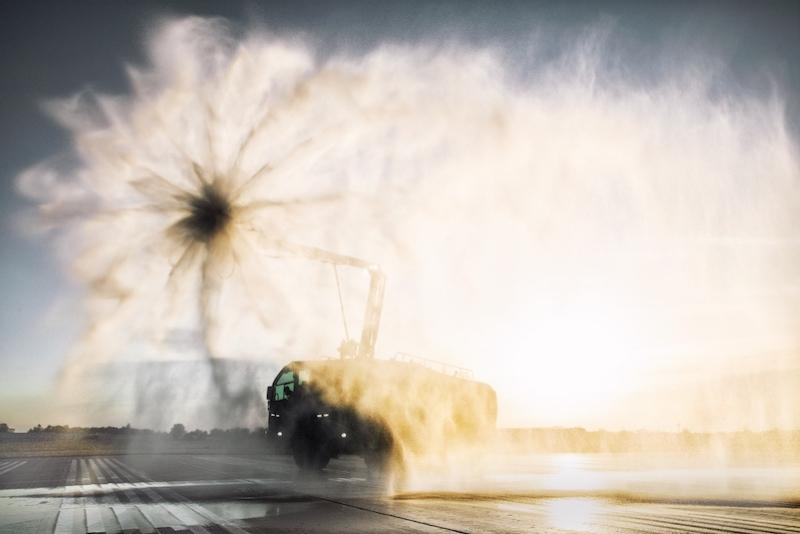 © Oshkosh Corporation
Firefighting foam was invented in the early 1900's and has evolved into various forms for different types of fires. Class A foam was originally made for use against forest and wildfires and is used against class A fires.
Class B foam is designed for class B fires, and ARFF foam is part of this category. It has a low viscosity and is able to cover large amounts of spilled or burning jet fuel in a short period of time. The foam allows firefighters to coat the materials burning or are at risk of burning, which cuts off the oxygen supply a fire needs. Class B foam is also designed to contain the explosive vapors produced by flammable liquids, particularly the jet fuel ARFF trucks may encounter at an airfield.
Advanced Fire Suppression: Watch the video here.
Compressed Air Foam for ARFF Vehicles:
In an ARFF emergency scenario, fire suppression agent conservation is critical because, in most cases, everything needed must be transported to the scene and contained within the apparatus and equipment. Compressed Air Foam Systems (CAFS) are not new in the use of structural fires; however, in recent years, it has been tested and proven effective for use in Class B/fuel fires.
Traditionally, ARFF crews operated using aspirating turrets and nozzles. CAFS provide a simple system where air is injected into the water/foam solution before moving into the piping of the turret or hose line. Pressurized air injected into the water and foam solution expands the foam many more times than a conventional aqueous film-forming foam (AFFF) nozzle – which relies on mechanically mixing ambient air with the water and foam solution at the nozzle. The result is a CAFS which has a thicker consistency and creates a superior foam blanket with a lower amount of water required.
Oshkosh Airport Products' CAFS system uses an onboard air compressor which offers unlimited firefighting capability without having to recharge air cylinders. The attributes of the CAFS allows foam to cling to vertical surfaces and provide a highly effective insulating effect. Thicker foam blankets mitigate fuel vapors for extended time periods, and higher expansion ratios mean responders need less water. In recent years, Oshkosh Airport Products has experienced increased industry demand and curiosity for CAFS and has a system ready to be incorporated on ARFF vehicle configurations.
Dry chemicals offer firefighters another option for attacking different classes of fire. The Oshkosh Striker® ARFF offers water and foam deployment as standard options, while dry chemical is a specified option on the vehicles. They are primarily made from potassium and sodium bicarbonate, and ARFF trucks can carry several different types:
ABC chemical
BC chemical
Purple K
Dry chemicals are frequently used in industrial or airfield settings, where chemical and electrical fires are most likely to occur, which includes an airport environment. The suppression agent can be deployed using pressurized nitrogen or introduced to the water stream, which can carry the firefighting agents to the target area.
ABC chemical is the most versatile and can be used to suppress all types of fires. It is yellow in color and particularly effective on combination fires. BC chemical refers to an agent suitable for class B or C fires and is blue in color, and a free-flowing, non-abrasive, water repellent which produces no toxic effects.
Because of its fast extinguishment properties on flammable liquid fires, Purple K is typically used in high hazard risk areas such as oil refineries, service stations, naval warships, power plants, airports, and other places where large volumes of flammable liquids are handled. Like its name, the fire suppressant is the color purple.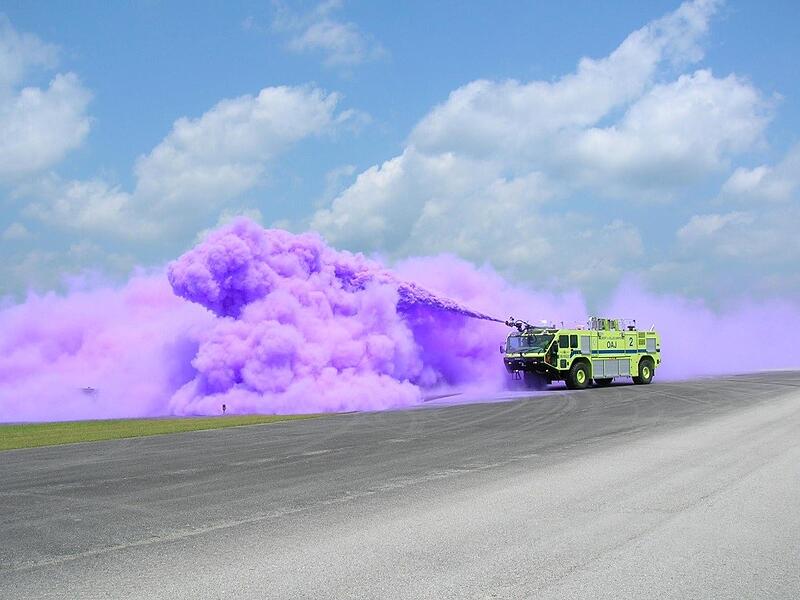 © Oshkosh Corporation
Clean Agents
Some firefighting agents used in ARFF fire suppression, such as certain types of foam, can contain substances which may have a negative impact on the environment. Dry chemicals are only used when necessary due to the fine particulates which can spread easily over a large area. Cleanup of these agents can be costly and time-consuming.
For this reason, clean agents can help mitigate potential environmental harm while still safely and effectively suppressing fires. Clean agents are gases and work by removing the oxygen from the air around the fire. They are useful for electrical and engine fires, and because they are gas, won't further damage the materials being extinguished.
The Oshkosh Striker ARFF can be built to carry all types of fire suppression options, allowing crews to quickly switch between various types of firefighting agents.
Eco EFP™ Test System
Testing and training are essential for ARFF crews to ensure efficiency when faced with a real emergency scenario. In testing and training situations, firefighting agents can present unnecessary environmental risks and cleanup costs. Oshkosh Airport Products' innovative electric foam proportioning system, named the Eco EFP system, allows for the testing of a vehicle's foam system to determine if the system is properly proportioning, without requiring foam to be discharged from the vehicle. It measures both the solution and foam flows on the vehicle and archives the testing data with a time and date stamp. This reduces the environmental impact of foam testing and reduces the cost of cleaning up the foam solution after the test.
The Federal Aviation Administration (FAA) has approved the Eco EFP system to be used for testing and training purposes. The system shows the truck is working as it is intended without having to expel a foam agent.
Training for ARFF Fire Suppression
Knowing which firefighting agent to use and when to use it is a crucial part of training for all ARFF crews. In the United States, the FAA requires a specific curriculum for airport firefighters. The training is repeated each year as part of a recertification process.
Are you ready to learn more about Oshkosh Airport Products ARFF trucks and the various fire suppression agents used in airport emergency scenarios? Contact our team today.
This article was originally published by Oshkosh Corporation.