Digital technology can help air traffic controllers do their job from miles away.
Landing at London City, the smallest of the airports serving the United Kingdom's capital, is quite an experience. Heading straight towards London's high-rise financial district, the approach skims over the Thames River and ends on a tarmac sandwiched between docks.
And starting in 2020, there will be an extra feature worthy of note: London City won't have a traditional control tower. Instead, cameras on a central mast will relay images to a virtual control tower that is more than 70 miles away.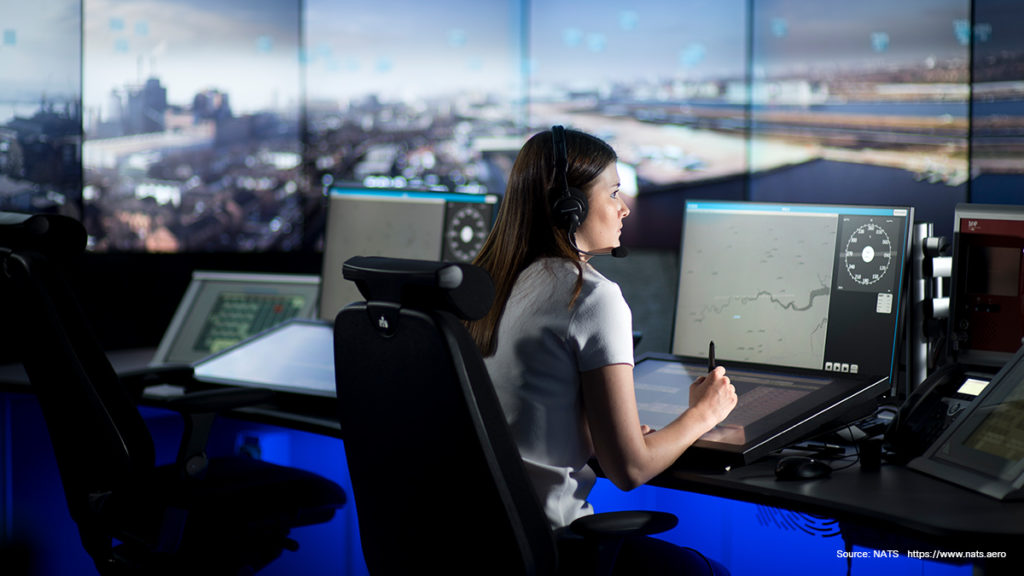 The United Kingdom's main air navigation service, NATS Holdings, teamed up with airport tech firm, Saab Digital Air Traffic Solutions, to run the control tower.
There, air traffic controllers will soon get a taste of the control tower of the future: one that is smart, augmented, and, above all, not located at an airport.
Modern IT systems mean air traffic controllers can now guide flights just as well from a remote site as they can from an airside tower.
Cameras can provide views you can't get from a tower, while augmented reality can match air traffic data to dots on a screen, so controllers know at all times which aircraft is which. In a digital control room, a 360-degree view is squeezed so you can see it all at a glance.
There are many reasons airports might want one of these control towers. At London City, for instance, growing airline traffic means there is an urgent need to update the airport. But since it is hemmed in on all sides, there is simply no space for a new tower.
Using a camera mast instead of a tower not only saves space, but also offers a better view. Cameras can pan, tilt, and focus in on objects far away. And the mast can be placed near the center of the airfield, where building a tower would be impossible.
London City senior PR manager, Andrew Scott, said:
"Our existing tower is 16 meters tall and 31 years old, we need a new air traffic control tower, but we're limited in terms of our footprint. The digital tower takes up less of a footprint, is on a 50-meter mast, and the technology that's behind it provides significant advantages for air traffic control."
In other airports it's not the tower that is the problem, but the people that go in it. Air traffic control administrators often have problems finding skilled staff willing to work at remote airports. Running their towers from afar thus makes it easier to find the staff.
A case in point is the Highlands and Islands region of Scotland, says Henk van Klaveren, senior public affairs and PR manager for the U.K. Airport Operators Association. This remote region includes the Orkney and Shetland islands, which are dotted with airfields.
van Klaveren says:
"These are vital airports for the islands, each one has to have an air traffic controller. But at a time when we are seeing a shortage of air traffic controllers, it's hard to get people to move to one of the northernmost points of the country."
It's because of all this that digital control towers are starting to be seen as a big deal with many air traffic control bodies around the world.
In Hungary, for instance, HungaroControl has plans to make Budapest Airport the first medium-capacity airport in the world to go fully digital, in 2020. HungaroControl is also working with NATS to set up a digital control tower for Changi Airport in Singapore.
Sweden, meanwhile, has had digital control towers since 2015. America, Italy, and New Zealand are among the other nations also planning digital towers.
But if the idea of landing at an airport with no control tower freaks you out, don't worry: safety is the first thing that all these plans have taken into account.
Besides giving air traffic controllers a better, more informed view of what is going on, digital control towers have fully redundant networks feeding video from each airfield. Multiple camera views ensure controllers can still see what is going on even if a camera fails.
And if, for some reason, all the screens go blank at once, there's a tried and tested plan of action.
Scott continues:
"You would just go over to audio control, which is as it is today if there is less than five meters of visibility, for instance because of fog, it means fewer aircraft can take off and land, but we are still able to operate safely."
The contents or opinions in this feature are independent and may not necessarily represent the views of Cisco. They are offered in an effort to encourage continuing conversations on a broad range of innovative technology subjects.
This article was used with the permission of http://thenetwork.cisco.com/.