With airports generally situated out of urban centres, surface access plays a significant role in enabling people to use air travel.
To make a flight viable, airports must ensure passengers can confidently and conveniently access their point of departure at the required time. Furthermore, as the industry looks to decarbonise its operations, airport authorities must consider the indirect emissions caused by passengers and staff travelling to and from the airport and should work to encourage the use of more sustainable modes of transport.
The Passenger Experience
According to research conducted by Transport Focus at London Heathrow Airport (LHR), the dominant factors that affect a passenger's choice of travel to and from the airport include: ease of travel with luggage (55%), quick journey time (47%), value for money (44%) and flexibility (41%). Although Heathrow is accessible by train, underground, bus and coach, the aforementioned priorities currently contribute towards the majority of passengers choosing to drive or be driven, with less than 40% using public transport.
These figures demonstrate that even when airports are considered well-connected to public transport links, passengers may not find such options desirable. This is likely impacted by the inconvenience of travelling with luggage, prolonged travel times, high ticket costs, and a lack of flexibility for passengers who could miss a set train or coach when a flight is delayed. In fact, even without a potential delay, it can be difficult to predict how long it will take to disembark the plane, pass through Border Control and collect any luggage. In addition, at many airports, choosing to travel via public transport can limit one's ability to book certain flights due to a lack of options early in the morning or late at night.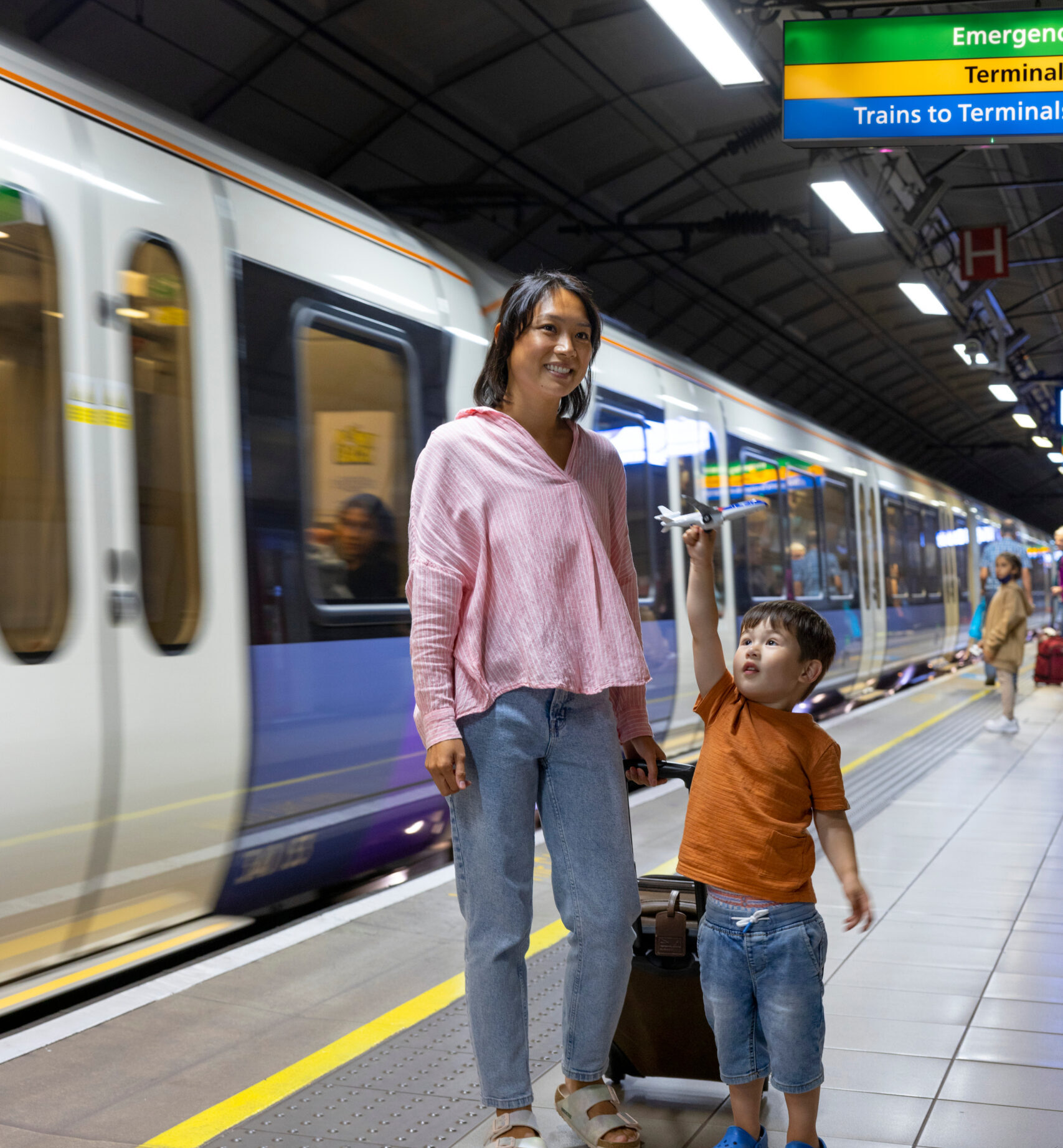 A preference towards driving consequently puts parking in high demand, allowing airports to benefit from a significant source of revenue. Indeed, Airport Council International's (ACI) data reveals that on average, car parking accounts for approximately 20.1% of the total ancillary revenue of an airport. In many cases, airport operators are thus keen to continue meeting the demand for parking spaces and are investing in expanded facilities. For example, last year, the Chicago Department of Aviation (CDA) broke ground on a six-storey parking garage for O'Hare International Airport (ORD) Terminal 5, which will double its parking capacity.
However, as passenger numbers are projected to grow, an influx of cars during peak times will inevitably increase congestion and reduce the convenience and reliability of travelling to the airport by road. Therefore, improving public transport links to and from the airport is equally imperative. For example, Los Angeles International Airport (LAX) is investing in an Automated People Mover (APM) to efficiently connect passengers to the city's expanded metro network, while Brightline has recently commenced service on an intercity rail extension from West Palm Beach to Orlando International Airport (MCO). In addition, in the UK, London Luton Airport has commenced service on the new Luton DART to connect the airport with national rail services.
© Brightline
These projects will provide passengers with additional options for travelling to the airport and should result in an increased percentage of people choosing to use public transport. Indeed, LAX reports that currently, just 1 percent of its passengers use public transit to travel to the airport, thus falling significantly behind LHR and highlighting the benefits of Heathrow's existing transport network. Such disparity may in part be due to the fact that passengers at LAX have to catch a shuttle bus to and from the nearest metro station to connect to the city's rail network. I am thus intrigued to see how the introduction of the APM and the city's K-line metro service will impact transport habits to and from LAX, especially in light of the upcoming 2028 Olympic Games and LA's related investments in transport.
Sustainability
Due to the increased emphasis placed on sustainability and net zero targets, it is arguably all the more key for airports to improve their public transport links and help reduce emissions caused by surface access transport.
With this in mind, many airports have developed Surface Access Strategies to increase transport options and encourage the use of sustainable modes. For example, Heathrow's plan for 2022 to 2026 establishes a set of targets to help "increase the proportion of journeys made to the airport by public transport for both airport workers and passengers." This includes achieving a passenger public transport modal share of 45% by 2026 and reducing surface access carbon emissions by 49% by 2030 compared to a 2021 baseline of 747,879TCO2.
To meet these targets, LHR is implementing a range of interventions and initiatives to influence passengers and colleagues. Earlier this year, the Elizabeth line was fully integrated within its terminals to provide passengers with an additional rail link featuring air conditioning, Wi-Fi and ample luggage space. Meanwhile, the airport is also working with local authorities, bus operators and coach services to identify network improvements and increase their catchment areas. Additional projects include making the airport accessible for cyclists, making it easier to buy public transport tickets and increasing public awareness of the available services. Moreover, to highlight the financial benefits of using public transport, LHR has introduced a 5 GBP Terminal Drop-Off Charge (TDOC) for private vehicles and is also now included in the city's ULEZ, which requires motorists to pay a 12.50 GBP daily fee for driving in London if their vehicle does not meet emissions standards.
As airports work towards decarbonising operations, such initiatives are tangible and achievable endeavours that can have a positive impact on reducing overall emissions. This is especially true for airports such as LAX that currently see so few passengers arriving and departing on public transport.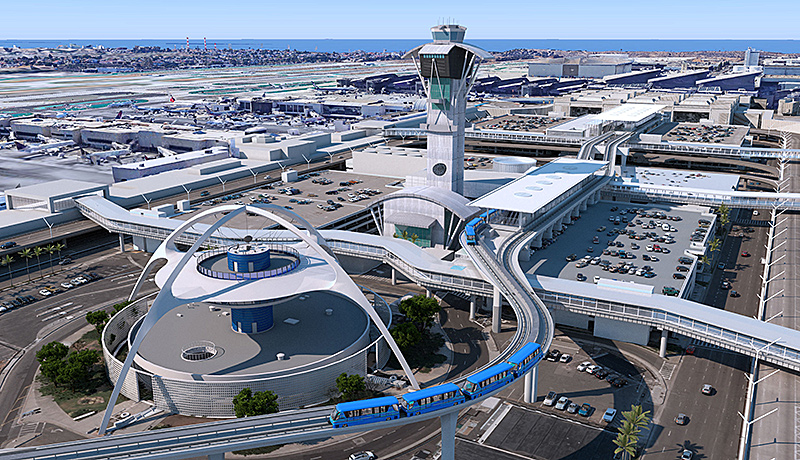 © Los Angeles World Airports
However, my own experience at international airports has not always convinced me that improving surface access is consistently a priority, particularly at airports in the US. Although Arrivals at Chicago O'Hare helpfully pointed me towards 'Trains to the City', many other American airports are noticeably lacking in any signage for public transport services, instead solely directing passengers towards taxis, ride-hailing and car rental options. This adds significant inconvenience for tired travellers visiting an airport for the first time and hoping to catch a bus or train. At one airport, I even asked the Information Desk to direct me and my mother towards the bus stop only to be told, "Oh no, two lovely ladies like you don't want to take a public bus." Needless to say, we did take the bus and found it spacious, efficient and free to use. It is thus a shame that more tourists are not encouraged to benefit from such services, rather than forking out for a taxi and increasing their carbon footprint.
With such rudimentary pain points, there is still much progress to be made in encouraging passengers to travel more sustainably to and from the airport. Despite the fact that many aspects of public and active transport networks are not within their direct control, it is nonetheless vital for airports to consider surface access as part of their net zero roadmaps and to work with the relevant authorities to deliver improvements. Indeed, the UK's 2022 Jet Zero Strategy explicitly states: "An aviation passenger's journey includes more than the flight itself, and we want to ensure we have the right policies in place to encourage passengers and employees to travel on sustainable modes of transport to and from the airport where possible. As part of this, we will encourage airports to work with airlines, local authorities and local transport providers to consider how they can develop integrated service offerings with surface transport providers."
As air travel continues to see rising passenger numbers following the pandemic, such strategies have the potential to help reduce the sector's overall emissions while simultaneously improving the passenger experience by offering additional and enhanced travel options to and from the airport. Ideally, this outlook will ultimately be scaled worldwide to deliver international improvements across an innately international industry.