Aukland Airport has announced that a new Transport Hub will be built at its international terminal as part of the airport's next phase of expansion projects.
The 300 million-plus NZD development will transform how passengers travel to and from the main airport terminal and will enable the integration of a future mass rapid transit network.
The project is also a critical step towards initiating the airport's future 1 billion-plus NZD plan for a future combined domestic and international terminal.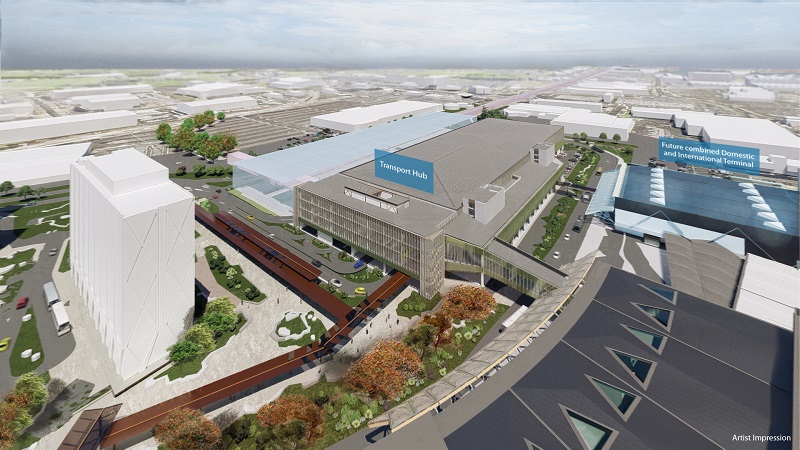 Enabling works on the Auckland Airport Transport Hub will begin in June 2022. The hub has been designed to allow traffic to flow through its ground floor into an undercover pick-up and drop-off area. The ground floor of the four-storey building will accommodate buses as well as cars, and the upper floors will feature smart car parking, electric vehicle charging stations, and office space.
The airport also intends to encourage more efficient and sustainable transport options. New high occupancy vehicle lanes and cycling and walking paths have already been introduced, and roads have been widened to support the airport's new electric bus service.
In addition, to enable a future shift to mass rapid transit, land adjoining the Transport Hub has been set aside for an integrated mass transit station, while the inner forecourt road will remain dedicated to buses and commercial transport.
"At Auckland Airport we are starting a new chapter of infrastructure investment that is all about building a better future for travellers from the moment they step foot on our precinct. With every project, we are focused on providing a high-quality customer experience that equals some of the best airports in the world. Easy and intuitive journeys are an important part of this and we're excited about the benefits that the Transport Hub will bring. It will place existing and future public transport at the heart of Auckland Airport and create a seamless arrival and departure experience for passengers, with a direct connection to the combined international and domestic terminal."
Along with the construction of the Transport Hub, Aukland Airport is progressing with major development projects to further enhance the travel experience, including 185 million NZD enabling works for the combined international and domestic terminal.
Furthermore, the international terminal's eastern baggage hall will be demolished next month to make way for of a high-tech baggage handling system. The new system will load bags into intelligent carrier trays tagged with radio frequency identification devices that communicate their location. This process will speed up the luggage journey and reduce the risk of lost bags.
"Everyone wants a smooth journey through the airport system, especially when it comes to dropping off and picking up their checked-in baggage quickly and easily. The work we are doing now will clear the path for a new super-smart baggage system to be developed at Auckland Airport, which is all about speed and convenience for travellers, while also ensuring their bags continue to arrive at the right place at the right time."