BEUMER Group Brings the Future of Airports to Passenger Terminal Expo
Passenger Terminal Expo, Amsterdam, 14-16 March 2023, Stand 1345.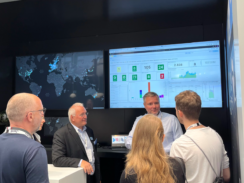 BEUMER Group – a leading global supplier of automated baggage handling systems – will be attending Passenger Terminal Expo in Amsterdam to discuss BEUMER's latest developments and installations, along with its views on the current state of the aviation industry and the route to recovery in the sector.
In its recent report, 'Airports 2023 outlook: The road to recovery', BEUMER concludes that the airport sector continues to be volatile, and the aftereffects of the pandemic are still being felt. BEUMER Group firmly believes that after suffering for the past few years, the airport industry's road to recovery leads through digitalisation and a reassessment of airport business models.
Key Facts: 
Digitalisation and data analytics is fundamental to the recovery of the global airport sector
Implementing sustainable practices is a win-win as it reduces costs as well as being good for the environment
A reassessment of business models is necessary in this period of continuing volatility in the aviation industry
Technology is now the backbone of the aviation sector and digitalisation can deliver results. Rather than thinking as infrastructure companies, airports need to be thinking like tech companies, making data and digital technologies the core of everything they do.
With the huge volumes of data available to airports, data analytics is rapidly becoming an essential ingredient of a smooth operation – and indeed, will be responsible for future-proofing those operations.
What's more, with the future of data analytics increasingly moving into decision science, airports can even look forward to their systems being able to recommend and make decisions for them.
BEUMER Group will be at Passenger Terminal Expo, 14-16 March 2023, on Stand 1345 in Amsterdam.
This article was originally published by BEUMER Group.