Funding for the project comes from a combination of airline fees, Airport Development Fund, and Passenger Facility Charge revenues. As with virtually all airport projects, no Port of Seattle taxes will be used. The estimated cost for the Port's portion of the project is $710 million.
Equitable Recovery
All Port of Seattle construction projects support an average of 1,300 full and part-time employees per month. During the pandemic, the Port and construction partners worked together to keep workers safely employed. The Port commits to ensuring that construction investments create opportunity everywhere, especially in underrepresented communities.
Out of 1.8 million labor hours expended on the project, more than 25 percent (462,000 hours) of work were performed by minorities and over 20 percent (415,000) by apprentices, ensuring that everyone is included in our recovery and helping to build the pipeline for future projects.
Over $100M of construction dollars were spent utilizing small business enterprises (over 20 percent), of which $16.5M (3.3 percent) went to minority- or women-owned businesses.
See how Port construction projects and partnerships with local labor and community groups create career pathways for local workers.
Building Features
The original North Satellite at SEA opened on June 25, 1973, with no major upgrades in 44 years. At the same time, passenger volume grew almost tenfold, resulting in the need to upgrade the facility for modern travelers. The Port and Alaska Airlines opened Phase I of the project in 2019 with eight gates and a flagship Alaska Airlines lounge.
Funding for the project came from a combination of airline fees and Airport Development Fund and Passenger Facility Charge revenues. As with virtually all airport projects, no Port of Seattle taxes will be used.
The estimated cost for the Port's portion of the North Satellite Modernization is $710 million. Alaska Airlines contributed an estimated $41 million to build the new lounge and employee spaces.
Iconic building design evoking movement of a naturally meandering river.
Operating 20 gates (8 new and 12 remodeled)
Plugin at every single one of our hold room seats
Environmental Highlights
Our commitment is to be the greenest and most energy efficient Port in North America. We designed and constructed a building that satisfies our passengers' needs while emphasizing sustainability. As a result of focusing on energy efficiency, renewable energy, and water conservation, the North Satellite is one of the most sustainable projects in the airport's history and is expected to achieve LEED Silver Certification.
Capturing rainwater off the roof to flush toilets will save 2.8 million gallons of potable water annually – equal to 4.5 Olympic swimming pools.
Achieved 76% recycling of construction waste diverted from landfills – that's 20,000 tons – and nearly $21M of recycled materials were utilized on the project.
The North Satellite meets its energy needs through building energy conservation and renewable resources. Energy-efficient LED lighting and heating and cooling methods save approximately 1.7 million kWh annually – equal to the annual energy use of 170 homes. Moreover, SEA is the first airport to use renewable natural gas for heating our buildings. RNG is a low-carbon natural gas alternative produced most often from landfill waste. That means no new carbon emissions because it replaces fossil fuels and recycles existing carbon in the atmosphere.
Art Highlights
The North Satellite project brings 10 new pieces of museum-quality art to the airport, featuring local and nationally acclaimed artists reflecting the Pacific Northwest's diverse environment, culture, spirit, people, and history.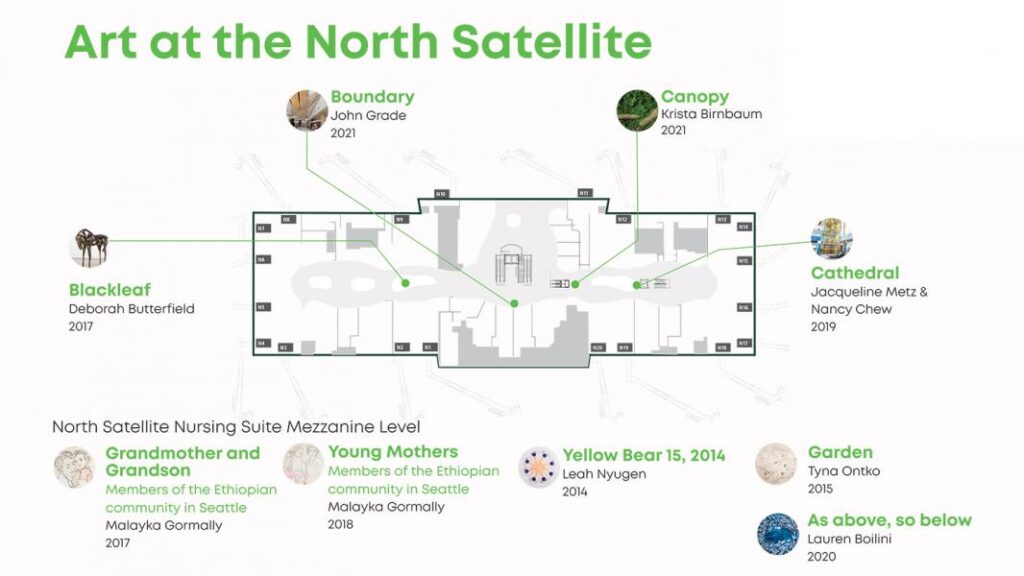 © Port of Seattle
This article was originally published by the Port of Seattle.