Mayor Garcetti, LAX Celebrate the Opening of $1.73 Billion State-of-the-Art West Gates at Tom Bradley International Terminal
Featuring the latest technology and show-stopping architectural elements, the new facility will greatly enhance the guest experience at LAX
Los Angeles Mayor Eric Garcetti officially dedicated the West Gates at Tom Bradley International Terminal this week, celebrating the opening of Los Angeles International Airport's (LAX) $1.73 billion investment which delivers a modern guest experience with cutting-edge technology, stunning architecture, a checked-bag storage system, biometric boarding gates and the latest amenities for travelers to experience.

"LAX is our gateway to the world — a global crossroads where dreams take flight and where we welcome the future of our city with open arms. Completing the West Gates is the latest step in our unprecedented campaign to reimagine LAX — to help our airport realize its potential as a premier, 21st century destination, as a source of jobs and economic growth for local workers, and as a site of seamless travel for millions of passengers."
The five-level, 15-gate, 750,000-square-foot facility, which will serve both international and domestic flights, marks the latest step in the airport's $14.5 billion modernization. At nearly 1,700 feet in length, the West Gates at Tom Bradley International Terminal is located just west of the world-famous international terminal and was completed over the course of four-and-a-half years.
The new gates were designed around a modern, digitally based travel experience and offer numerous comfortable seating options, with thousands of places to plug in, while accessing next-generation wireless internet, touchscreen kiosks and the most advanced baggage handling and boarding systems of any airport in the United States today.
"This project sets the standard for how to build better, providing meaningful work opportunities to local workers and small businesses, keeping sustainability at the heart of the project and focusing on providing the best passenger experience possible. More than 8,500 individuals, 30 percent of which came from the local community, had an integral role in building this state-of-the-art facility over the course of 1.4 million work hours."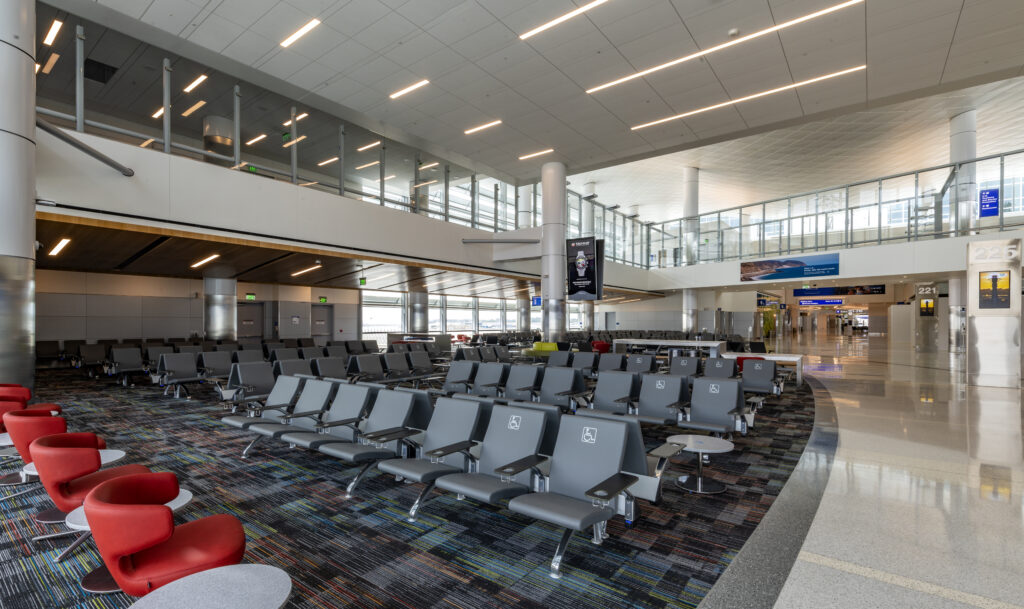 © Joshua Sudock
The West Gates at Tom Bradley feature many passenger amenities, including two nursing rooms, a service-animal relief area, art exhibitions, a quiet room and three children's play areas.
"This is the first mega-project at LAX under the leadership and vision of Mayor Garcetti, working with our City Council and our Board, to build a world-class airport – one that will redefine our airport experience. We are delivering fully modernized terminals, new technology and guest services, and improved connections to our regional transportation system and investing in infrastructure that creates a more resilient airport and an even stronger economic engine for Los Angeles."
Construction began on the new gates in late 2016. A joint venture of Turner Construction and PCL Construction served as the contractor, in association with architects Corgan and Gensler. The project also included over 1.5-million-square-feet-of new aircraft apron and taxiways/taxilanes, as well as new underground utility improvements.
"We are proud of our work on the West Gates at Tom Bradley and the impact it has on the community, which supported the 9,000 trade workers who made the project a reality. This new facility will play an important role supporting economic growth as well as reflect the vibrancy and diversity of Los Angeles. The modern building offers passengers the latest technology in the aviation industry and will serve as a wonderful gateway for travelers visiting, living and working in the region."
The West Gates at Tom Bradley project was funded from LAX's operating revenues, Capital Improvement Program funds, fees from airlines, passenger facility charges and airport revenue bond proceeds. No money was used from the city's General Fund or taxpayers.
Mayor Garcetti led an online broadcast of the official opening ceremony, which included Councilmember Bonin, BOAC President Sean Burton, LAWA CEO Erbacci and Turner Construction's DeJohn. Watch the entire event on the LAX Facebook page here.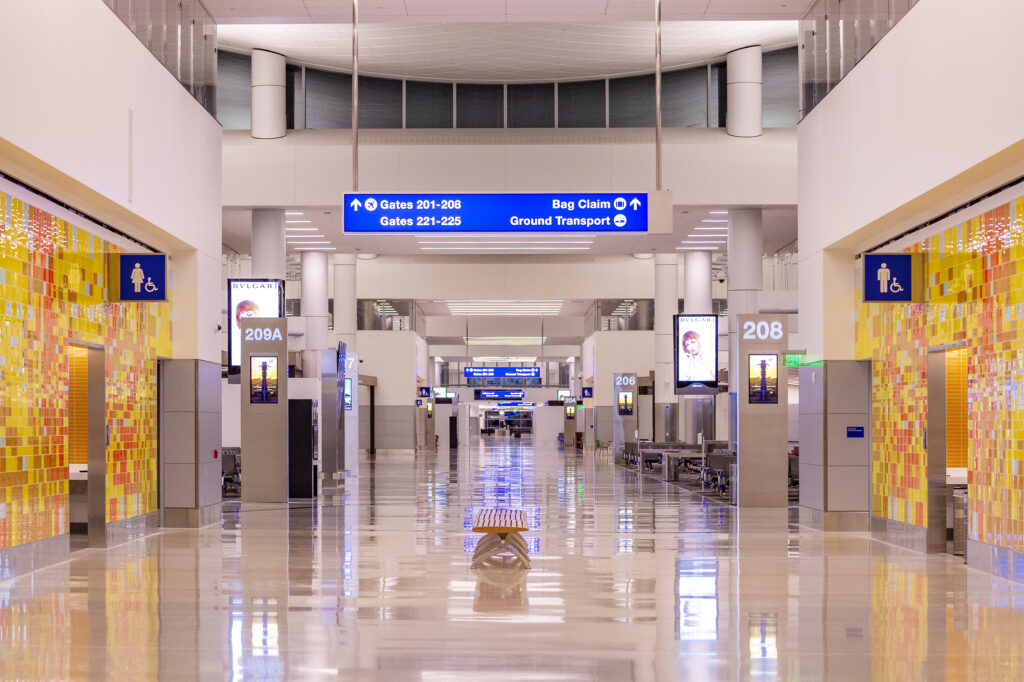 © Joshua Sudock
Workforce Development & Economic Impact
More than 8,500 workers participated in the construction of the West Gates at Tom Bradley International Terminal, with more than 30 percent of them hired locally. Among 86 new first-period apprentices who worked on the project, 37 were graduates of the HireLAX Program, making it the LAX project with the most apprentice placements to date.
More than $300 million of the work was performed by Small Business Enterprises, equivalent to about 21 percent of the total contract value.
Architecture and Design
The roof of the West Gates at Tom Bradley emulates a swell in the ocean that is the formation of the next wave to arrive. This complements the architectural design of the Tom Bradley International Terminal roof to the east, which represents an ocean wave breaking onto the shore. The curved roofline also enhances the spaces contained within the building. The overall architectural design allows for great views and natural daylight in public spaces.
Each of the "neighborhoods" in the building includes several aircraft gates, a restroom core, as well as retail and concession spaces. The interior finishes and colors were selected to reflect the facility's location and are based on the urban fabric of Los Angeles. The main core of the building is considered the "downtown" area due to the high ceilings and elevator towers. Colorful mosaic tiles pay homage to the mid-century modern design of LAX, with colors changing to denote the different neighborhoods from the desert to the sea.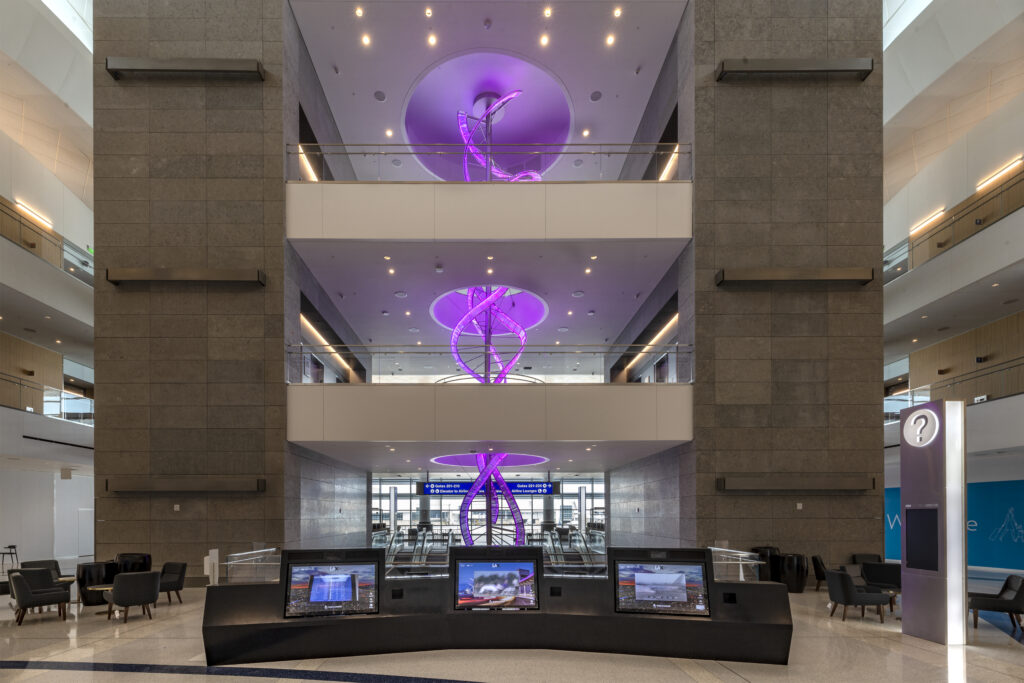 © Joshua Sudock
Passenger Access
The facility has the flexibility to offer 12 to 15 gates depending on the size of the aircraft. Two gates are able to serve larger Group VI aircraft, such as the Airbus A380 or the Boeing 747-8. Most of the remaining gates are capable of handling Group V aircraft, such as the Boeing 777 and 787 and the Airbus A330.
The West Gates at Tom Bradley are accessible through a pedestrian tunnel from the Tom Bradley International Terminal. The tunnel originates at a new gateway facility connected to Tom Bradley near Gate 148 and includes moving walkways and 24 100-inch video screens along with courtesy passenger shuttles. The northern portion of the tunnel provides two-way traffic for outbound passengers as well as arriving guests on domestic flights or those who have been pre-cleared by U.S. Customs and Border Protection (CBP) at their departure point. The south half of the tunnel provides a secure route to the CBP's Federal Inspection Station at Tom Bradley International Terminal. The West Gates at Tom Bradley are also accessible by airfield buses, with ramp-level bus ports near the center and north end of the building.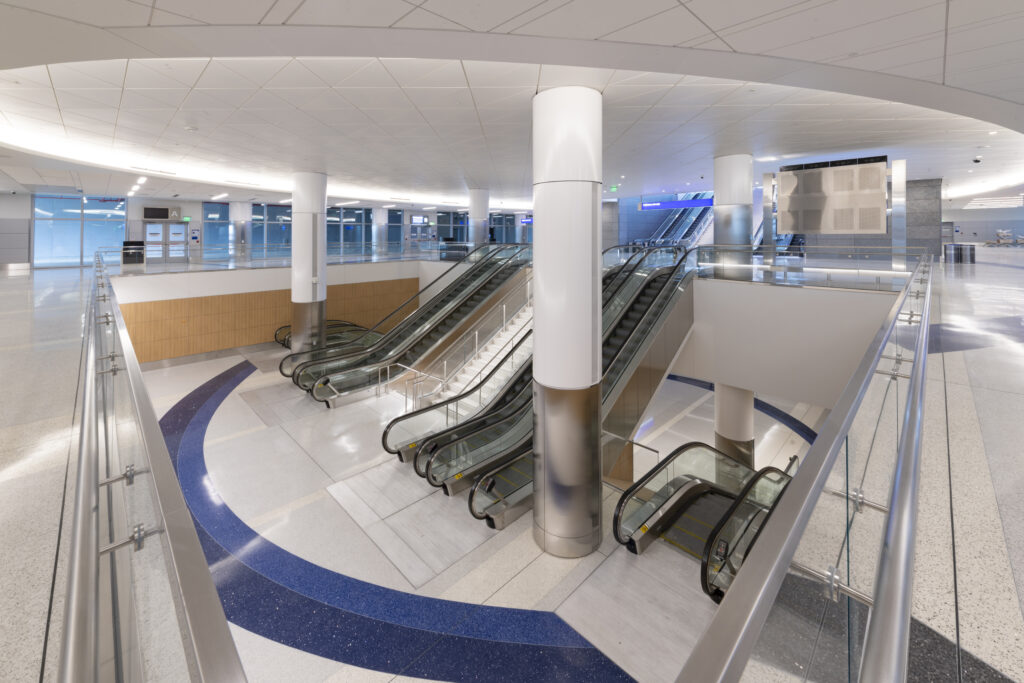 © Joshua Sudock
Cutting-Edge Technology
Electronic gates are available at all 14 holdroom locations to make the boarding process quicker and more secure. Guests scan their boarding pass or passport, or with some international flights simply look into a camera to be matched with data from the U.S. Customs and Border Protection's Traveler Verification Service (TVS), and the gates open. During a pilot test at the Tom Bradley International Terminal, an Airbus A380 was boarded in about 20 minutes using the biometric photo match, less than half the time it takes with conventional document checking.
Guests will find the newest technology at their fingertips with the addition of Wi-Fi 6, which is almost three times as fast as older Wi-Fi infrastructure. Wi-Fi 6 is the latest generation of wireless internet, designed to deliver enhanced coverage, capacity, speed and performance in dense, demanding Wi-Fi environments like airports. LAX continues to offer fast and free Wi-Fi via its partner, Boingo. The network is designed to enhance streaming and downloading, music, games and other content on the go, while supporting online activities that include checking flight and weather updates and new health and safety protocols. Wireless services also support contactless food ordering via www.LAXOrderNow.com, which now includes delivery to the gate areas inside the West Gates at Tom Bradley.
Meanwhile, the West Gates at Tom Bradley also will feature improved reception for cell phones, including 5G speeds, which carriers will begin to turn on later this year.
A total of 14 interactive kiosks at the West Gates provide access to a wide variety of airport and flight information, and location of amenities. Information is also available about ground transportation options and nearby hotels. Personalized wayfinding maps can be sent to guests' personal devices via QR codes. The kiosks also can take travel selfies and send them directly to a guest's phone.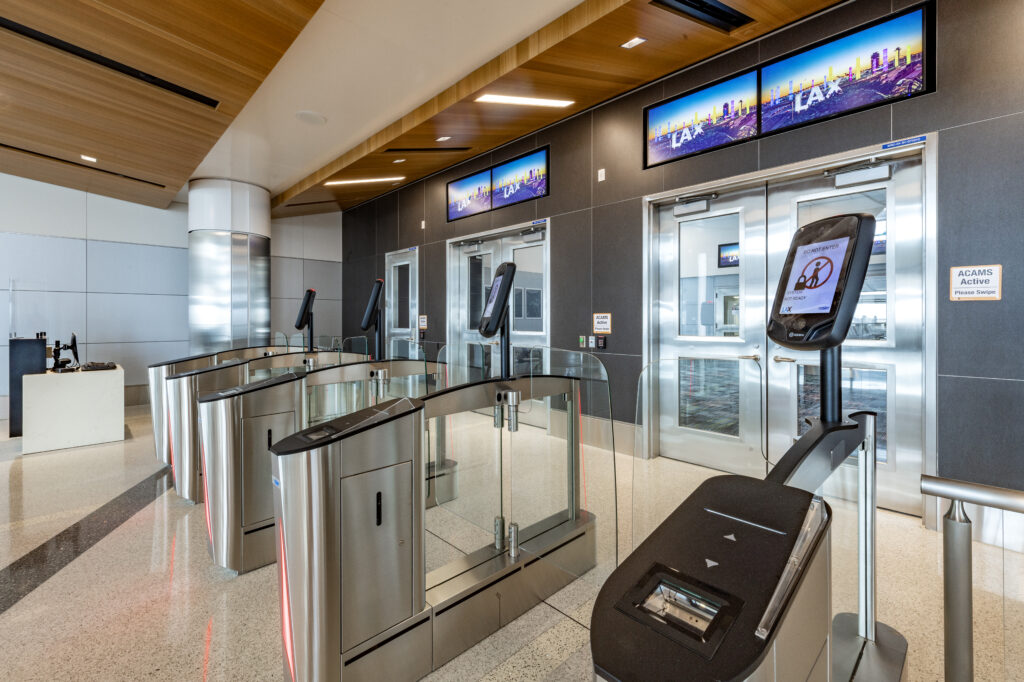 © Joshua Sudock
Baggage Optimization
A $261 million Baggage Optimization Project completed at the same time as the West Gates at Tom Bradley International Terminal adds capacity and new levels of service for guests. The new baggage handling system, designed and built by Vanderlande, includes approximately seven miles of conveyors, making it the largest outbound individual carrier system in the country, capable of moving up to 6,400 bags per hour.
LAX is the first U.S. airport with an Automated Storage and Retrieval System (ASRS), using technology which is usually associated with warehousing and distribution. Every bag destined for the West Gates at Tom Bradley is automatically loaded into a special plastic tray or "carrier" at the Tom Bradley International Terminal and conveyed through an underground utility tunnel to its flight preparation area at the apron level. Bags that are checked in early for a flight, and stored for later retrieval, are directed to the ASRS, where they are stored until the flight time is closer. This means passengers will be able to check in bags earlier than ever before, with storage possible up to 24 hours in advance of a flight.
A total of 16 robotic cranes place and retrieve bags in more than 3,000 racking storage locations, which use radio-frequency tags to track bag locations within the system. The facility provides high-speed storage with full tracking and tracing of bags to prevent lost luggage.
With this system, LAX can house approximately 3,100 bags in early bag storage facilities, including 980 at the West Gates at Tom Bradley.
Sustainability
LAWA is a sustainability leader, with a bold vision to eliminate carbon emissions from its facilities, and the West Gates at Tom Bradley were designed to help meet those goals.
The facility is on track to achieve LEED (Leadership in Energy and Environmental Design) Silver certification from the U.S. Green Building Council – with the possibility of earning Gold certification – and meets the requirements of CAL Green Tier 1. Specific sustainability achievements include:
"Cool" roofing and paving materials that reduce heat absorption.
The project reduces electricity consumption by 29 percent through a combination of incorporating daylighting, insulated glass, efficient HVAC and smart interior lighting design systems.
Reduction of 41 percent in water consumption, led by the installation of water-saving plumbing fixtures.
Use of more than 24-percent recycled content in the building and a gray water piping system for future connection.
The project has diverted an estimated 95 percent of its construction waste from landfills.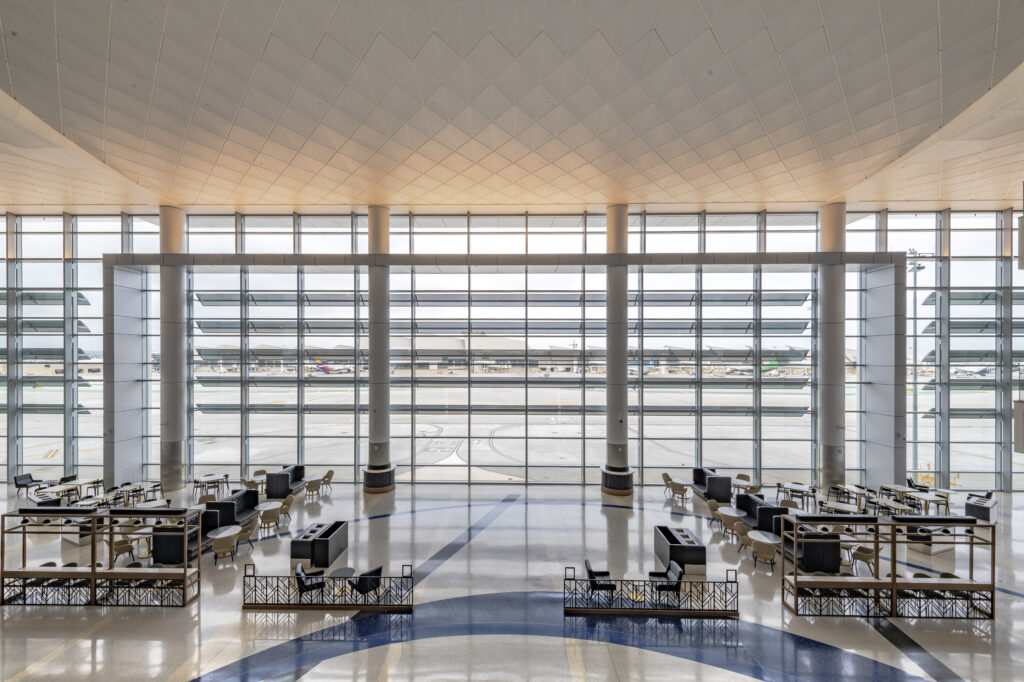 © Joshua Sudock
Ramp Tower
The West Gates at Tom Bradley International Terminal include a ramp tower that serves a new, unique function for LAWA. Aircraft surface movements in the area between Tom Bradley International Terminal and the West Gates now will be controlled by this ramp tower, acting as a complement to the Federal Aviation Administration's (FAA) control tower.
The control area consists of Taxilanes Kilo (K) and Lima (L) between Tom Bradley International Terminal and the West Gates, as well as Taxilane Mike (M). The ramp tower is staffed by LAWA employees who have prior experience with either an FAA control tower or other ramp towers. The ramp tower is the first of its kind for LAWA, in that it will be managed directly by city controllers, and will ensure that the efficient movement of aircraft is maintained at LAX. The ramp tower also is designed to have the technical capabilities to serve as a backup location to the FAA's tower to ensure the continuity of operations.
More Lounge Space
Between the West Gates at Tom Bradley International Terminal and the gateway addition to the terminal, there is nearly 60,000 square feet of space for lounges, including several locations on the fifth and sixth levels.
In spring 2022, Air France will unveil a new lounge at the West Gates at Tom Bradley, offering its La Première, Business and Flying Blue Elite Plus customers even more comfort at the airport before their flight to Paris-Charles de Gaulle.
LAWA is planning to create common-use lounges where any passenger can purchase daily access and a future location is planned for the West Gates at Tom Bradley.
Arts & Culture
The opening of the West Gates at Tom Bradley International Terminal marks a significant stage of LAX's modernization that will include the launch of new exhibitions and performance spaces to enhance the guest experience and complement the path passengers travel through the tunnel and inside the new building.
As guests enter the tunnel leading to the West Gates at Tom Bradley, they'll discover sound and visual art installations curated by dublab, a Los Angeles-founded, nonprofit online radio station and community-based cultural institution. Inside the West Gates at Tom Bradley, they will experience a collection of four large-scale, multi-media installations by four artists organized by Los Angeles-based curator Megan Steinman and presented in partnership with the City of Los Angeles Department of Cultural Affairs. All installations will be on view for two years starting in summer 2021.
In addition, three locations within the building allow for pop-up cultural performances.
This article was originally published by Los Angeles World Airports.