The bursting trophy case confirms what we knew all along — hand sanitizer, while more important than ever before, desperately needed a transformation.
Jon Olsen | Founder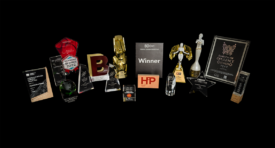 It's been just over a year since we introduced our touchless hand sanitizing fixture to the world, and already Vaask® has earned more than 50 prestigious awards. How can a hand sanitizing fixture win so many accolades? Because, quite simply, our engineers understand innovation. They know that being successful requires rethinking the status quo. So that's what we did.
In the case of hand sanitizing, we all can agree that the status quo left much to be desired, from design (flimsy, single-use plastic and uninspired) to technology (so last century) to user experience (messy, smelly and inconsistent).
Vaask's team of engineers, who had previously disrupted the fan industry at Big Ass Fans®, went to work to change all that. Using a similar approach that had been a $500 million feat at the fan company, we spoke with architects, designers and healthcare industry professionals and reinvented the hand sanitizing experience to fix what didn't work. The result is a fixture that immediately garnered rave reviews, confirming that a complete makeover had been long overdue.
Built to last, Vaask offers an effective, money-saving hand sanitizing solution. Vaask's features include:
AC/PoE—no batteries required
App that tracks sanitizer levels
Metal construction; 5-year warranty
Refillable, 2L sanitizer tank
No drips, no mess
Options for custom colors, finishes and graphics
With more than 50 awards, including Most Sustainable Product and Architect's Choice awards at the Healthcare Facilities Symposium & Expo and back-to-back Healthcare Design Product Innovation Awards, as well as the prestigious Red Dot award for product design, Vaask has established itself as the industry leader and authority on the subject of clean hands.
As TIME writer Don Steinberg noted, Vaask gives hand sanitizer:
"The kind of design attention that the rest of a modern workplace gets."
Summing up Vaask's innovative design, the Red Dot jury wrote, said:
"Vaask is an exceptional example of how good design can transform an everyday product into an object that has both an aesthetic and an emotional impact on the user."
And in explaining the decision to honor Vaask with the first of its two Healthcare Design Product Innovation Awards, one judge wrote, "It's a striking, elegant and inviting design, and it addresses a very critical hygiene issue within healthcare environments."
Read on for a list of Vaask's 52 honors, and click here to see Vaask in action.
Architecture and Design:
TIME Best Inventions
The Architect's Newspaper Best of Product Awards
Interior Design HiP Awards
Interior Design Best of Year Awards
Red Dot Design Award
German Design Council's ICONIC Award
European Product Design Award
German Design Awards
Work Design Next Work Environment Awards
International Furnishings and Design Association Selects
Building Design+Construction Top 75 Products
International Design Awards
Grands Prix du Design Awards (Product — Consumer Goods)
Rethinking the Future Architecture, Construction & Design Awards
BUILD Design & Build Awards
Good Design Awards
Urban Design & Architecture Design Awards
A'Design Awards
Spark Design Award
International Interior Design Awards
Global Future Design Awards
World Design Awards
Architecture & Design Collection Awards
LUXlife Leading Designer Award
Design Journal's ADEX Award
MUSE Design Awards
New York Product Design Awards
Archframe Design Awards
Kyoto Global Design Awards
iLuxury Awards
Healthcare:
Healthcare Design 2022 and 2023 Product Innovation Awards
Healthcare Design Nightingale Awards
Healthcare Facilities Symposium & Expo's Symposium Distinction Awards (Architect's Choice Product)
Sustainability:
Green Product Awards
Healthcare Facilities Symposium and Expo's Symposium Distinction Awards (Most Sustainable Product)
Grands Prix du Design Awards (Product + Aluminum)
Industrial:
Occupational Health & Safety New Product of the Year
FacilitiesNet Vision Awards
Occupational Health & Safety Industrial Hygiene Awards
New Equipment Digest Innovation Awards
Hospitality:
Boutique Design's 2021 and 2022 Best of BDNY Product Design Competition
Gaming:
Global Gaming Business Gaming & Technology Awards
Workplace:
Austin Business Journal Best Places to Work
Digiday Future Leader Awards
Austin Business Journal Best CEO Awards
BIG Awards for Business
Best in Biz Awards
Titan Business Awards
Best Startup Texas Top CleanTech Companies
Austin Awards
This article was originally published by Vaask.